NEWS
GAINSWave®: Enhancing Men's Sexual Health Without Medication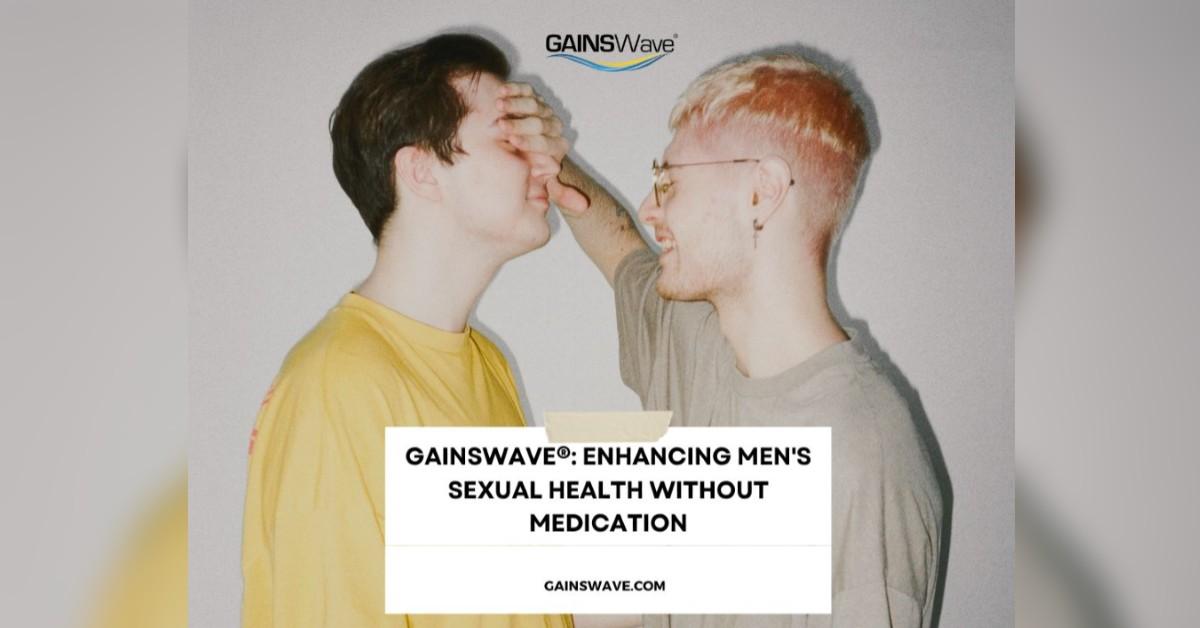 Erectile dysfunction (ED) is a common condition that affects many men at some point. ED is the inability to achieve or maintain an erection sufficient for sexual intercourse. While it can be a source of embarrassment or frustration for men, it is important to understand that ED is a treatable condition, and seeking help can improve physical and emotional health. Men's sexual health is a vital part of overall well-being, and issues like ED can significantly impact a man's quality of life. Nowadays, many effective treatments are available for ED, and it's important for men to be informed and proactive about their sexual health.
If you are one of the many men struggling with Erectile Dysfunction (ED), you know how difficult it can be to deal with this condition. Unfortunately, ED is a common issue affecting many men and can lead to anxiety, depression, and problems in intimate relationships. Fortunately, some treatments can help address the root cause of ED and improve sexual health. One such therapy is GAINSWave®.
GAINSWave®is a non-invasive and drug-free therapy that addresses the root cause of Erectile Dysfunction (ED) and Peyronie's disease - poor blood flow. GAINSWave® uses high-frequency, low-intensity sound waves to increase blood flow, remove micro plaque, and stimulate the growth of new blood vessels. By doing so, GAINSWave® helps to improve the quality and longevity of erections.
Article continues below advertisement
The GAINSWave® protocol is exclusive and designed for maximum safety and efficacy. In addition, the brand's Medical Advisory Board ensures its network of medically trained physicians uses standardized protocols, undergoes practitioner training, and implements quality assurance standards to guarantee patient safety and optimum results.
GAINSWave® is established as a trusted solution for male sexual wellness, offering a clinically proven success rate of over 75% for treating ED. The therapy treats not only ED but also Peyronie's disease, which causes a curve in the penis. The benefits of GAINSWave® treatment include amplified blood flow, reduced refractory time, repaired sensitivity, enhanced rigidity, and drug-free and non-invasive treatment.
Patients rely on GAINSWave® to optimize their sexual wellness, improve levels of intimacy, establish a stronger relationship with their partner, and ultimately, improve their quality of life. The therapy only takes 20 minutes, and there is no downtime, making it a convenient and accessible treatment option for men seeking to enhance their sexual performance.
The benefits of GAINSWave® include enhanced erections, improved sexual performance, increased sensation in the penis, more spontaneous erections, and better orgasms. In addition, the effects of GAINSWave® have been medically proven to last 2-3 years, and the therapy has been used successfully in Europe for more than 15 years with little to no known side effects.
Individuals can locate a GAINSWave® provider and schedule a medical evaluation to receive treatment. Clinical research has verified the effectiveness of GAINSWave® therapy, with multiple studies exploring its benefits for treating erectile dysfunction, Peyronie's Disease, and enhancing erectile function. Depending on personal goals, individuals may need 6-12 treatments, with a preventative maintenance program available to maintain results and optimize performance.
GAINSWave® differs from Viagra, Cialis, or other ED medications as it is drug and surgery-free, non-invasive, has no harmful side effects, and addresses the root cause of ED – poor blood flow. Men with erectile dysfunction, Peyronie's Disease, or those seeking male enhancement can benefit from GAINSWave® therapy. GAINSWave® can benefit most men who want to optimize their sexual performance, regardless of their medical conditions. To learn more about GAINSWave®, visit their website at https://gainswave.com/