NEWS
Goldfingr Token Provides You With Access To Participate In The Investment Industry, While Connecting With World Leaders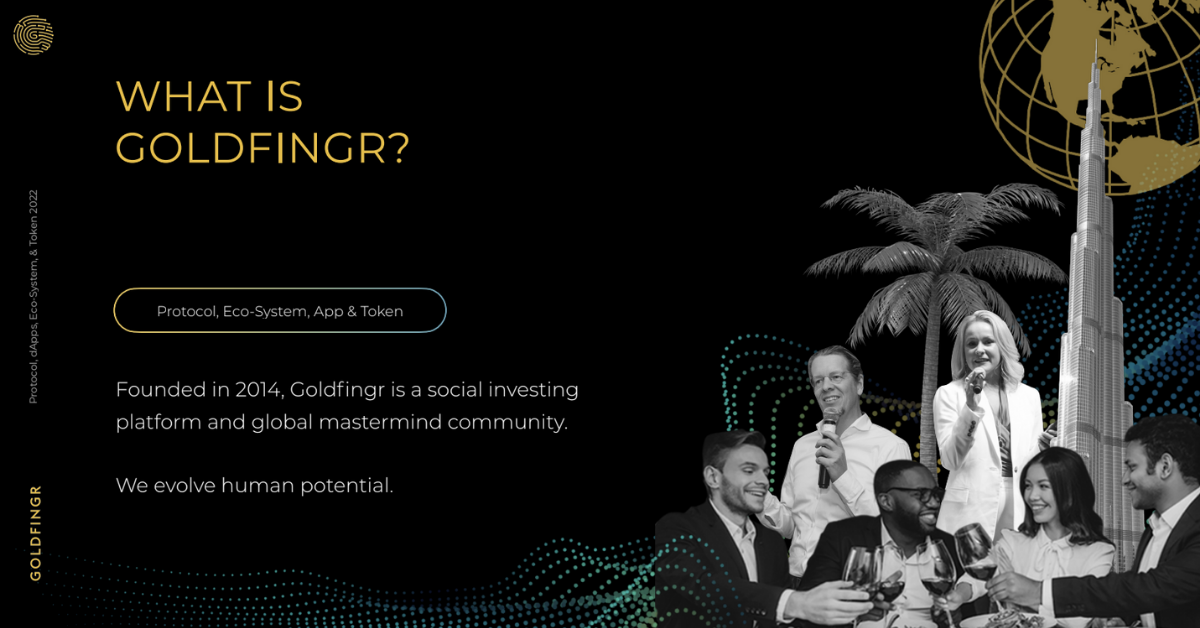 With a long history of taking on innovative projects and investing in cutting-edge technology, Rob Charles and his Goldfingr investment club are doubling down on cryptocurrencies, and decentralized finance applications.
Article continues below advertisement
There are so many new innovative projects that are investing on the edge of cutting technology. Rob Charles and his Goldfingr investment club are expanding on cryptocurrencies, decentralized finance apps, metaverse ideas, and NFTs. The Goldfingr app is a critical touchpoint in the application, giving Goldfingr members easy access to all of its substantial offerings.
Through the app, Goldfingr members can network with prospective partners, work in mastermind and educational events, find deals for new investments, and raise capital for upcoming projects. Overall, the app is a hub for members in the ecosystem to network with partners, engage in educational events, and retrieve details for new investments, while raising capital.
Article continues below advertisement
The app is a resource that gives members the opportunity to be a part of this award-winning investment group.
From all the resources that are present with the curated network of knowledgeable and motivated individuals, companies associated with Goldfingr are seen as innovative and successful. Through understanding the power of both technology and the way humans interact with each other, Charles created the app to empower all members who belong to the Goldfingr investment club.
Article continues below advertisement
This serves as a curated marketplace where members can communicate with each other, bring in resources, invest capital, raise capital, and exchange knowledge with each other on the app.
Goldfingr has access to private deal flow from successful VCs and Investors who have invested in Goldfingr, or become club owners. Their first level of due diligence comes from their trusted network of Venture capitalist, Family offices, Angel groups and knowledgeable LP's, then reviewed by their internal team, and then they push to the community.
Article continues below advertisement
FYI, the syndication is not limited to capital, becoming a member grants you access to top service providers globally, from lawyers, scientists, developers, marketing, public relations, human resources and more. The core of Goldfingr's success it's in the people, therefore the opportunities are endless.
Goldfingr is also invested in Animal Concerts, which is an original application that uses cutting-edge metaverse technology. To go in detail, Animal Concerts hosted a Halloween party in the metaverse with leading artists: Future Alicia Keys, Diplo, Vista Rhymes, Meek Mill, Gunna and a long list of other A list talent in the pipeline.
Article continues below advertisement
Moreover, a partnership with Matthias Mende's bonuz market is taking place. Additionally, Goldfingr is pairing up with Banxx Group to give their members the ease of spending their crypto swapping a visa card that is invested in GG International, which is an innovative lottery app that uses blockchain technology to ensure that there is complete transparency in the industry.
Their 3.0 MVP will enable members to invest in deals with the Goldfingr community, get access to attend physical and virtual experiences, receive education on top projects, while networking with world leaders, investors, celebrities, and influencers. Since, it is a one stop shop communications app with vision of messaging, neo bank, debit card that allows GFT currency anywhere visa is accepted, video calls, 1 minute video updates on projects and more.
Article continues below advertisement
The app is a two sided marketplace for investors and those who are seeking investment. On the investor side, it has many functionalities such as a login screen with biometric capabilities, information about deals that you own, potential investors to work with, the ability to send messages to potential startups you are interested in investing in, and much more.
For those seeking to raise capital, submit a project, give your project a memorable name, add in the complete contact details, upload a nice video or photo of your project, start inviting people to join your project, and submit the project. To learn more about Goldfingr, visit their website.