NEWS
HighKey Enterprises Is Already Supercharged for Success In 2023 With Huge New Celebrity Collabs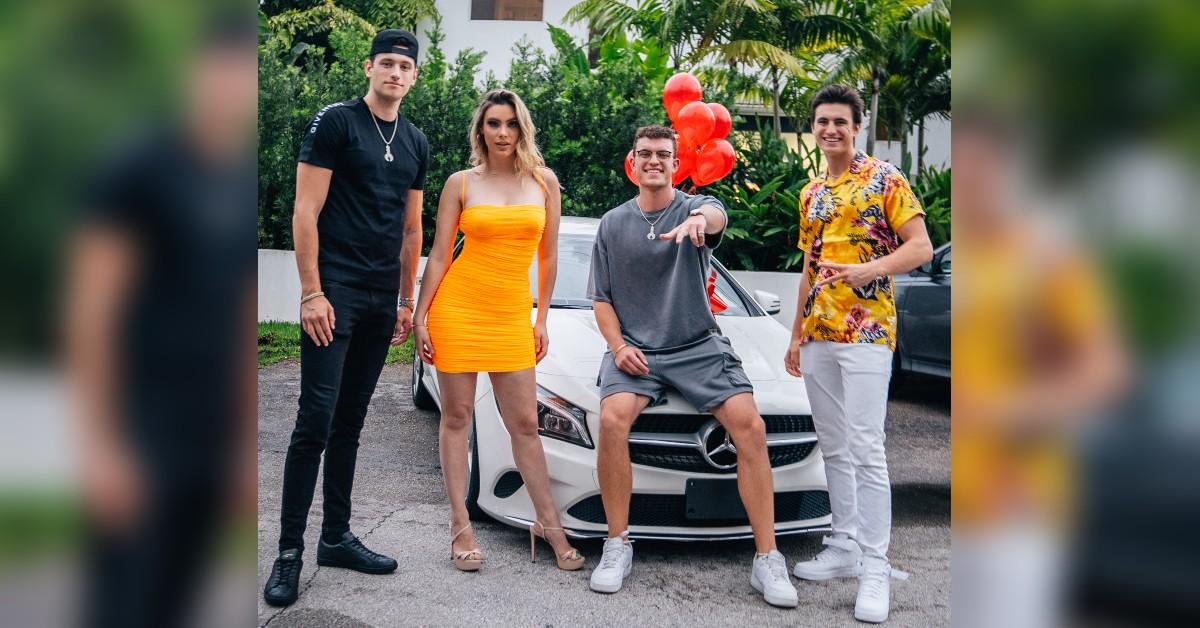 The beginning of the year is upon us, and now is a great time to think about company goals.
For Jordan Lintz, Luke Lintz, and Jackson Lintz, owners and co-founders of public relations company HighKey Enterprises LLC, the close of the year is also an excellent time to tally up wins and losses and start a new year on a positive note. As Jordan points out, the past year was filled with many ups and downs, but one of the most notable wins is HighKey Clout's continued collaboration with the A-list celebrities.
As a social media department of HighKey Enterprises, HighKey Clout specializes in growing the top 1% of Brands' Professionals' and Businesses' digital presence through social media growth campaigns and management + content creation. The public relations firm redefined "clout" as a new currency and dominated the industry through their unique celebrity growth marketing strategy.
Article continues below advertisement
Since 2017, HighKey Enterprises has been at the forefront of digital branding and social media marketing strategies. Through HighKey Clout (the social media marketing department), the firm has leveraged the celebrity giveaway model to build a massive USA following for its clients. Today, HighKey Enterprises uses their verified Instagram page @highkeyclout to run over 20 campaigns a year with some of the biggest celebrities in the US, having given away over a million worth of incredible prizes since December 2019.
HighKey Clout campaigns, first and foremost, are designed to be fun, quick, and easy for all parties involved. Clients only need to sponsor the giveaways, while celebrities do some photo/video features with HighKey to help advertise the campaign. As a result, sponsors grow their reach and engagement from their HighKey celebrity collaborations.
According to Luke Lintz, this super effective strategy was born by combining one of the oldest SMM tricks with a special HighKey ingredient: "Influencer marketing strategy and giveaways are still one of the best tools for getting the organic growth and exposure for your brand," says Luke. "However, we wanted to take that low-key strategy to the next level. We added a HIGH-KEY element: our influencers are celebrities and superstars, and our giveaway prizes are expensive luxury items."
Jordan explains that since the HighKey Clout was opened in 2019, his goal has constantly been collaborating with top-tier celebrities. HighKey has worked with celebrities such as Snoop Dogg, DaBaby, Cardi B, Nicki Minaj, Kevin Hart, and 6in9ine, just to name a few.
"My goal has always been collaborating with celebrities in some capacity," Jordan says. "I didn't necessarily know what the vehicle for that would be, and giveaways are just the first business model where it's worked for us to collaborate with such high-level public personalities."
Lintz brothers hit the jackpot with an exclusive celebrity giveaway strategy, a win-win for everyone. Fans are winning because they can get awesome and expensive prizes, such as cars (brand-new Mercedes Benz), designer bags (Dior, Louis Vuitton), and cool tech gadgets (iMacs, MacBooks, iPhones).
Article continues below advertisement
Celebrities benefit as they strengthen their ties with the community by giving away free stuff to fans. They also get handsomely paid hundreds of thousands of dollars in the process. More importantly, HighKey clients are in for a massive treat because they get enormous organic exposure to a USA-based audience.
On top of that, exclusive celebrity giveaways are also a win for HighKey Clout and HighKey Enterprises. Over the past three years, this unique service HighKey has been offering netted them an astonishing revenue stream of over $10 million.
Even though HighKey Enterprises has created a rock-solid foundation in the industry with celebrity giveaway collaborations, Luke Lintz points out that they are a multifaceted organization and a massive player in digital marketing. Besides HighKey Clout SMM, they also have a branding department called HighKey Agency that manages clients' PR to become HighKey famous on Google.
And despite still counting all the wins HighKey had in the past year, Luke & Jordan Lintz already feel inspired to push even more this year in 2023 and aim even higher.
"This year was amazing for all of us at HighKey Enterprises," says Luke. "I'm genuinely looking forward to what 2023 will bring."
"We have some new celebrity collaborations in the works, and we are already preparing the ground for them to hit," adds Jordan. "So stay on the lookout because HighKey is coming into the new year supercharged for success."