NEWS
The Story of Huupe: How Paul Anton and Lyth Saeed Are Disrupting The Global Basketball Market With Their Innovative Smart Hoop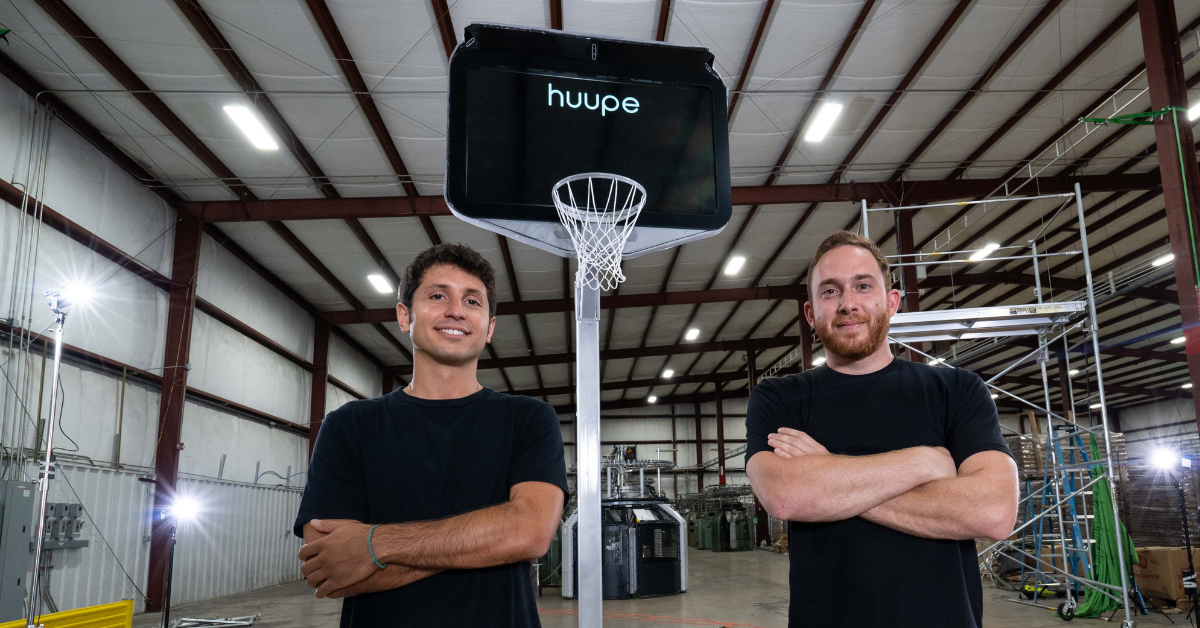 As technology evolves, the way humans live, work and play evolves as well.
Two of the most exciting new technologies enabling human growth are the internet of things (IoT) and machine learning. The internet of things describes physical objects that are connected to software or the internet. Machine learning is a method of data analysis that identifies patterns in data and makes decisions with minimal human intervention.
Article continues below advertisement
Access to new data helps humans gain insights into parts of their lives that weren't possible before. However, co-founder and CEO at Huupe, Paul Anton, argues that creating cutting edge technology and access to new data alone are not enough.
Anton states, "it's how you use the data and the technology that matters. At Huupe, we are able to use machine learning and computer vision to gather incredible new pieces of data on the basketball court, but how we use that data is what sets us apart."
Huupe is the world's first smart basketball hoop that utilizes IoT technology, machine learning, and computer vision in order to allow users to train like the pros do, track their performance and play against other Huupe users around the world.
Founded by Paul Anton and Lyth Saeed in 2019, Huupe is disrupting the $2.58 billion basketball hoop industry as well as the exercise and technology industries at large.
Article continues below advertisement
In retrospect, Anton and Saeed were always destined to change basketball for the better. Their fathers met in college. Anton's father and mother were actually college basketball stars. Anton's mother was a standout at Marquette University and his father played at the University of Wisconsin-Oshkosh.
Anton's and Saeed's parents would eventually settle in Milwaukee, Wisconsin, where the Huupe founders grew up playing basketball together as kids.
Beyond basketball, the young friends bonded over technology, art and entrepreneurship.
Eventually, they would go to college in separate cities where they unwittingly formed a hobby that would plant the seed for the first conception of Huupe. Anton and Saeed would play basketball together on Snapchat, with one hand recording shots from the phone and the other hand holding and shooting the ball.
Article continues below advertisement
After graduating, Anton and Saeed nurtured their love for technology and entrepreneurship. Saeed led operations at mobile rideshare app, Qup, helping the company expand internationally before leaving to join Jobot, an AI recruiting technology company pioneering the technical recruiting industry today.
Before law school, Anton co-founded an out-of-home advertising company in Milwaukee, WI, that started with small signs around the city and eventually expanded to digital billboards on Wisconsin's busiest stretch of freeway. Anton's first company was acquired earlier this year by Lamar Outdoor, the nation's largest outdoor advertising company.
Then, during his first summer in law school, Anton created an augmented reality application with two other friends using machine learning and computer vision to track makes and misses on a basketball court while allowing users to play basketball against each other remotely.
Article continues below advertisement
This was Anton's second venture, Real Shot, which was part of Deutsche Telekom's hub:raum accelerator. Three years ago, Anton showed his game to Saeed, who played it on a Microsoft HoloLens.
Upon experiencing the game, Saeed saw the potential and proposed that Anton incorporate a smart screen on the backboard of a basketball hoop to simulate the user experience of his augmented reality game. The idea for Huupe was born right then and there. In fact, Saeed quit his job on the spot in order to join Anton and get to work immediately.
Article continues below advertisement
As they've been on the same page their entire lives, Anton and Saeed immediately saw the vision for what would come to be Huupe, harkening to their days in college playing basketball on Snapchat. In only 30 days, they produced a video for the concept and found funding right away. Anton and Saeed were able to raise an impressive $1.8 million for their smart basketball hoop concept, quickly propelling their vision forward.
Working together in Anton's garage, the two co-founders spent 1-year building and breaking basketball hoops with screens on the backboard as well as workshopping high quality and luxurious designs. In addition to testing the hardware, with the help of their CTO Dan, the Huupe co-founders created revolutionary software utilizing machine learning, computer vision, and an easy-to-use, gamified, user experience.
Article continues below advertisement
Flexing their entrepreneurial muscles, as soon as the team had a working prototype, they put it in the back of a UHaul and drove it from Milwaukee all across the United States, pitching people from the east coast to the west coast. Sleeping in the UHaul along the way, Anton and Saeed made it to California where they've been demoing the prototype to institutional investors, high-net-worth individuals, and NBA players.
After three years, Huupe is about to go to market as the co-founders have already started the manufacturing phase. Their innovative new smart basketball hoop is the perfect mélange of cutting-edge technology, sleek design, top-tier basketball training, and exciting gamified UX.
The weatherproof and extremely durable smart hoop allows basketball lovers to play games and compete with other players around the world, offers world-class training exercises, and can even play highlights of classic NBA moments.
Article continues below advertisement
Of course, utilizing machine learning and computer vision, the smart Huupe can help players, particularly shooters, track their progress as well as improve more nuanced aspects of their game.
With the Huupe, players can play thousands of games and challenges that lead to healthy competition. Not only are these games fun, but they help improve players' skills. Huupe offers classic games and challenges like HORSE, 3-point contests, 'most free-throws in 60 seconds,' and 'most shots made in an hour.' Players can compete with one another across multiple leaderboards for different games tiered by cities, states, countries, and the world.
Article continues below advertisement
Furthermore, there are NBA-level training videos with exercises and lessons to help improve players' fundamentals, form, and skills. Of course, Huupe stores all of the data so players can analyze and track their stats for swishes, makes, misses, trajectory, shot position, vertical jump, wingspan, and much more.
Arguably the coolest aspect of the Huupe is that it allows players to play video highlights of their favorite NBA or basketball moments directly on the backboard of the hoop, enabling players to re-enact these moments like never before. This small touch is an homage to every basketball fan's childhood re-enacting these moments with their imagination only.
As NBA investors such as Thaddeus Young and Trevor Booker have already shown interest, the Huupe brand is making its name in the NBA community. For more updates on Huupe, you can visit their website and follow their Instagram.