NEWS
Important Tips For Using A CBD Roll-On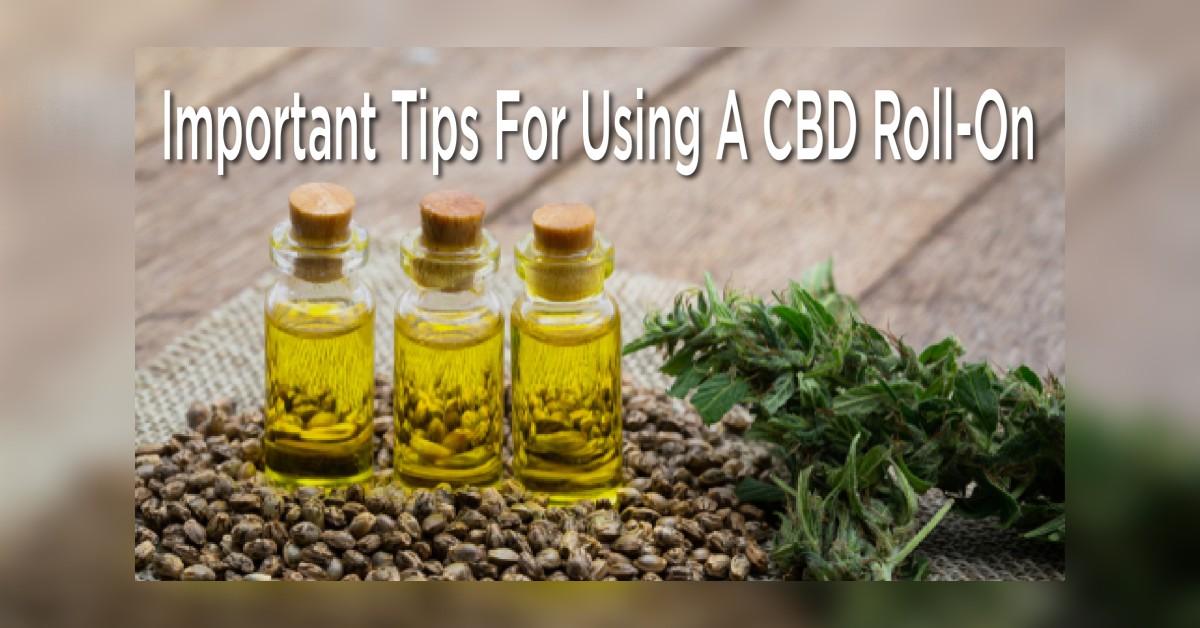 The medical benefits of the cannabis plants are known to man for hundreds of years. Scientists have found that the therapeutic benefits of cannabis are due to the presence of cannabidiol, or commonly known as CBD. Today CBD and its different products are popular all around the world. They can be really beneficial for treating many health problems that affect humans, like anxiety, depression, epilepsy, chronic pain, various skin problems, etc.
Article continues below advertisement
In recent times, CBD topical products are gaining much popularity in the cosmetic industry. CBD topical products like creams, lotions, balms, and CBD oil roll-ons can be beneficial for maintaining healthy skin. CBD roll-on is a product that is designed to apply CBD oil to the skin. The product comprises a small tube that contains CBD oil and a roller ball at the top to release the oil when it is rubbed on the skin.
A CBD oil roll-on often contains hemp seed oil or coconut oil which is beneficial for the skin. Apart from that, they are also infused with peppermint, capsaicin, or arnica. In this article, we will tell you about the important things you should know when using CBD roll-on.
It Does Not Reach The Bloodstream
When you use other CBD products like CBD edibles, CBD vapes, or CBD tinctures, it will enter into your bloodstream and work with it to give the desired effects. But when you apply a CBD topical product like CBD oil roll-on, the CBD will be absorbed by the skin before it will reach the bloodstream. They target only the specific area in which the CBD oil is applied. The absorbed CBD will react with the cells, muscles, and joints and gives you the desired effect.
Article continues below advertisement
It Will Help You To Relax
If you are stressed out or wanting to reduce the tension in your shoulders and neck or to relax and restore some pressure points, your best option is to rub the area with an organic CBD oil roll-on. The terpenes present in the CBD oil have stress-reducing and mood-enhancing properties that help you to get a relaxing sensation. The CBD oil roll will help you reduce the tension that feels on the muscles and relax them.
Beneficial For Athletes
Athletes often suffer from muscle tenderness, joint pain, stiffness, etc. There are many rules and regulations that stop athletes from using certain drugs that can help them in alleviating all these problems. In that case, CBD oil roll-on can help them in reducing pain and other body issues. The absence of THC makes it legal for athletes. When you rub CBD oil roll-on to the tender muscles and painful joints, it will decrease the inflammation, reduce pain, and helps the body to relax.
Article continues below advertisement
They Can Remove Acne
Acne is a very common skin problem among adolescents. The anti-inflammatory properties of CBD will help to reduce skin inflammations and prevent the formation of pimples. The anti-inflammatory property can also help in preventing skin aging and aid in the elasticity of the skin. When you use a CBD oil roll-on, CBD will be absorbed into the skin and regulate the production of sebum and prevent acne formation.
Beneficial For Chronic Pain
CBD is proven to be an effective remedy for chronic pain. CBD oil can benefit people who are suffering from chronic headaches, cramps, arthritis, and muscle spasms. The pain-relieving and anti-inflammatory properties of CBD oil help the patient to manage the pain. The tiny protein receptors in the cell receive signals from various stimuli and help the cells to respond. This response results in anti-inflammatory effects and reduces the pain.
Article continues below advertisement
Help You To Get Better Sleep
CBD oil can help your body as well as the mind to relax. This effect of CBD is very helpful in relieving anxiety and pain. They are the very common symptoms of insomnia that affects humans. CBD will be absorbed into the body and interacts with the receptors in the brain that facilitates the sleep cycle of the body. Apply CBD oil roll-on to the pressure points around your neck and head before you go to sleep. This will help you to relax and give you a better sleep.
It Doesn't Get You Addicted
Most of the pain relieving drugs that doctors prescribe can result in addiction and chronic pain. Over 130 people in the United States die every day because of the overdosing of opioids. Even the most common medicine like suboxone can become an addiction. But CBD oil does not cause any addiction or side effects. The amount of THC in CBD oil is less than 0.3 %, which is not enough to produce a "high".
Effective For Treating Psoriasis
Psoriasis is one of the most common skin problems that can affect people of all ages. It is an auto-immune disease caused by the unwanted growth of skin cells.The topical products like CBD roll-on contain CBD oil that can help in slowing down the growth of skin cells and reduce inflammations and thereby removing psoriasis. The essential fatty acids present in the CBD oil can also help in nourishing and moisturizing the skin.
Always buy your CBD roll-on from a reputed brand. By doing so you will get what you pay for and you will not experience any side effects because most of the reputable companies will undergo third-party lab testing.