NEWS
Truckin' With Hemp Trichomes — Is CBD A Safe Supplement For Professional Truck Drivers?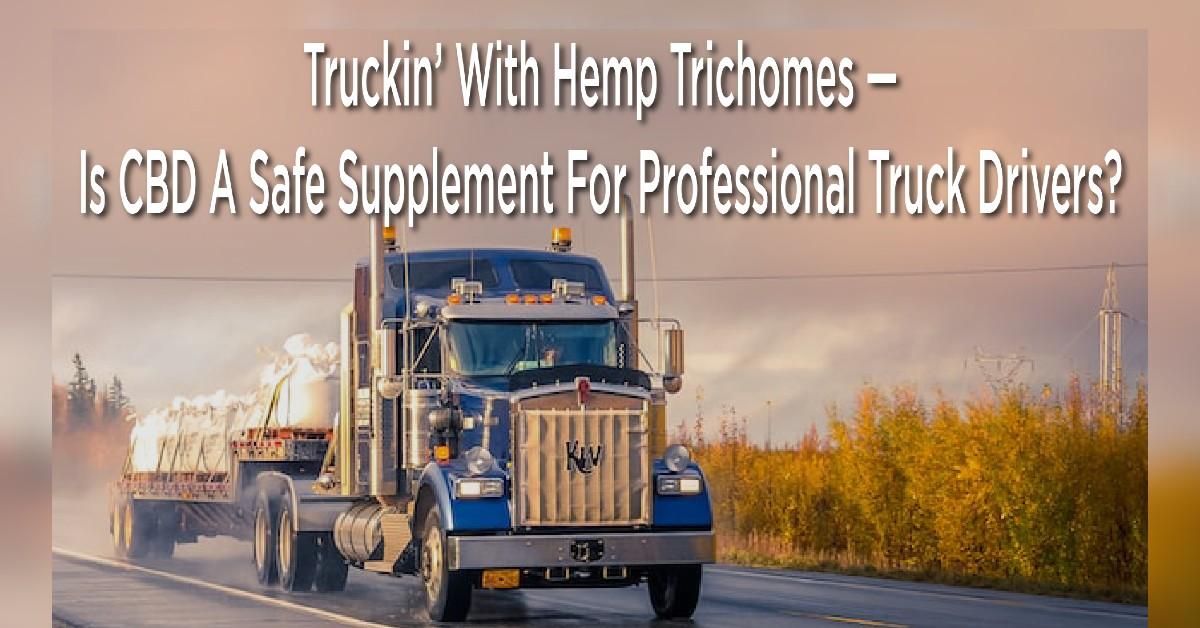 Being a truck driver can take a toll on your body and mind. It doesn't matter how ergonomic your seat is; those long hours on the road aren't great for a trucker's back, neck, and knees. Plus, drivers have to spend a lot of time away from their loved ones, which can impact psychological well-being.
As CBD oil began to gain prominence in the mainstream media, it's no surprise more truckers became interested in adding this supplement to their toolkit. Since CBD oil seems to have anti-inflammatory benefits, it should make driving long distances a bit more comfortable for the millions of North American truck drivers.
Although hemp CBD isn't psychoactive like delta-8, there are a few considerations to keep in mind before trying this supplement. When misused, CBD oil could put drivers in danger.
Article continues below advertisement
Can Truckers Take CBD Oil While On The Road?
Legally speaking, truckers can use hemp-derived CBD products while on the road. Plus, preliminary lab reports suggest CBD oil doesn't impair motor function. Researchers in Australia and The Netherlands claim CBD supplements have zero correlation with a person's driving ability.
That being said, it's not wise for new customers to take a ton of CBD oil before hitting the road. Even though most healthy adults don't experience adverse side effects with CBD oil, there's no telling how your body will react to this cannabinoid.
It's possible CBD supplements could make people feel drowsy, especially at higher doses. Therefore, truckers should always test their CBD products in a safe environment like a hotel room or at home before using them while on the road.
Article continues below advertisement
Employees must also remember that full-spectrum CBD oils can contain ≤ 0.3 percent delta-9 THC. While this tiny amount of THC won't get people "high," it could put truckers in hot water if they have to submit a drug test. Delta-9 has a long half-life, so it may remain in your body for days or weeks even if you don't feel its effects.
To avoid this risk, it's best to stick with lab-verified THC-free CBD products like isolate powder or broad-spectrum tinctures. Truckers may also want to consider skin-safe CBD topicals. Unlike CBD oils or gummies, CBD creams won't get absorbed into the bloodstream. Instead, CBD topicals have localized effects that may temporarily relieve aches and pains.
Lastly, truckers with pre-existing conditions or who take prescriptions should avoid CBD oil. Doctors know that CBD oil can influence the absorption of other chemicals. Always speak with a medical authority before trying CBD to ensure it won't mess up your other medications.
Article continues below advertisement
Why Would Truckers Bother With CBD Oil?
Considering the stipulations mentioned above, you may be wondering why a professional trucker would want to use CBD oil. While it may take time to determine a safe CBD dose, many customers believe it's well worth it for the many benefits it offers.
A significant reason truckers love CBD oil is that it may reduce joint and muscle pain. Many tests reveal CBD has anti-inflammatory compounds that are great for conditions like arthritis. Whether people apply CBD topically or take CBD oils, capsules or gummies, they might help truckers deal with the physical strain of their profession.
Besides pain relief, many truckers use CBD oil to naturally de-stress. Tiny doses of CBD oil help reduce anxiety, and larger amounts may help truckers who struggle with insomnia. Also, as mentioned above, low quantities of CBD oil don't hinder a person's driving ability.
All Roads In The Hemp Industry Lead To Real Tested CBD!
If you're new to CBD oil, we recommend investigating all of the data on Real Tested CBD. Over the years, we've become one of the most reputable CBD review sites thanks to our strict lab testing procedures. As you read the countless articles on our site, you'll see unbiased data on many major CBD brands.
Please follow this link to see the CBD oils that Real Tested CBD feels are the best in the hemp industry.
Learn more about CBD Safety at Real Tested CBD.