NEWS
Beyoncé, Megan Thee Stallion Choreographer JaQuel Knight Takes Creative Control By Launching Copyright Company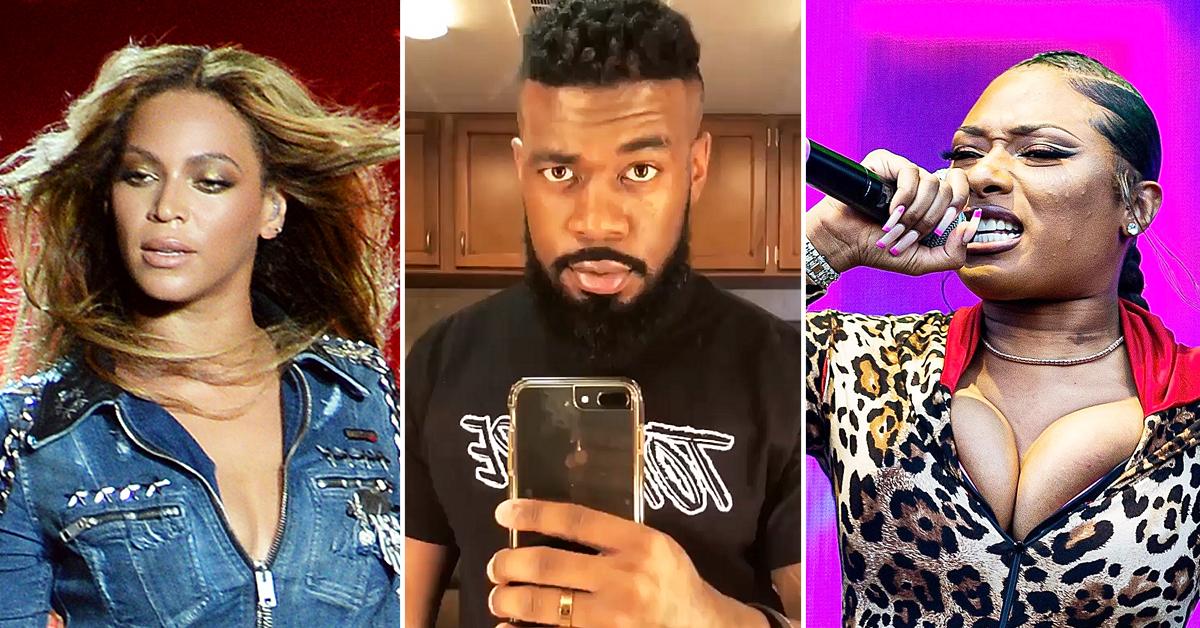 Talk about putting a ring on it! JaQuel Knight, who created the iconic choreography for Beyoncé's "Single Ladies" 2008 music video, has launched Knight Choreography and Music Publishing Inc. to copyright his work moving forward.
Article continues below advertisement
As OK! previously reported, Knight made history in the dance industry last year when David L. Hecht, founding and managing partner at Hecht Partners LLP who recently landed on Billboard's "Top Music Lawyers 2021" list, obtained a copyright registration for Knight and his famed routine.
With the recent launch of Knight Choreography and Music Publishing Inc., the company will broker licensing deals and protect intellectual property when it comes to Knight's choreography. The dancer will work in partnership with his manager, producer Mary Pelloni, and lawyer Hecht on the venture.
Article continues below advertisement
"Copyrighting movement is about putting the power back in the artist's hands," Knight told Variety, who broke the news of the choreographer's latest move.
Article continues below advertisement
"We set a historic precedent with our 'Single Ladies' copyright achievement, and we are thrilled to be launching Knight Choreography & Music Publishing, Inc. so that the next generation of artists are afforded the same platform, resources and tools to thrive, creatively and financially, in the commercial music industry."
Knight Choreography and Music Publishing Inc. will not just protect its founder, the company plans to represent an array of choreographers and creators, in dance and other entertainment mediums. Variety reported that the company plans to act as a strategic partner in copyright, licensing and beyond.
Article continues below advertisement
Hecht tells OK! that he "looks forward to assisting even more choreographers" in conjunction with Knight's new company. "For too long have choreographers been treated like second-class artists," he adds. "Most deserve significantly better compensation and more recognition, particularly since the movement they create is often at the core of the 21st century entertainment experience, be it video or live performance."
"I am honored to work with JaQuel and his manager, Mary Pelloni, to ensure that his intellectual property is fully protected," Hecht previously said.
Article continues below advertisement
After working with Beyoncé, Knight's life changed drastically; however, he said that he was being "used and abused" by the industry.
Article continues below advertisement
"The artist is used to the idea that after you create something for them, it's theirs — that they should be able to perform it around the world for millions of people forever," Knight said in a Billboard magazine interview published last year. "We're left to the life of Instagram posts and Twitter to prove we did the work, which is sad. And credit on social media does not come with ownership."
He questioned, "How is this happening and choreographers are not getting anything? How can I take my craft more seriously and protect myself?"
Article continues below advertisement
In 2009, the Atlanta-born dancer — who has also worked with Megan Thee Stallion, Zara Larsson and The Chicks — and Frank Gaston Jr. (whom he collaborated with on "Single Ladies (Put A Ring On It)") won the MTV Moonman at the 2009 Video Music Awards for Best Choreography.
The issue of ownership is ongoing, and many creators feel similarly to Knight. Just recently, TikToker Addison Rae faced backlash for not crediting dance creators during a recent sketch with Jimmy Fallon on The Tonight Show.