NEWS
Jason Sudeikis Attends Golden Globes Virtually In Tie-Dye Hoodie, Rushed Through Bizarre Acceptance Speech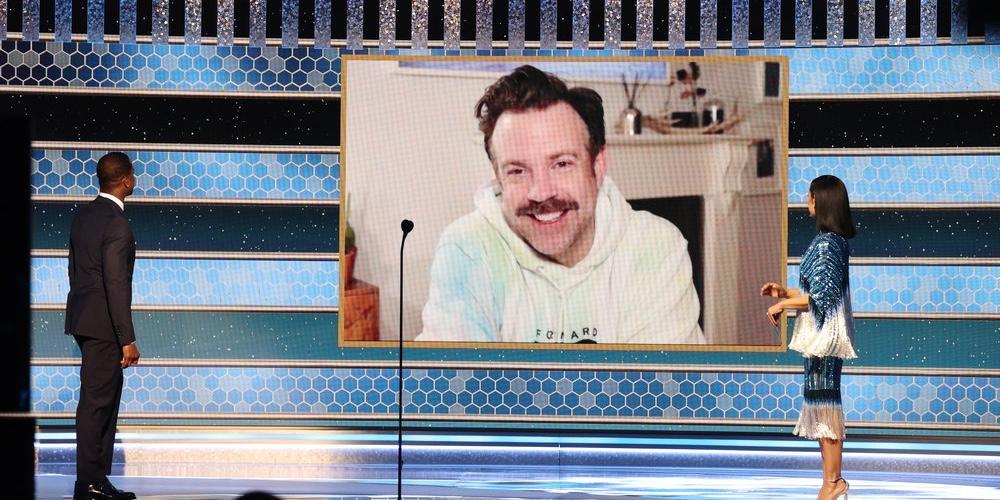 At the 78th Golden Globe Awards, Jason Sudeikis scored Best Actor in a Comedy Series for his work on the Apple TV+ series Ted Lasso.
But the huge honor seemed to be overshadowed by the 45-year-old's bizarre acceptance speech.
Article continues below advertisement
Tuning in virtually, the SNL alum decided to dress down in a tie-dye hooded sweatshirt and sported a '70s-style mustache.
Starting off his speech by noting he "can't swear," the actor stumbled through telling a story about a book he reads to his son Otis called The Three Questions by Leo Tolstoy. Rambling, he attempted to make the connection of one of the questions in the book to working with his co-stars.
"I want to give a shoutout to all the people I get to act with on the show because they're incredible," Sudeikis said. "Do they make me the best? No. But I know for a fact they make me better. Better than I am, better than I thought I could be and better than anything I could do."
Article continues below advertisement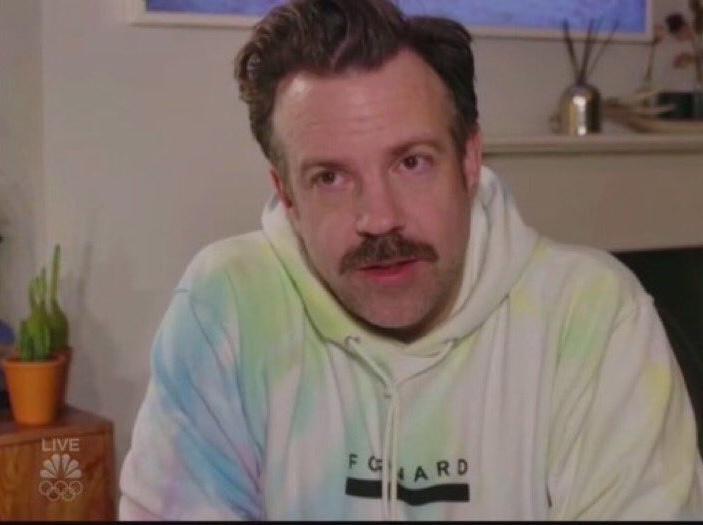 Black Monday star Don Cheadle, who lost out to Sudeikis, even started making a wrap-it-up gesture with his hand, while fellow nominees Eugene Levy, Ramy Youssef and Nicholas Hoult chuckled.
"Don's right, I got to wrap this puppy up. Never been my forte," the winner admitted. "Little windy."
Article continues below advertisement
Speaking to reporters backstage, Sudeikis explained that his now infamous hoodie with the logo "Forward Space" came from his sister's dance studio and workout space in New York City.
"I believe in the product as much as the message," he said. "I had a multitude of hoodies of a multitude of things I believe in and support. This one seems most appropriate."
The Horrible Bosses star, who recently split from his fiancé Olivia Wilde, went on to defend his casual attire, insisting he was not the only Golden Globe winner to sport a hoodie.
"You gotta look back at Audrey Hepburn for Funny Face. She also wore a hoodie," he quipped.
Article continues below advertisement
Sudeikis also assured reporters he wasn't upset by Cheadle's wrap-it-up request.
"That's just Kansas City love," he said, as both actors are from the midwest city. "He knew I'd listen to him. A lot of people don't know he's an excellent stage manager as well as an American acting icon."
The 2021 Golden Globes ceremony took place on Sunday, February 28, nearly two months later than normal, due to the impact of the COVID-19 pandemic on cinema and on television.
Airing live on NBC, this was the first bi-coastal ceremony, with Tina Fey co-hosting from the Rainbow Room in New York City, and Amy Poehler co-hosting from The Beverly Hilton in Beverly Hills, Calif.
Other big winners of the night, chosen by the Hollywood Foreign Press Association, included Emma Corrin, Mark Ruffalo, Rosamund Pike, Josh O'Conner, Catherine O'Hara, Daniel Kaluuya, Gillian Anderson, John Boyega, Anya Taylor-Joy and Jodie Foster.