NEWS
Stepping Out: A YouTube Star's Guide To Leaving Your Comfort Zone And Reaching Your Potential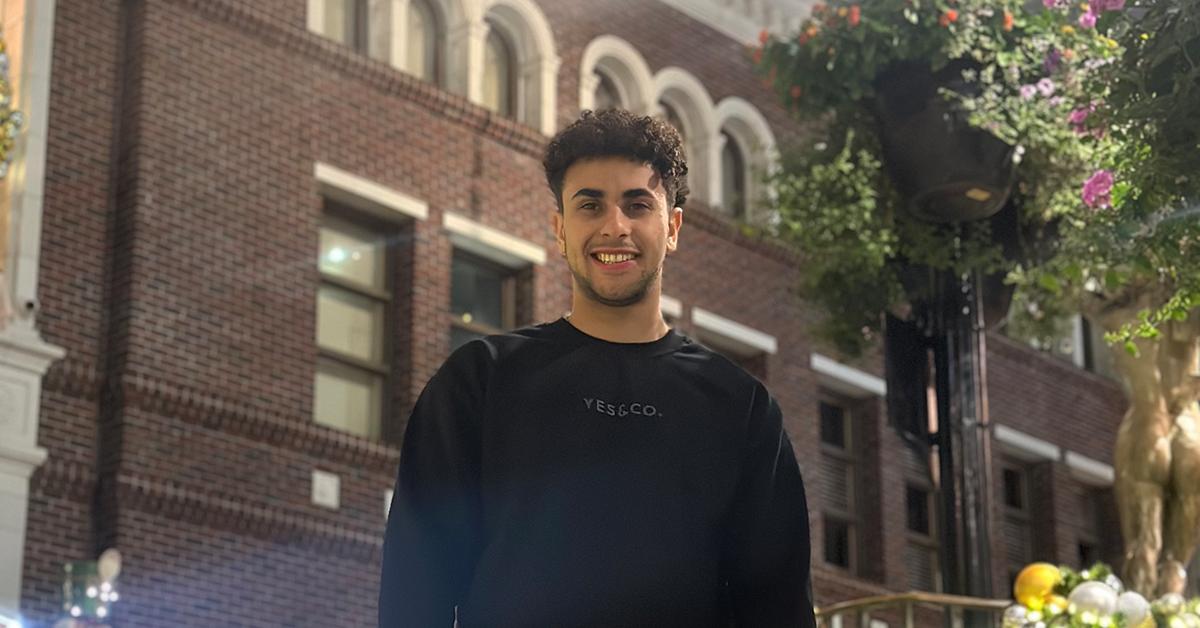 Justin Awad, a 21-year-old social media influencer and entrepreneur, has made a name for himself by stepping out of his comfort zone and asking strangers thought-provoking questions on the streets.
With nearly 450,000 followers on Instagram and 1.3 million on TikTok, he has become a viral sensation. But according to Justin, leaving your comfort zone is not just for those seeking fame and fortune. It's a mindset that everyone should adopt to grow and become a better version of themselves.
As Justin's success continues to soar, he understands that it is essential to keep pushing himself out of his comfort zone to continue growing. He firmly believes that stepping out of situations a person feels 'at home' in is one of the most critical aspects of personal development. Justin's journey from high school to college is a testament to the power of leaving your comfort zone.
"During high school, I was a shy, introverted teenager who kept to himself. We didn't have mobile phones as school banned all personal electronics, and I was usually somewhere in the corner—avoiding everyone possible," says Justin.
Article continues below advertisement
However, everything changed after Justin started college. He realized he wanted to challenge himself and step out of his comfort zone, so he started making videos for YouTube. At first, his content was supposed to make a few friends laugh, but thanks to his hilarious street interviews, which he is known for today, Justin went viral, and the rest is history.
"I was thinking about the best way to step out of my comfort zone and figured that going around and talking with complete strangers would be the baptism by fire I needed," he says. "Still, I wanted to make it easier for myself, so I settled for street interviews."
Still, Justin wanted to take his street interviews up a notch and decided to ask strangers about random life facts. He tested the basic knowledge of passersby, ranging from questions about ancient civilizations, US geography, and history to inventions of the 20th and 21st centuries.
Initially, Justin was met with some confusion and befuddlement from most people he approached. While he was glad that strangers still decided to take time out of their day for Justin, he was surprised by some of the incredible and hilarious answers he got.
"I was absolutely shocked at some of the answers people gave me," says Justin. "Some of the people were really knowledgeable, but others would miss the mark by a mile."
"I mean, one of the latest answers is that we celebrate Independence day on July 30th or that Earth goes 365 times around the Sun in one year. And one of the funnier ones — I found out that people in Idaho speak the 'Idahoan' language."
Article continues below advertisement
Justin's rise to fame has inspired many people, and he believes anyone can do the same if willing to embrace the unknown and take risks. For Justin, it's all about changing your mindset and taking that first step, no matter how small.
For example, trying a new restaurant or taking a different route to work. As small as they seem, these steps can help you get comfortable with the idea of change and build up your confidence to take more significant risks. In addition, Justin believes having a purpose behind your actions is essential.
"When you have a clear purpose, it gives you a reason to step out of your comfort zone, and it becomes easier to overcome the fear of the unknown," he explains.
Justin's purpose and mission are to help educate people and make the world a bit better place, which motivates him to continue making content and pursue entrepreneurship with his Yes&Co clothing line. Moreover, his mission also led him to pursue a career in the healthcare industry as a doctor. He is still a pre-med student learning for his MCATs, but he hopes to become a family physician one day.
As Justin continues pursuing his passion for content creation and entrepreneurship with his clothing brand, he encourages others to take the leap of faith and step out of their comfort zones. According to him, that's the only way to reach our full potential.
As Justin says, "Whether you're a viral sensation or just starting out, the key is to believe in yourself and your vision. There is a time and season for everything; if you work hard enough, want it badly enough, and believe in yourself, you can do anything. Don't let fears hold you back from reaching your full potential. So take that first step toward your dreams, and who knows where it might take you."