NEWS
Keeping Cannabidiol Extra Cool — Do You Need To Refrigerate CBD Oil?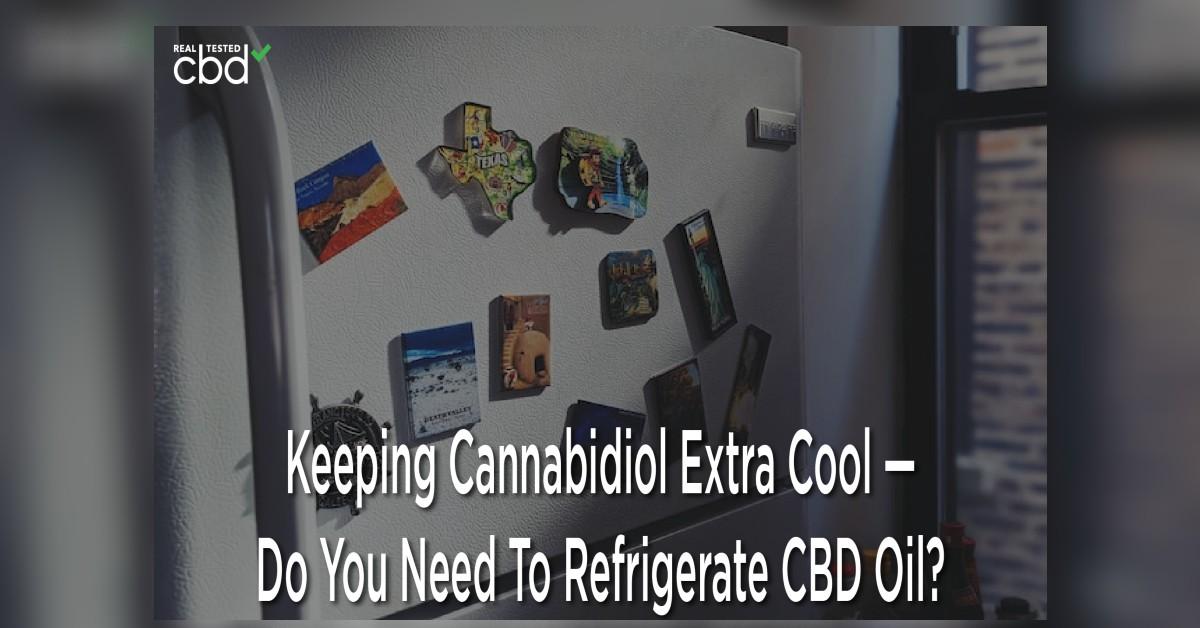 Currently, there's a debate over whether it's beneficial to refrigerate CBD oils. While some customers argue refrigerated CBD stays fresher for longer, many manufacturers say there's no need to store your CBD in such a cold environment. However, sometimes it might make sense to keep your CBD "extra chill."
Generally speaking, you can safely store CBD oil in any cool and dry area of your home. However, if you're concerned about your CBD product's longevity, you could make extra space in your fridge for your hemp extract.
Article continues below advertisement
When Should People Put Their CBD Oil In The Fridge?
As mentioned in the intro, putting CBD oil in the refrigerator is optional. In fact, most consumers will do just fine putting their bottle of CBD oil in a reliably dark, cool, and dry space. If you've ordered a high-quality CBD oil, it should retain its potency for about one year. Although CBD degrades with age, you shouldn't notice a significant decrease in strength if you store it properly and use it within a year of its manufacture.
If you order your CBD oils one at a time, you'll probably finish each product before the "Best By" date. However, if you have room in your refrigerator, you could safely store CBD oil in this appliance to extend its shelf life.
Most often, people who store their CBD oils in the fridge live in states that experience a lot of heat, humidity, and sunlight throughout the year. For instance, if you live in Florida, Nevada, or Arizona, any CBD you leave in the cabinet will degrade faster than bottles of CBD in Maine or Alaska. So, it's good to factor in your area's average temps when considering whether to put your CBD in the fridge.
Article continues below advertisement
Also, if you like to order CBD in bulk, you should make some space in your fridge for hemp extracts. Buying bulk shipments of CBD is a great way to save on your total expenses, but it's more likely you won't be able to finish these CBD oils before they hit their expiration date. Putting your wholesale CBD in the fridge will help preserve those delicate hemp cannabinoids and terpenes way longer than at room temperature.
Never Forget To Check Your CBD's Expiration Date!
No matter how highly acclaimed your hemp company is, every CBD oil will lose its potency after a few months. Granted, CBD doesn't degrade "fast," but it's best to use this supplement within at least one year. Customers should also keep their CBD oil far from heat, light, and moisture, because these three factors could speed up hemp's decay rate.
Article continues below advertisement
Whenever you're looking at "CBD near me," please look closely at the manufacturer's posted "Best By" date. If you don't feel like you'll finish your CBD oil before this day, you should consider putting your CBD oil in the fridge. The cooler temperatures in a refrigerator help slow the aging process for CBD.
If you're struggling to find the ideal CBD oil for your lifestyle, we'd recommend starting on Real Tested CBD's CBD oil tab. Here, you'll find a wealth of science-backed info on all of North America's most prominent CBD brands. Please take your time reviewing the third-party lab tests on our site to choose the best CBD oil.
Learn more about CBD Oil at Real Tested CBD.