EXCLUSIVE
Frail Mossimo Giannulli — Begging For Early Jail Release Due To 56-Day Quarantine — Emerges From Solitary Confinement Maskless: See The Photo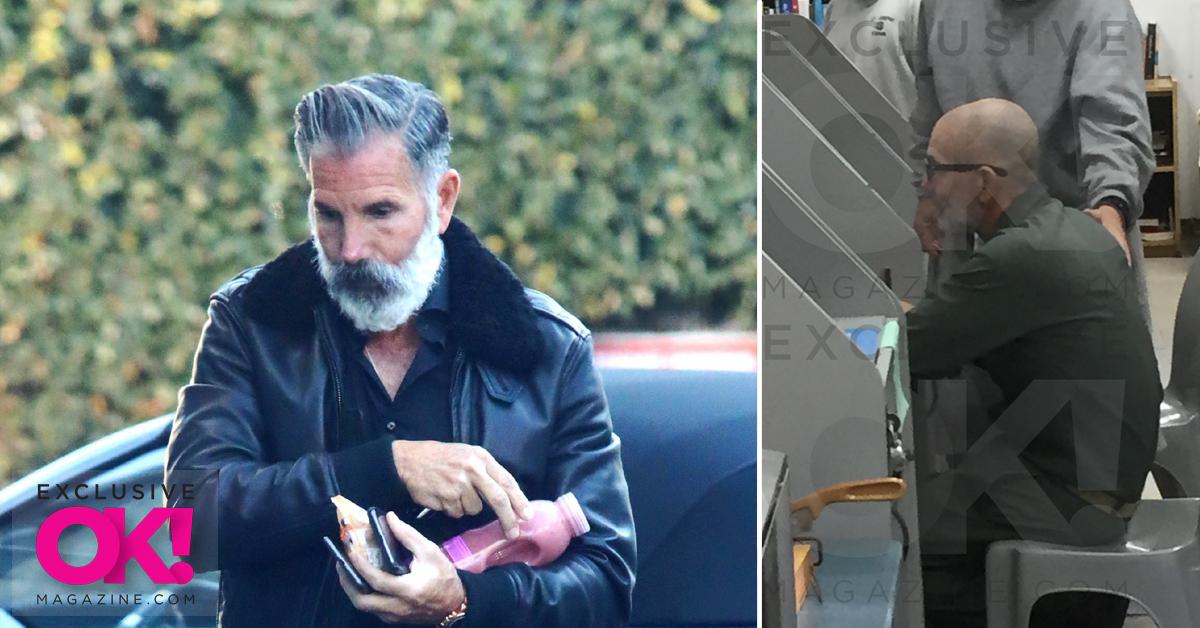 A gaunt and frail Mossimo Giannulli can be seen talking with a fellow inmate in a photo obtained exclusively by OK! that was taken just hours after he completed his 56-day COVID quarantine at USP Lompoc. Those 56 days were spent almost entirely in solitary confinement as a way of making sure there could be no new coronavirus outbreaks at the facility, where at one point close to half the inmates had tested positive.
Article continues below advertisement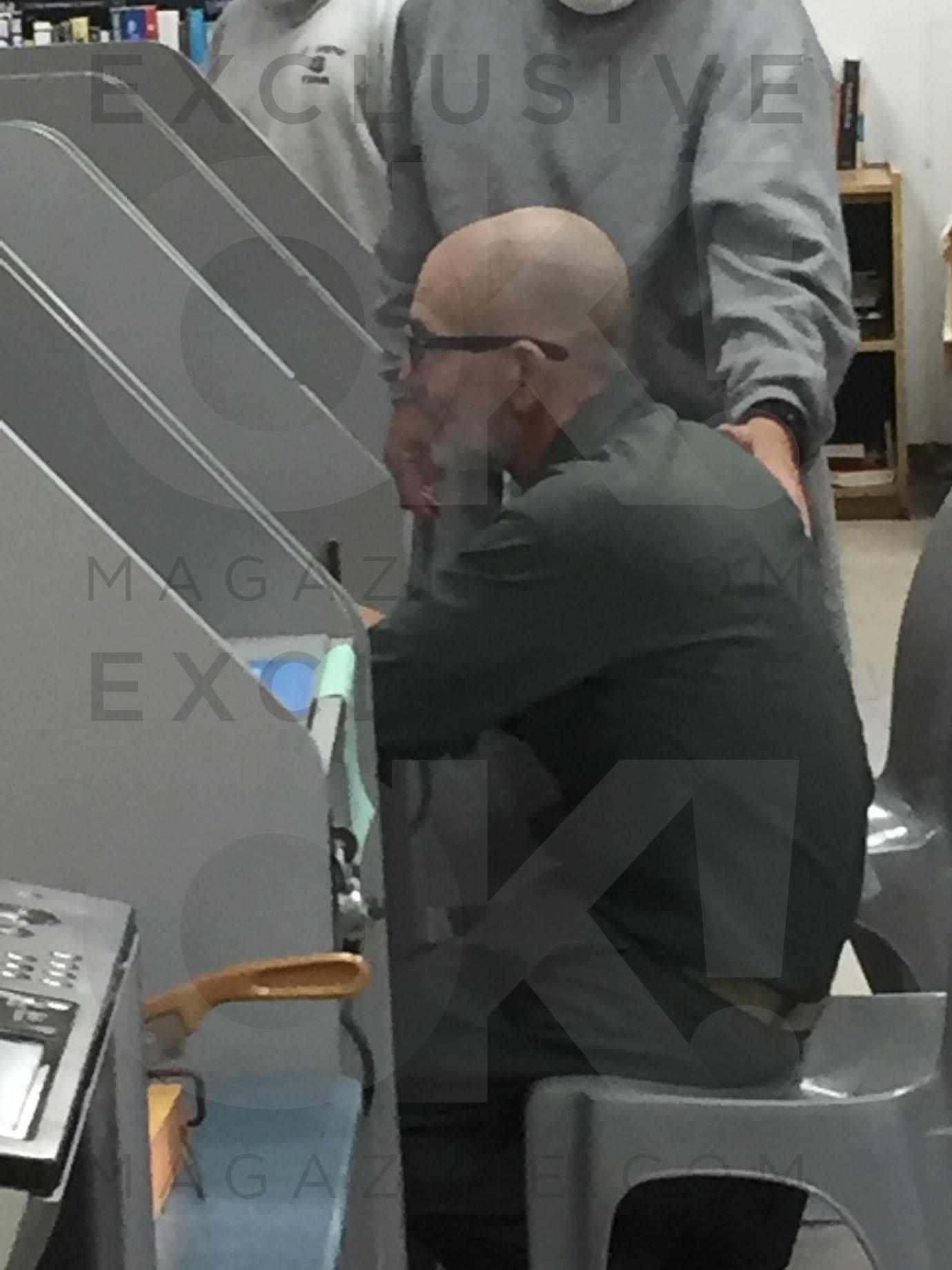 Coronavirus seemed to be of little concern to Giannulli and his friend on this day, however, as Giannulli is not wearing a mask and his friend is clearly violating social distancing practices by standing just inches away and placing his hand on his shoulder.
Article continues below advertisement
Giannulli is slated to be released from prison on April 17 after a Massachusetts judge sentenced him to five months behind bars after America's favorite coxswain agreed to plead guilty on charges of conspiracy to commit mail and wire fraud and honest services mail and wire fraud. His wife, Full House actress Lori Loughlin, was sentenced to two months in prison, which she completed on the second week of her husband's sentence.
Loughlin and Giannulli 'agreed to pay bribes totaling $500,000 in exchange for having their two daughters designated as recruits to the USC crew team — despite the fact that they did not participate in crew — thereby facilitating their admission to USC, according to court documents. This required daughters Isabella and Olivia, who had never before rowed in their lives, to pretend they were on crew teams. In order to sell that, they posed for photos on ergometers, a move which strongly suggested that they were both aware and willing participants in their parents' plan.
Article continues below advertisement
Giannulli is now serving time for that crime. He prepared himself for his five-month stay by shaving his head back in November while growing out a beard and seems to have kept both well-maintained over the past two months. He has also managed to add some flair to his grey prison khakis, which appeared starched and were perfectly belted. Inmates are permitted to wear gray or white khaki uniforms while incarcerated or a grey sweatsuit, per the orientation packet.
Article continues below advertisement
Giannulli has been attempting to shorten his sentence since before he was even booked into Lompac, and he has yet to stop trying for that early release. OK! obtained a copy of an emergency motion filed last week asking the judge to modify Giannulli's sentence because he allegedly spent 56 days in near solitary confinement while quarantining to prevent a possible coronavirus outbreak. That quarantine ended on January 13, according to Giannulli's lawyers, and the photo was taken on January 14.
"Mr. Giannulli reported to USP Lompoc on November 19, 2020, expecting to be quarantined with other minimum security prisoners for a short period of time before being confirmed COVID-negative, and then released from quarantine to serve his sentence at the minimum security camp," reads the emergency filing.
Article continues below advertisement
"Instead, Mr. Giannulli was immediately placed in solitary confinement in a small cell at the adjacent medium security penitentiary, 24 hours per day with only three short 20 minute breaks per week, where he remained for 56 days before finally being transferred to the camp yesterday (January 13). This means Mr. Giannulli spent almost 40% of his total sentence confined in solitary quarantine, despite testing negative for COVID-19 at least ten times and despite his counsel's multiple requests that BOP release him from quarantine."
Article continues below advertisement
Giannulli and his lawyers argue that because he is 57, has not committed a violent felony, and is in a low-max prison, he is an ideal candidate for release to home confinement. It is also pointed out that another parent who was found guilty in the Operation Varsity Blues scandal got a commuted sentence for the same reason, though that was amid a massive breakout in Lompac that saw 960 of the 2,200 prisoners at the facility test positive.
If he is approved, Giannulli would fly straight to Los Angeles, where he would spend three months locked up in the 12,000 square-foot-mansion he and Loughlin recently purchased in the city's Hidden Hills neighborhood. The nine-bedroom, seven-bathroom home sits on 4.4 acres of private hillside with an infinity pool and stunning view. The only thing more jaw-dropping than that view, in fact, is the likelihood a judge approves that motion after almost every other defendant has served out their full sentence and agreed to plead guilty long before Giannulli and Loughlin.