'She Didn't Mean it That Way': Paris Hilton Defends Britney Spears' Statement About Former Party Pal's Boarding School Abuse Claims
Paris Hilton remains a staunch supporter of Britney Spears — despite the "Toxic" singer admitting she didn't inititally believe the Simple Life alum's claims about being abused at boarding school.
Article continues below advertisement
As OK! previously reported, Spears made shocking allegations about her "abusive" conservatorship during an impassioned June 23 court testimony. Not only did she reveal she's been forced to wear an IUD in order to not get pregnant, but she also divulged why it took so long for her to speak out.
Article continues below advertisement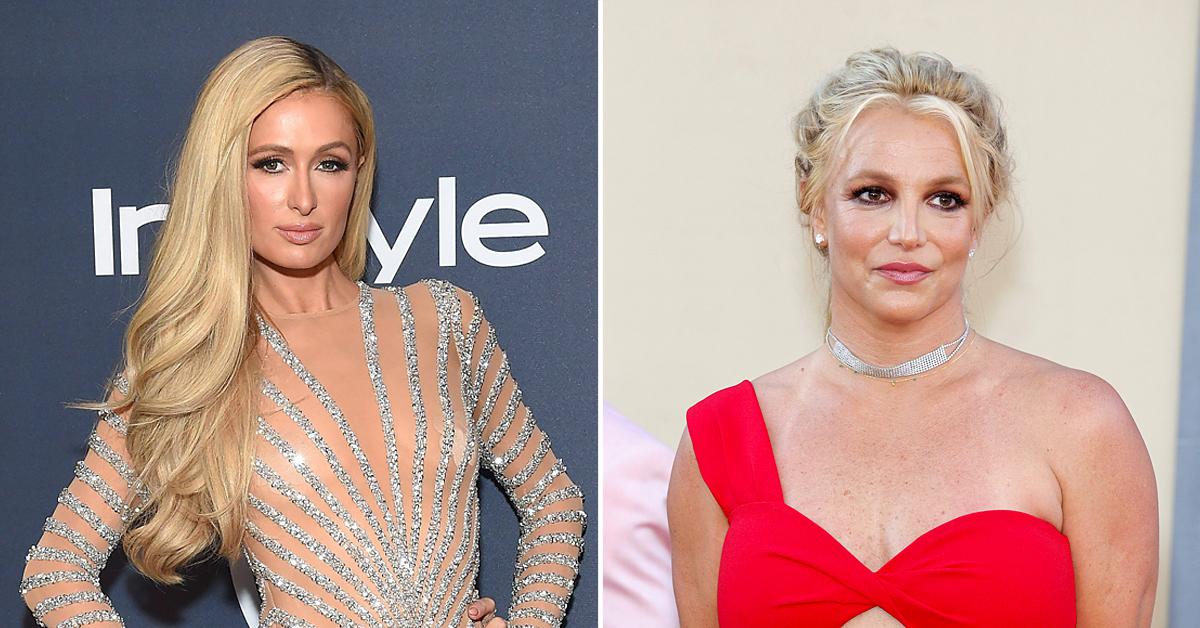 "The Paris Hilton story on what they did to her at that school. I didn't believe any of that either. I'm sorry, I'm an outsider," the 39-year-old said, referring to Hilton's allegations that she suffered abuse while attending Utah's Provo Canyon School as a teenager. "I'll just be honest, I didn't believe it, and maybe I'm wrong and that's why I didn't want to say any of this to anybody [or] to the public because I thought people would make fun of me or laugh at me and say, 'She's lying, she's got everything, she's Britney Spears.'"
Article continues below advertisement
Though Spears' reference to Hilton raised eyebrows, during the July 4 episode of Hilton's podcast "This Is Paris," the 40-year-old helped shed light on the message her former party pal was really trying to get across.
"I know she didn't mean it in that way. She meant when she saw it, like, she couldn't even believe it. What she said was, you know, when people hear that, they're like, 'Oh, it's Britney Spears,' 'It's Paris Hilton,' 'They have these perfect lives'. Who is gonna believe [us]?" Hilton — who previously spoke out about the abuse she suffered in her documentary This Is Paris — explained to guests Gigi Gorgeous and Nats Getty. "'If I didn't even believe Paris, who's gonna believe me?'
Article continues below advertisement
"I think it was just a misunderstanding," Hilton explained, noting that people from the survivor community reached out to her about Spears' comments. "She did not mean it in that way, she was just using it as an example.
"That was hard to hear, just her whole testimony. I knew she was being controlled but not in ways like that, it just broke my heart," the House of Wax actress continued. "Dealing with it as a teenager was hard but I can't imagine, still, as an adult, after working your entire life. She's built a huge empire; she's a legend, she's an icon, she's a mother. She's amazing and she has these people controlling her money, her life.
Article continues below advertisement
"I'm so proud of her for speaking up and using her voice," Hilton added.
Article continues below advertisement
Hilton and Spears have a long-documented friendship, and were frequently spotted out and about in Hollywood together. The heiress discussed catching up with the mom-of-two last summer with a group of mutual pals. "She is so sweet and so innocent and such a nice girl. We just talk about happy things. Music, fashion… fun things," Hilton said on SiriusXM's Andy Cohen Live in September. "I never like to bring up negative things and make people feel uncomfortable so I've never talked about [the conservatorship] with her."
Hilton wasn't done making her stance on Spears' situation clear. In a post on Instagram promoting the podcast, the DJ wrote, "I will always support and love Britney. She is so kind and sweet, and she deserves her freedom. I've been saying #FreeBritney for a long time, and I will keep saying it until she is free."