NEWS
Victory For Robert Kraft, As Judge Orders Sex Tapes Allegedly Of Patriots Owner To Be Destroyed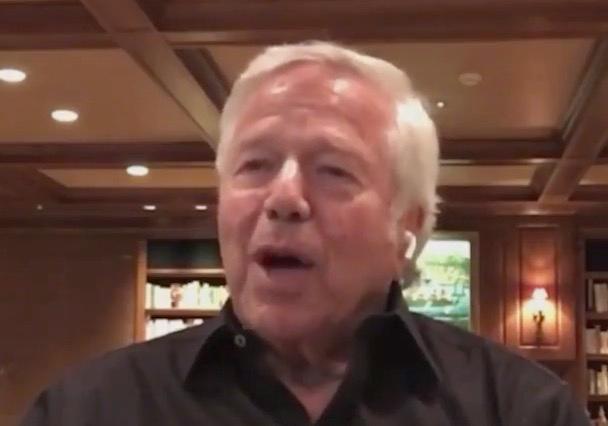 Robert Kraft scored a major victory in court on Monday, January 25, when a judge ordered police to destroy sex tapes that allegedly show the billionaire Patriots owner being manually and orally stimulated by a female spa employee.
That ruling — first reported on by the Sun-Sentinel — capped off a two-year legal battle that began when Kraft, 79, was arrested and charged with two misdemeanor counts of prostitution following a bungled sting operation near his $60 million Florida mansion.
Article continues below advertisement
Kraft's legal team filed their motion to have the tapes destroyed back in September, shortly after the county appellate court ruled that the videos had been obtained unlawfully by police. That decision cited the fact that police had also filmed four individuals who had gone to the Orchids of Asia Day Spa seeking a legitimate massage, in addition to Kraft and the 25 other men who were initially arrested by police. Charges against all the men — but not the four female employees — were dropped by prosecutors within weeks of that decision.
In their response last month, prosecutors objected to destroying the video but did note: "To be abundantly clear, the Office of the State's Attorney has no interest in maintaining possession of, or releasing to the public, any of the surveillance videos garnered through these prosecutions post litigation, and never has been so inclined."
Article continues below advertisement
Footage of Kraft did briefly find its way online back in April 2019, prompting the attorneys for all 29 defendants to declare that leak must have come from someone inside the Jupiter Police Department or the State Attorney's office. Kraft's lawyers then asked the judge to hold the two agencies in contempt of court, prompting a police representative to note that there were also hidden cameras in place throughout the spa that were installed by owner Hua Zhang.
Article continues below advertisement
"Representatives of our news operation viewed the footage, and upon watching, can verify the tape appears to show Kraft in the massage parlor with another person, presumably the massage therapist," reported The Blast after seeing the footage at the time. "In the video, [Kraft] is already undressed and laying on the massage table with his hands placed behind his head. The camera angle is an overhead shot, and it's believed the camera was placed in the ceiling."
Article continues below advertisement
The Jupiter Police Department managed to install hidden cameras at the Orchids of Asia Day Spa in early 2019 by faking a bomb threat, it was revealed in court. It was that very next day when Kraft was filmed at the spa for the first time. That video allegedly showed a female employee performing a manual sex act on Kraft. He then returned the following morning, at which time an oral sex act was performed on the billionaire, according to police.
Of the 26 men arrested, only 14 were charged, and only Kraft was charged with two separate counts. He responded to the allegations at the time by stating: "To correct some of the misinformation surrounding this matter, my attorney made his first public comments on Friday night. I would like to use this opportunity to say something that I have wanted to say for four weeks. I am truly sorry. I know I have hurt and disappointed my family, my close friends, my co-workers, our fans, and many others who rightfully hold me to a higher standard."
Article continues below advertisement
He continued: "Throughout my life, I have always tried to do the right thing. The last thing I would ever want to do is disrespect another human being. I have extraordinary respect for women; my morals and my soul were shaped by the most wonderful woman, the love of my life, who I was blessed to have as my partner for 50 years." That was a reference to his late wife Myra, who passed away in 2011 after battling ovarian cancer.
The ruling on Monday did not say when the tapes would be destroyed, but did note that a "neutral third party" would be brought in to oversee the process.