BREAKING NEWS
Rush Limbaugh Dead At 70 After Stage IV Lung Cancer Battle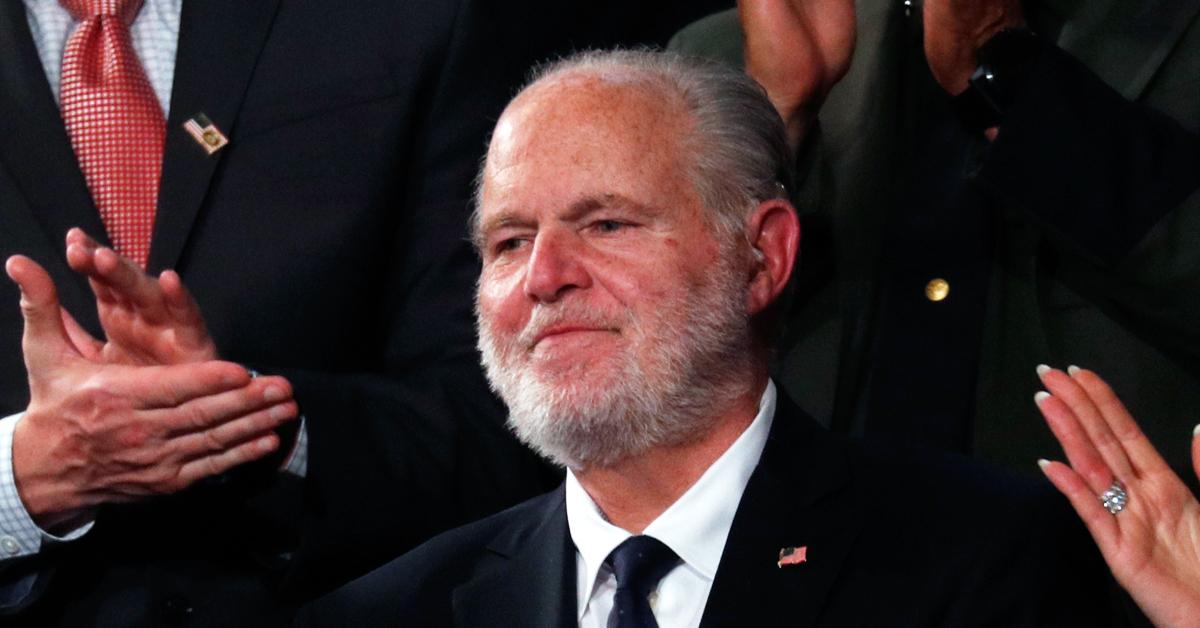 Rush Limbaugh has passed away at the age of 70 after a lengthy battle with Stage IV lung cancer.
Article continues below advertisement
His widow, Kathryn, shared the news with his listeners on his radio show on Wednesday, February 17. "Rush will forever be the greatest of all time," said his fourth wife.
Limbaugh transformed talk radio and politics with his show, and for his efforts he was awarded the Presidential Medal of Freedom last January. The Rush Limbaugh Show was syndicated in 1988 and is still going strong, with the polarizing pundit taking home $70 million for his radio broadcasts in 2020 alone, according to Forbes. He also wrote a number of books for both children and adults, and was worth an estimated $600 million at the time of his death.
Article continues below advertisement
He was a self-made man in every sense of the word, dropping out of college after just one year at Southeast Missouri State University. He already had his mind set on a career in radio, and soon after leaving school he scored his first job. He made memorable but short-lived appearances on a number of radio stations for the next 15 years, but got his big break on August 5, 1987, thanks to the repeal of the Fairness Doctrine.
The Fairness Doctrine had, until that time, required any radio program that promoted or supported any sort of controversial opinion or viewpoint to allot an equal amount of time for an opposing response on-air. This had caused a number of problems for Limbaugh to that point, and with it out of the way he found himself syndicated less than a year after the repeal.
Article continues below advertisement
He went to work for ABC Radio in New York City, and by 1990 was reported to have more listeners than any other radio host. His popularity soared even higher after the election of Bill Clinton, who was a frequent target of Limbaugh's attacks. Roger Ailes tapped into Limbaugh's growing appeal among right-wing Americans and produced a show with him between 1992 and 1996 that became the model in many ways for Fox News.
Limbaugh's success managed to weather countless storms as well, including racist comments about everyone from Donovan McNabb to Malia and Sasha Obama. He battled a prescription pill addiction in the early aughts, and was cited for prescription fraud in Palm Beach, though that charge was later expunged from his record. And just last year he compared COVID-19 to the "common cold."
Article continues below advertisement
Limbaugh rallied against the idea that smoking caused cancer, and could be seen with a cigar in his mouth or hand for most of his life. He had smoked cigarettes for most of his early life, but quit in the mid-80s. This is why the announcement that he had stage IV lung cancer shocked so many when he shared the news earlier this year. He could be seen shaking as he told his listeners, but even that reminded some of the fact that he had openly mocked Michael J. Fox for his uncontrollable tremors after he was diagnosed with Parkinson's Disease.
He leaves behind his wife Kathryn, whom he married in 2010 at a ceremony that was capped off with a performance from Elton John. Prior to that he had been married three times. He married his co-worker Roxy Maxine McNeely in 1977, but that union lasted only three years. In 1983, he wed for the second time, but ended up splitting from college student Michelle Sixta after seven years. Marta Fitzgerald was his third wife, and Justice Clarence Thomas officiated his nuptials with the aerobic instructor. They split in 2004 after 10 years together.
Limbaugh, who did not have any children, had lived in Palm Beach ever since 1998 when he purchased his massive compound. He paid just $3.9 million for the 31,761-square-foot mansion with nine bedrooms and 11 bathrooms that sits on 2.2 acres. That home is now worth well over $50 million.