PHOTOS
NFL Player Marquise Goodwin Scores Touchdown Just Hours After Baby Boy's Death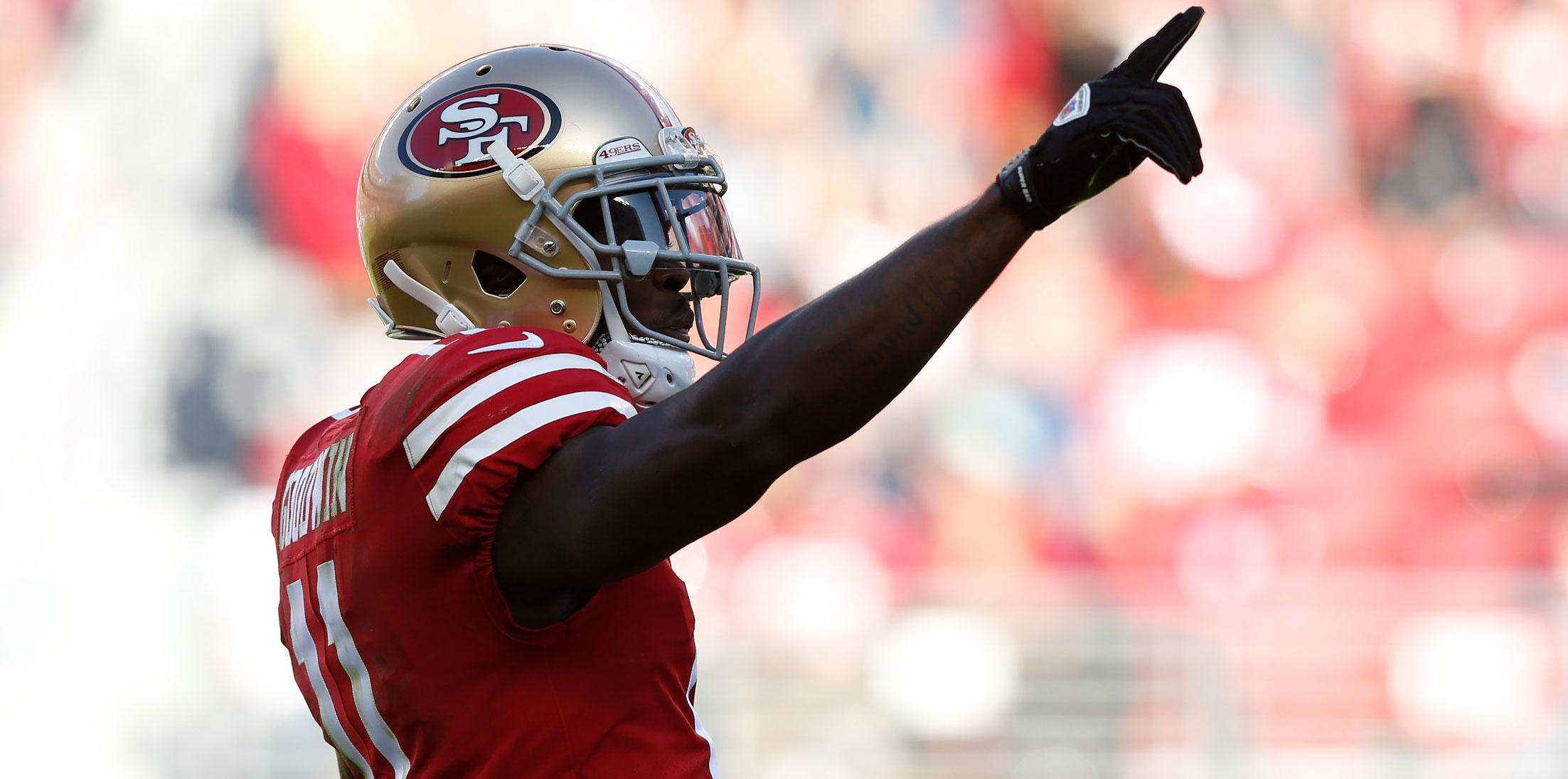 NFL player Marquise Goodwin played the hardest game of his life on Sunday afternoon. Just hours before his team took on the New York Giants, the San Francisco 49er player lost his unborn son "due to some complications." Marquise's wife Morgan had to prematurely deliver their baby boy at 4am, and only hours later, Marquise was back on the field, where he scored an 83-yard touchdown that helped propel his team to a 31-21 win.
Article continues below advertisement
Marquise posted this heartbreaking photo of his baby boy's tiny hand touching his finger. "I just wanna thank those who've genuinely prayed for @morganakamomo & myself through out this pregnancy," Marquise wrote beneath the pic. "Unfortunately we lost our baby boy due to some complications, and had to prematurely deliver him early this morning around 4am."
"Although we are hurt, I am grateful for the experience and grateful that God blessed me with a wife as courageous and resilient as Morgan. The pain (physically, mentally, & emotionally) that she has endured is unbelievable," Marquise continued. "Please Pray for the Goodwin family."
Article continues below advertisement
Marquise and his wife announced their baby news with this Instagram post in September. "Blessing from above!!! ?Psalms 127:3 'Behold, children are a heritage from the Lord, the fruit of the womb a reward.' #BabyGoodwin2018," Marquise captioned the pic.
Marquise's catch during Sunday's game helped his team get ahead of the Giants, whom they were losing to 6-3. Upon running the ball into the end zone, Marquise raised his hand to the sky, then dropped to his knees and put his head on the turf. His teammates rushed around him.
Article continues below advertisement
After the game, Marquise's wife Morgan wrote on Instagram, "This whole week has taken an emotional toll on my husband and I. Struggling to keep our healthy baby safe in my womb. Today, I had to deliver my precious baby boy early this morning due to preterm labor. Despite our loss, my hubby kept grinding, scored his son a touchdown & got our first 'W' of the season. He had a wonderful game today."
This morning, Marquise posted this Bible verse on Twitter, "For this is the will of God, that by doing good you should put to silence the ignorance of foolish people. Live as people who are free, not using your freedom as a cover-up for evil, but living as servants of God. - 1 Peter 2:15-16."