PHOTOS
50 Meghan Markle Outfits: The Best Royal Style Looks You Can Wear Too!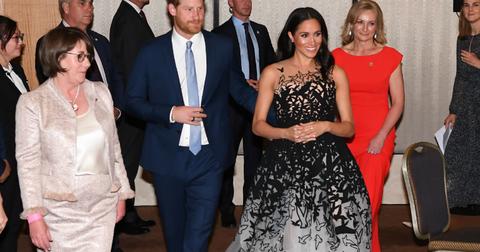 Nov. 12 2018, Published 3:25 p.m. ET
View all comments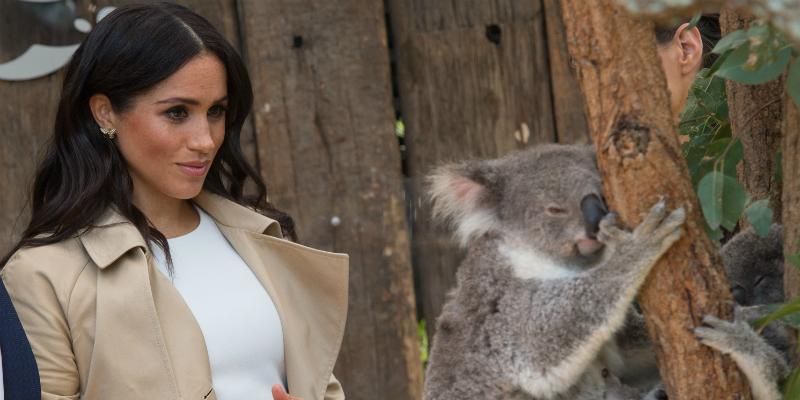 Meghan has proven that she's a tour-de-force when it comes to fashion. The "Markle Sparkle" has even outshone Kate Middleton's fashion influence. It could have something to do with Meghan's willingness to break the royal fashion rules. Remember, that slit dress on Melbourne beach? Do you think Queen Liz approved?
A Ballgown Fit For A Princess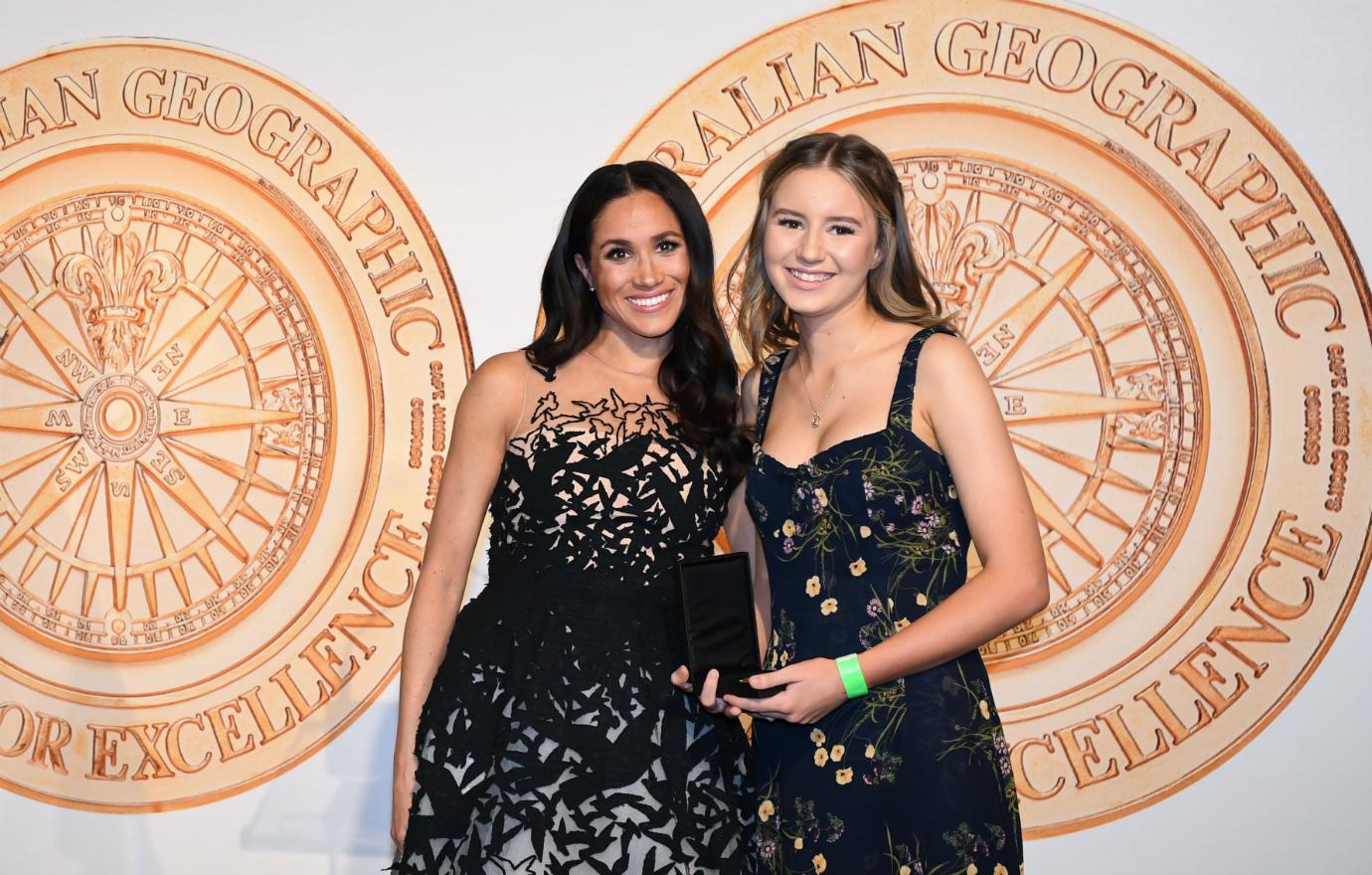 The Event: Australian Geographic Society Awards
What She Wore: Oscar de la Renta Laser-Cut Tulle Ball gown ($5,986)
Article continues below advertisement
A Tailored White Coat
The Event: Commonwealth Day services at Westminster Abbey
What She Wore: Amanda 'Wakely Crombie' Coat ($1,190), Stephen Jones beret (custom-made), Mulberry Bag ($675)
Article continues below advertisement
The Shawl Wrap Coat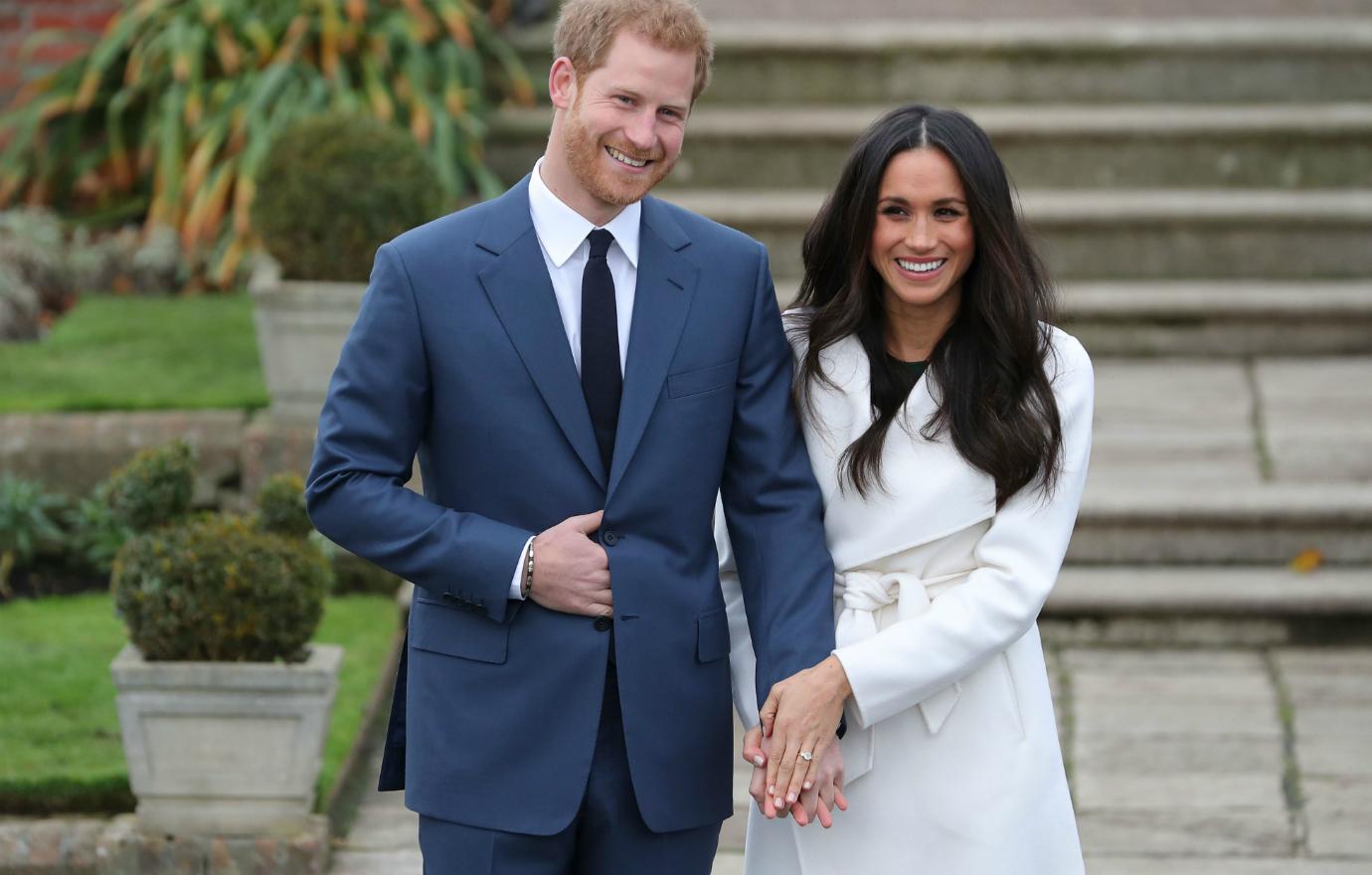 The Event: Engagement Announcement at the Sunken Garden at Kensington Palace
What She Wore: The Line 'The Meghan' Wrap Coat ($750)
Article continues below advertisement
The Lady-Like Dress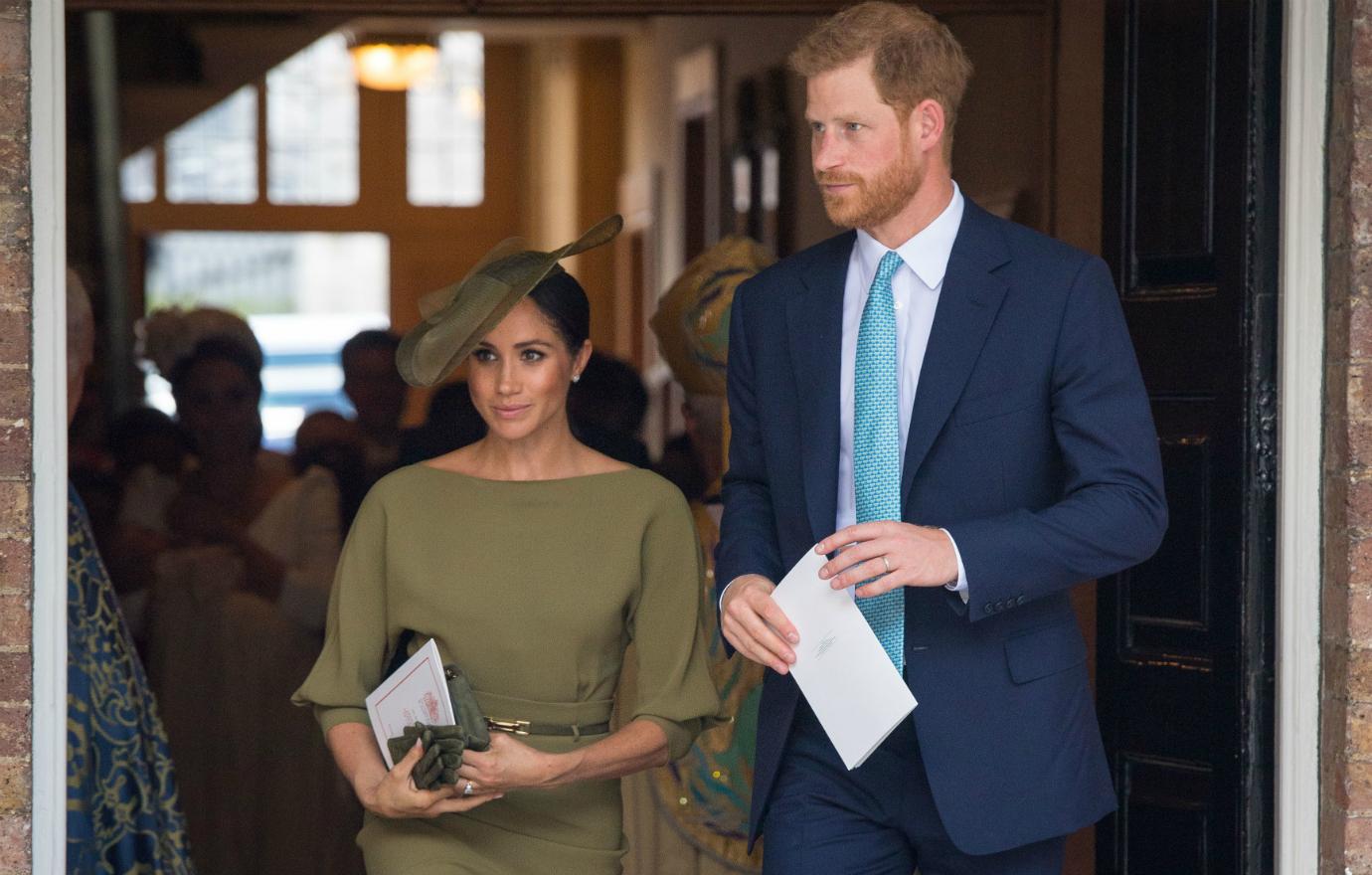 The Event: Prince Louis's Christening
What She Wore: Ralph Lauren Olive Green Dress ($1,990), Stephen Jones Fascinator ($595), Manolo Blahnik 'BB' Pumps ($625)
Article continues below advertisement
Leather Pencil Skirt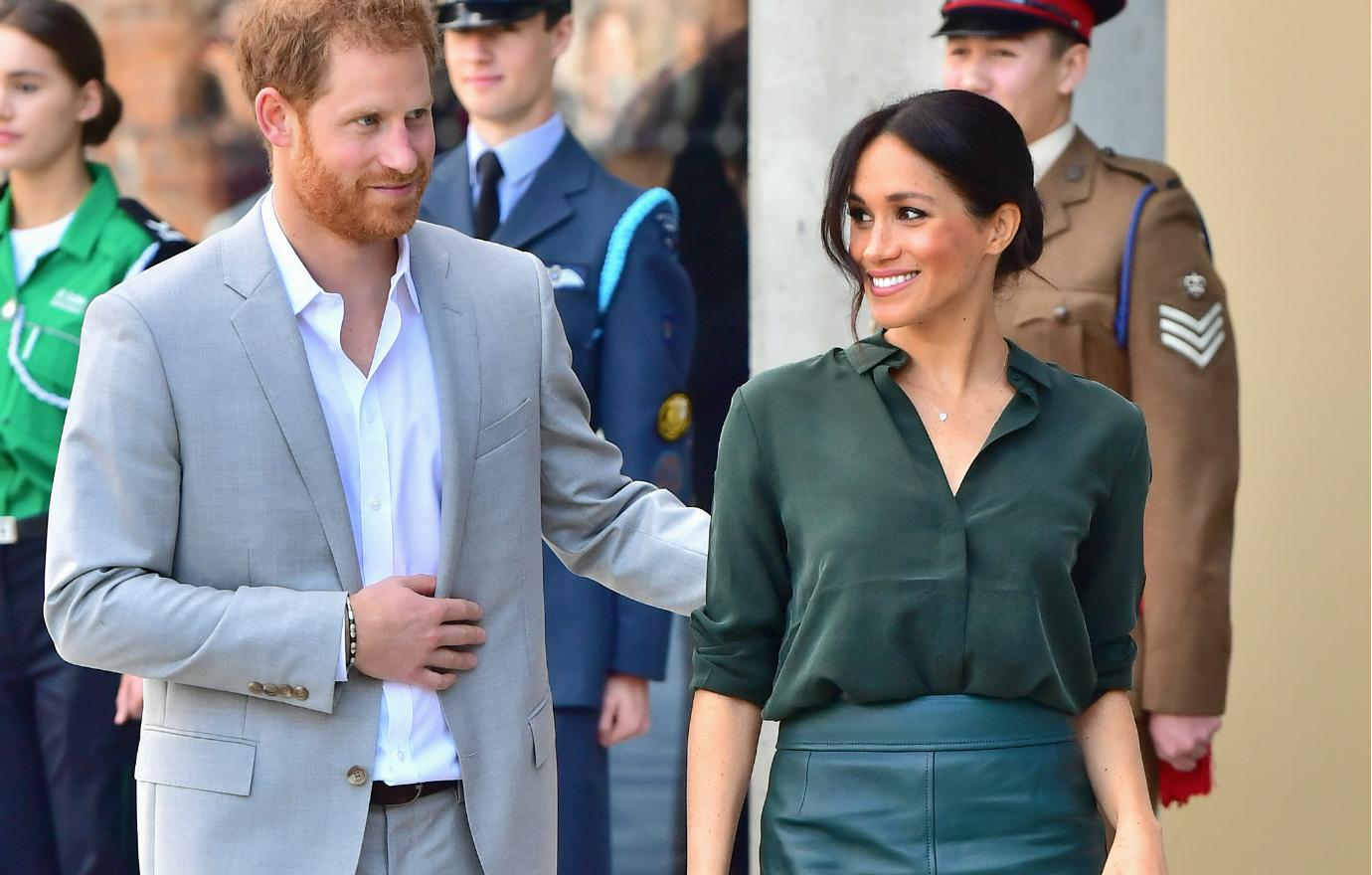 The Event: Opening 'Oceania' at Royal Academy of Arts
What She Wore: & Other Stories Button-Up ($99), Boss Green Leather Pencil Skirt ($595), Stuart Weitzman Pumps ($385)
Article continues below advertisement
Sheer Sleeves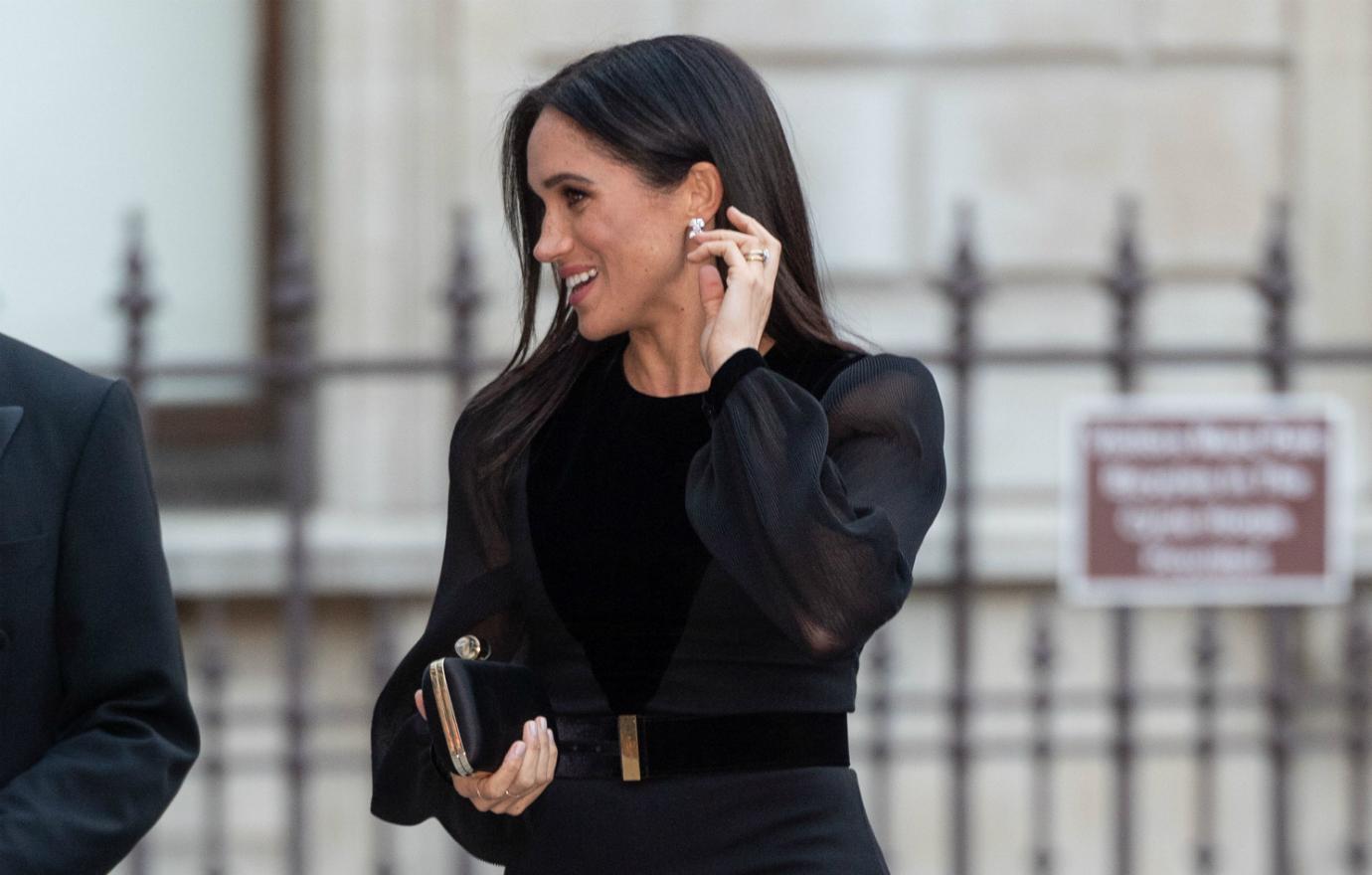 The Event: Opening 'Oceania' at Royal Academy of Arts
What She Wore: Givenchy Velvet- Appliqué Dress ($3,300), Aquazzura 'Deneuve' Bow Pointy Toe Pumps ($750)
Article continues below advertisement
Tuxedo Dress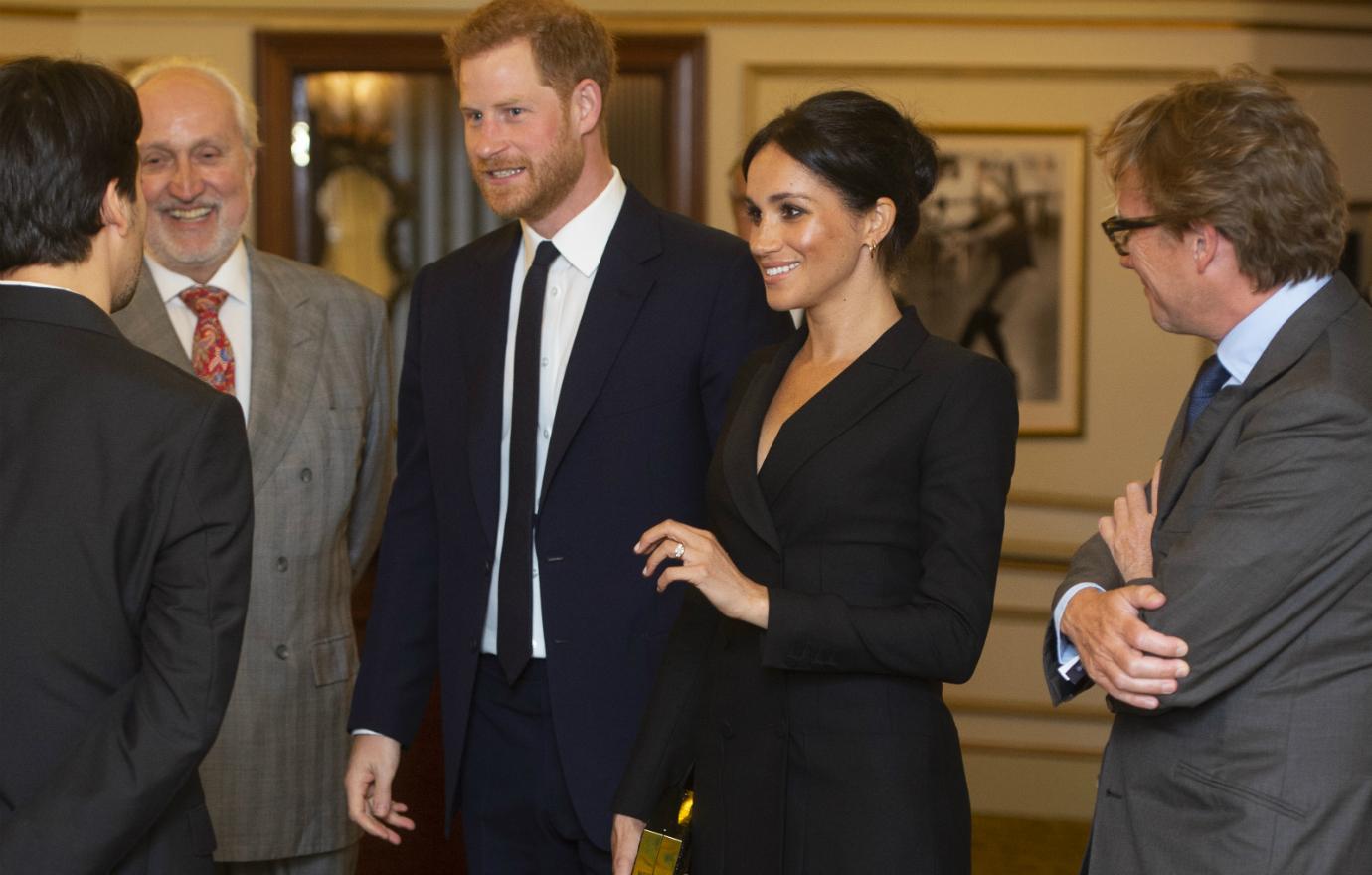 The Event: A Gala Performance Of Hamilton In Support Of Sentebale
What She Wore: Judith and Charles Tuxedo Dress ($595), Paul Andrew Pointed Pumps ($595)
Article continues below advertisement
The Denim Dress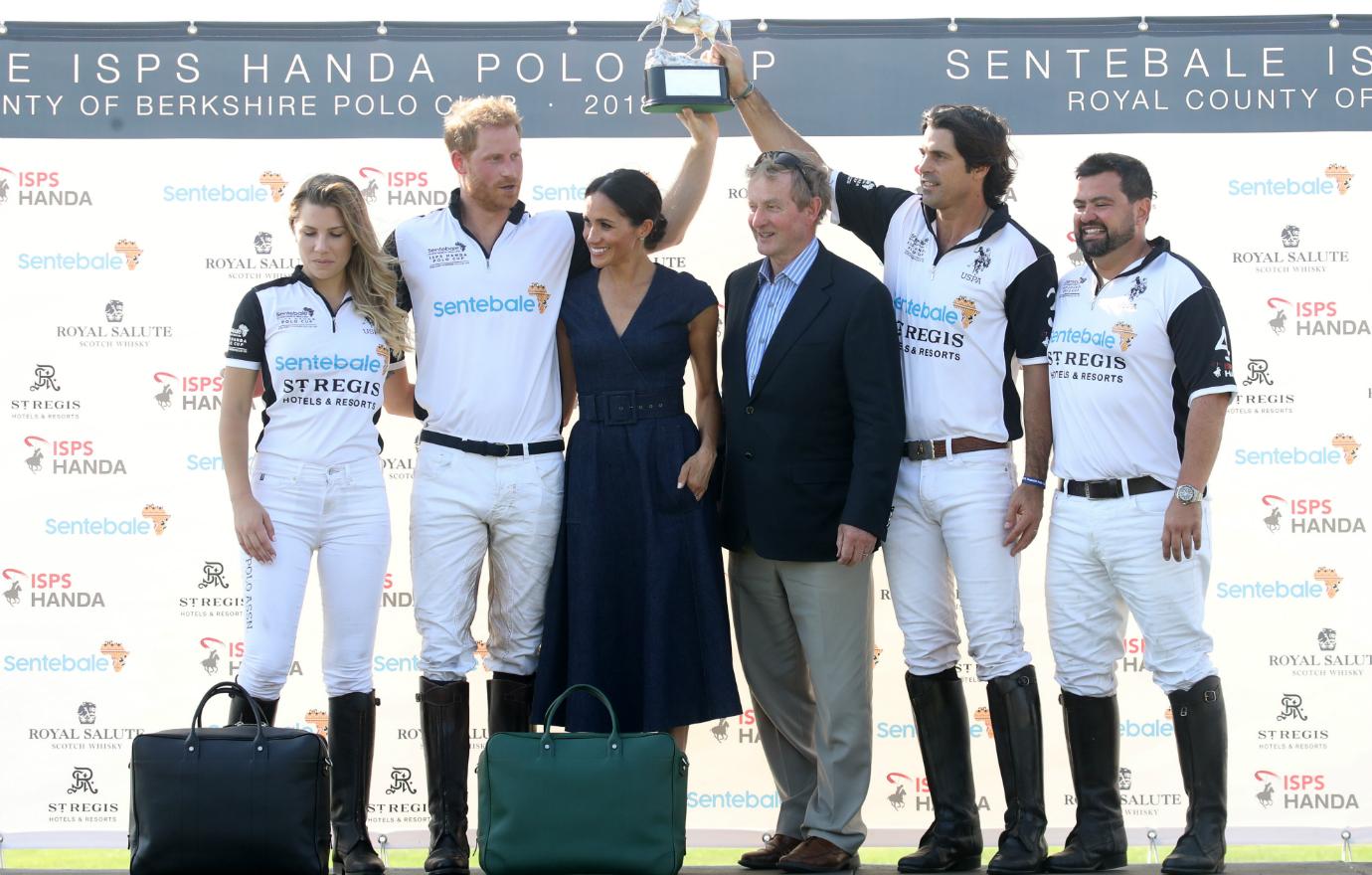 The Event: Sentebale Polo 2018 held at the Royal County of Berkshire Polo Club
What She Wore: Carolina Herrera Denim Midi Dress ($2,990), Aquazzura 'Deneuve' Bow Pointy Toe Pumps ($750)
Article continues below advertisement
Classic Shirt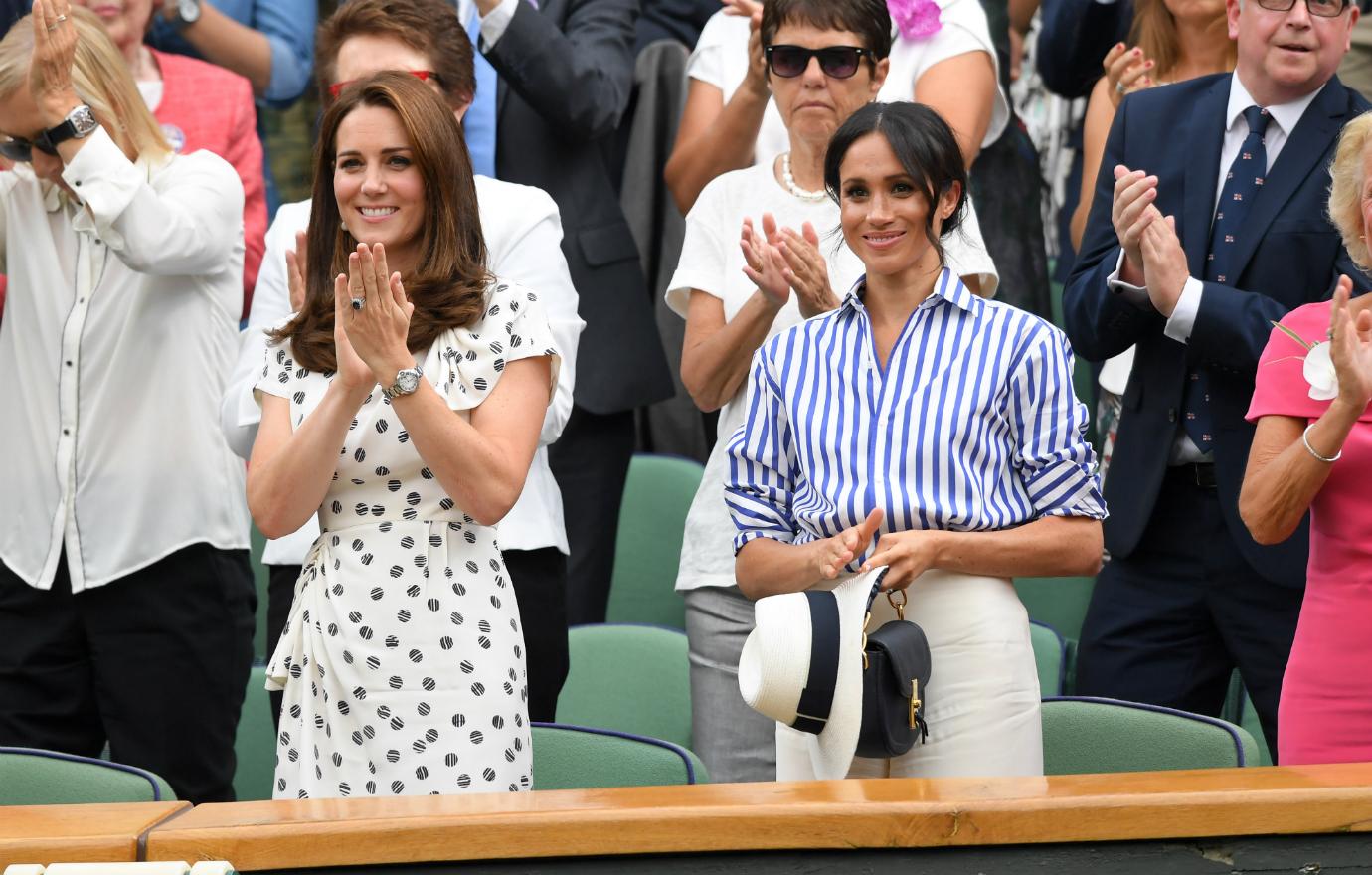 The Event: Day twelve of the Wimbledon Lawn Tennis Championships
What She Wore: Ralph Lauren Collection Striped Cotton Shirt ($590), Ralph Lauren Cream Charmain Silk Wide-Leg Pant ($1,690)
Article continues below advertisement
Casual Black Suit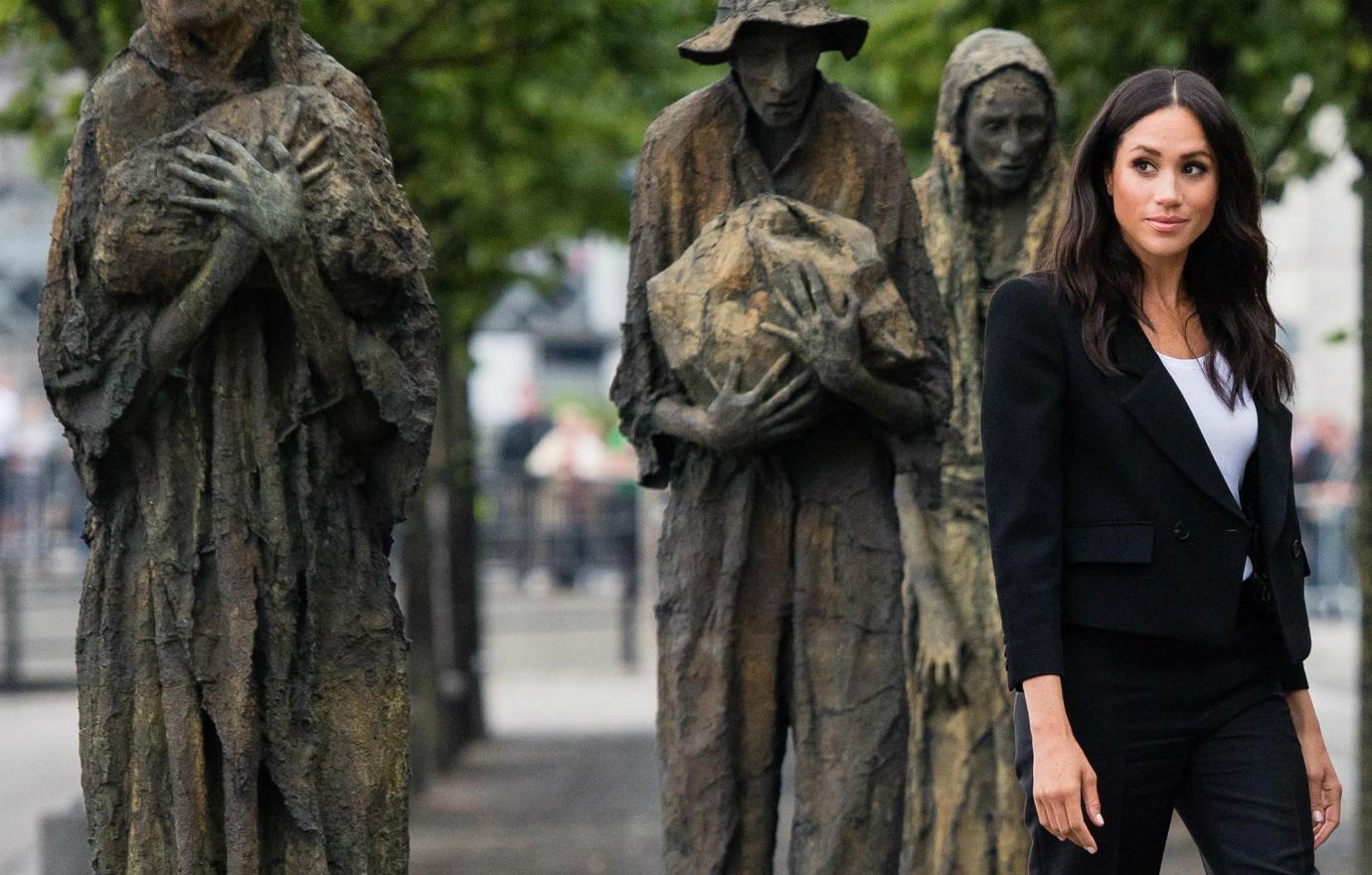 The Event: Visiting Trinity College
What She Wore: Givenchy Bespoke Black Pantsuit ($3,500), Lavender Hill Boat T-Shirt ($45), Sarah Flint Heels ($355)
Article continues below advertisement
A Dress Coat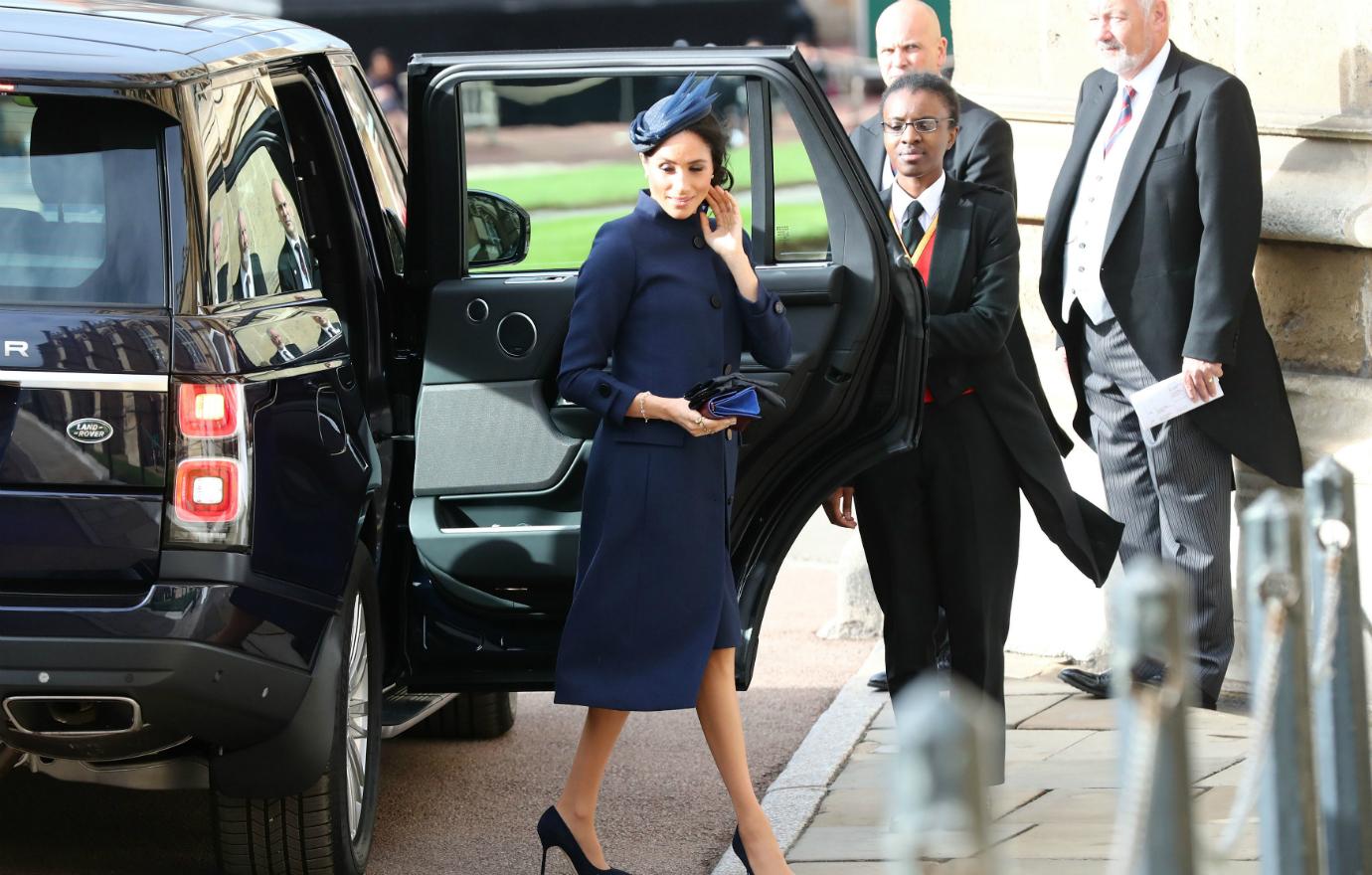 The Event: Wedding Princess Eugenie of York's wedding to Jack Brooksbank at Windsor Castle
What She Wore: Givenchy Bespoke Wool Dress Coat ($2,600), Noel Stewart Feather Topped Navy Hat ($765), Manolo Blahnik 'BB' Pointed Pump ($625)
Article continues below advertisement
A Casual Satin Dress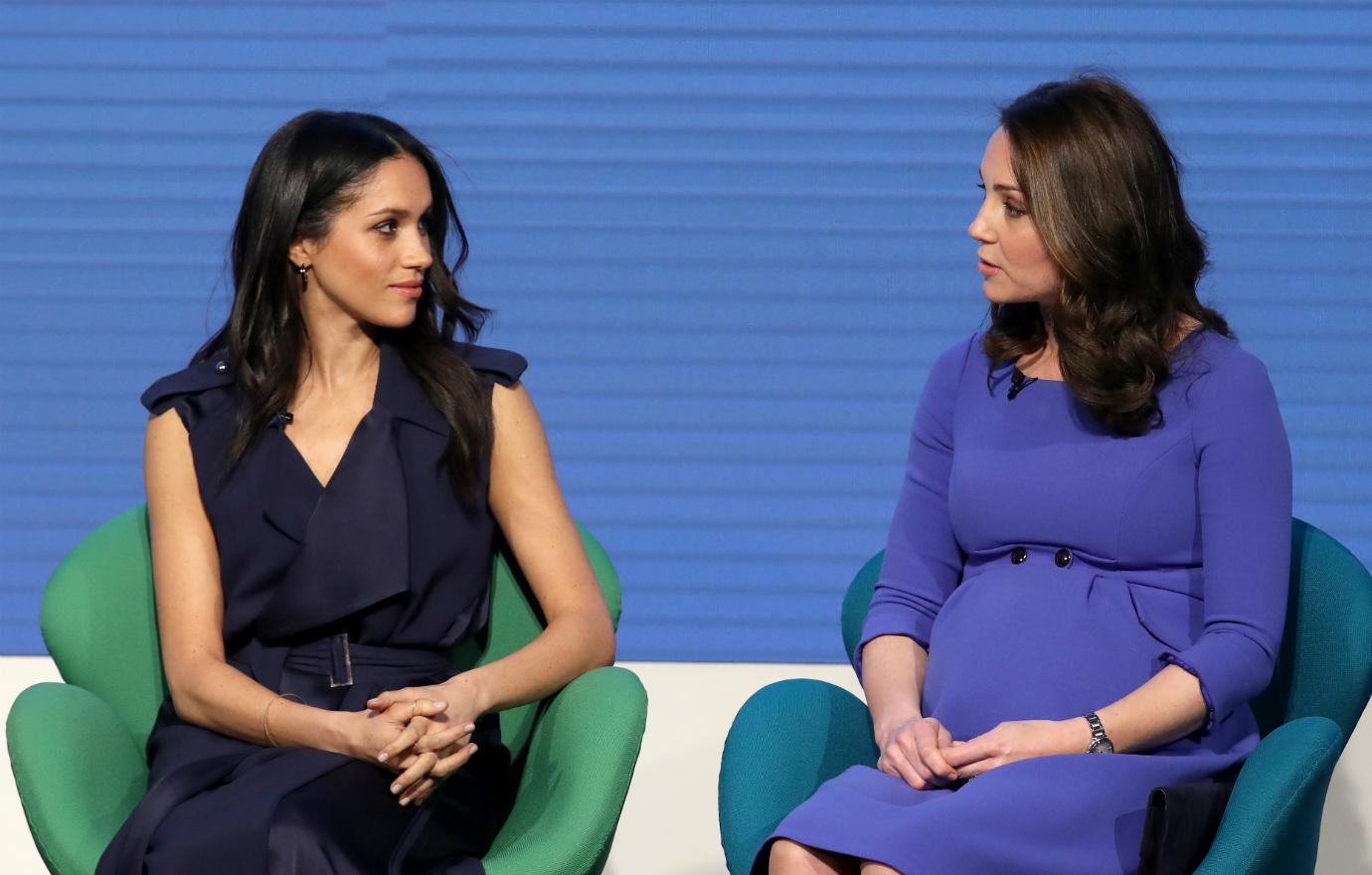 The Event: Royal Foundation Forum in London
What She Wore: Jason Wu Trench Coat Dress ($1,415)
Article continues below advertisement
The Tartan Coat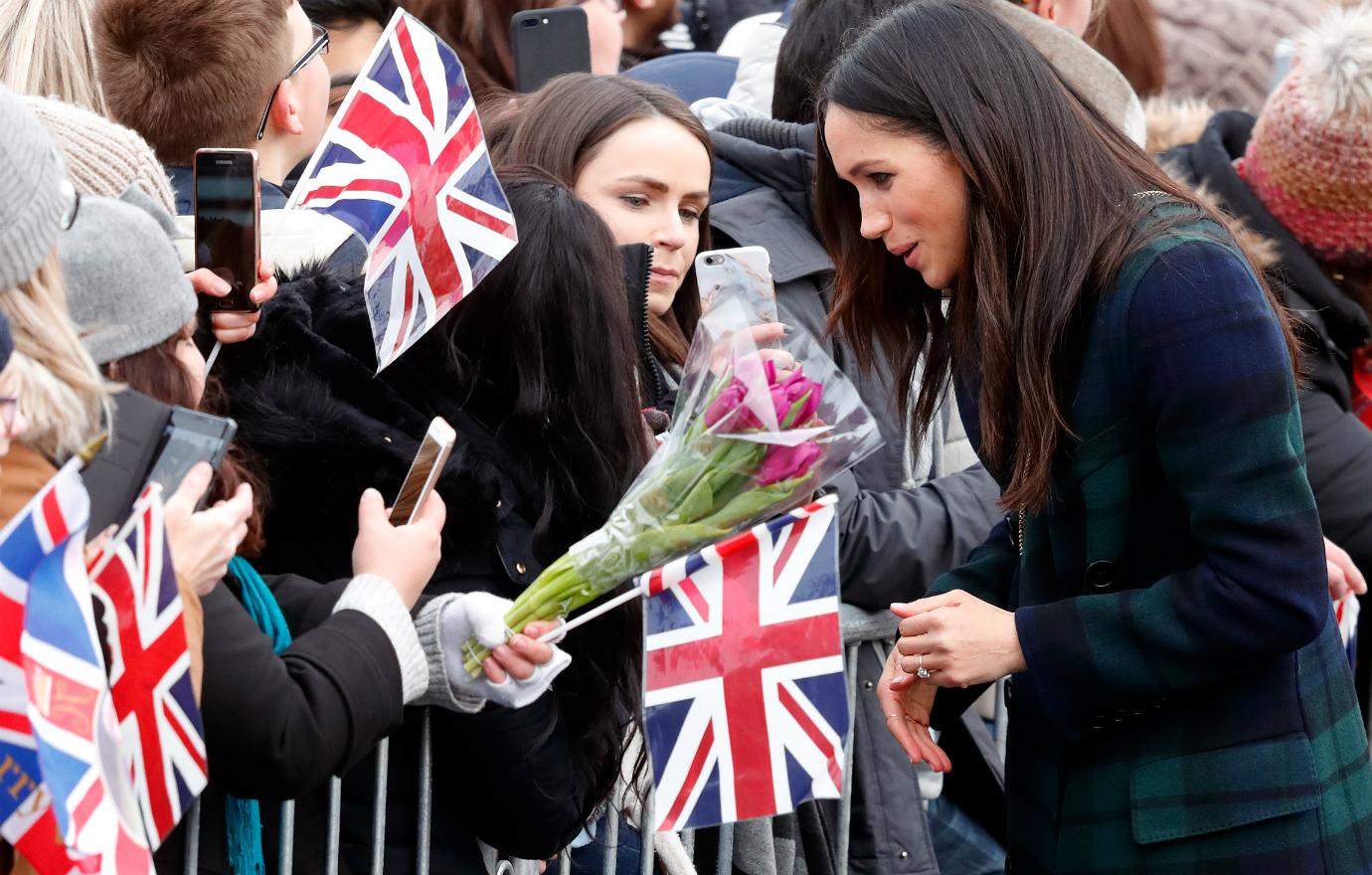 The Event: Visiting Edinburgh Castle
What She Wore: Burberry Tartan Coat ($2,895)
Article continues below advertisement
Green On Green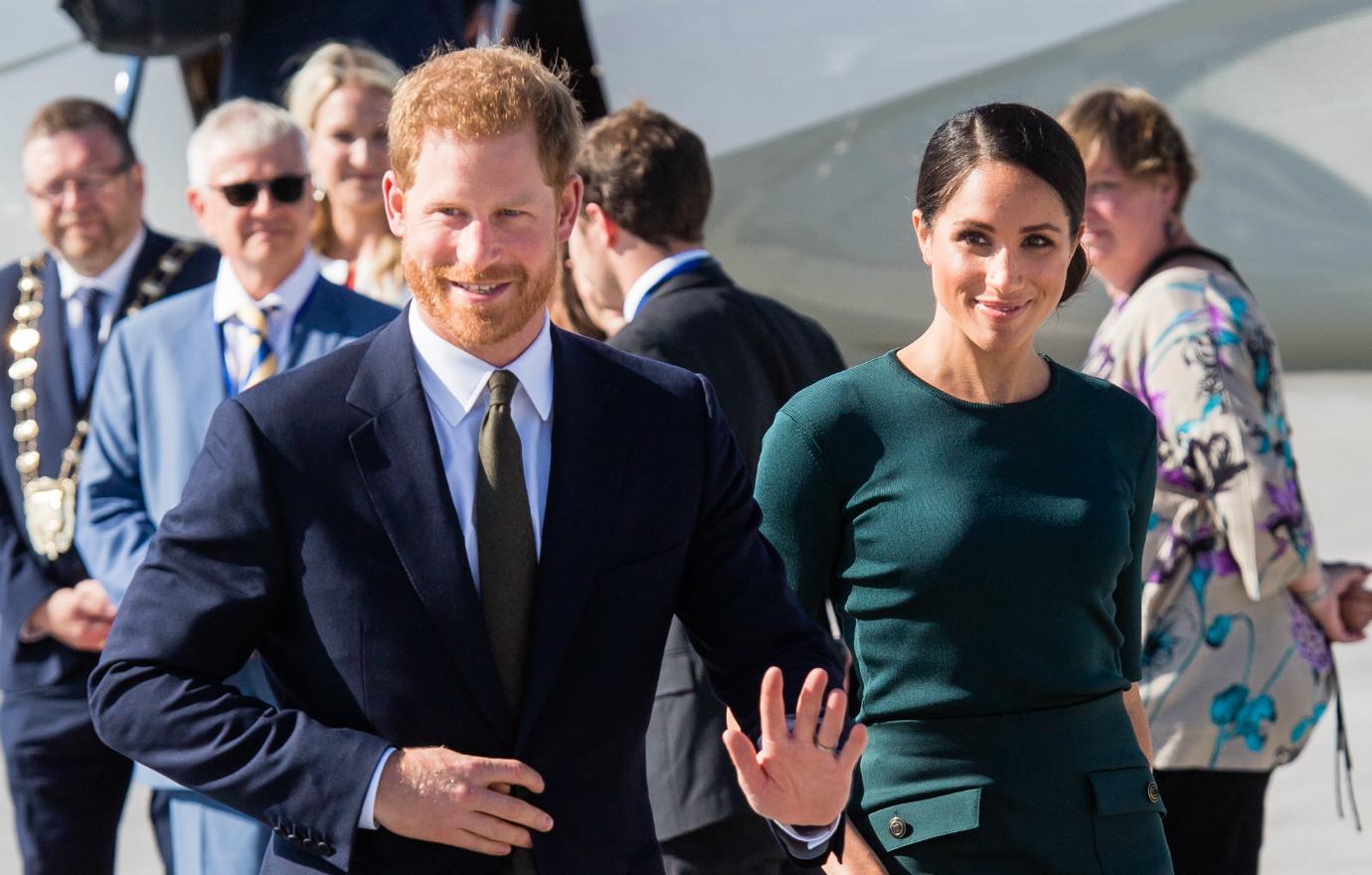 The Event: Dublin Airport for their visit to Ireland
What She Wore: Givenchy Patch Pocket Pencil Skirt ($1,595), Givenchy Short Sleeve Crewneck Top, Strathberry Midi Tote ($675)
Article continues below advertisement
The Trench Dress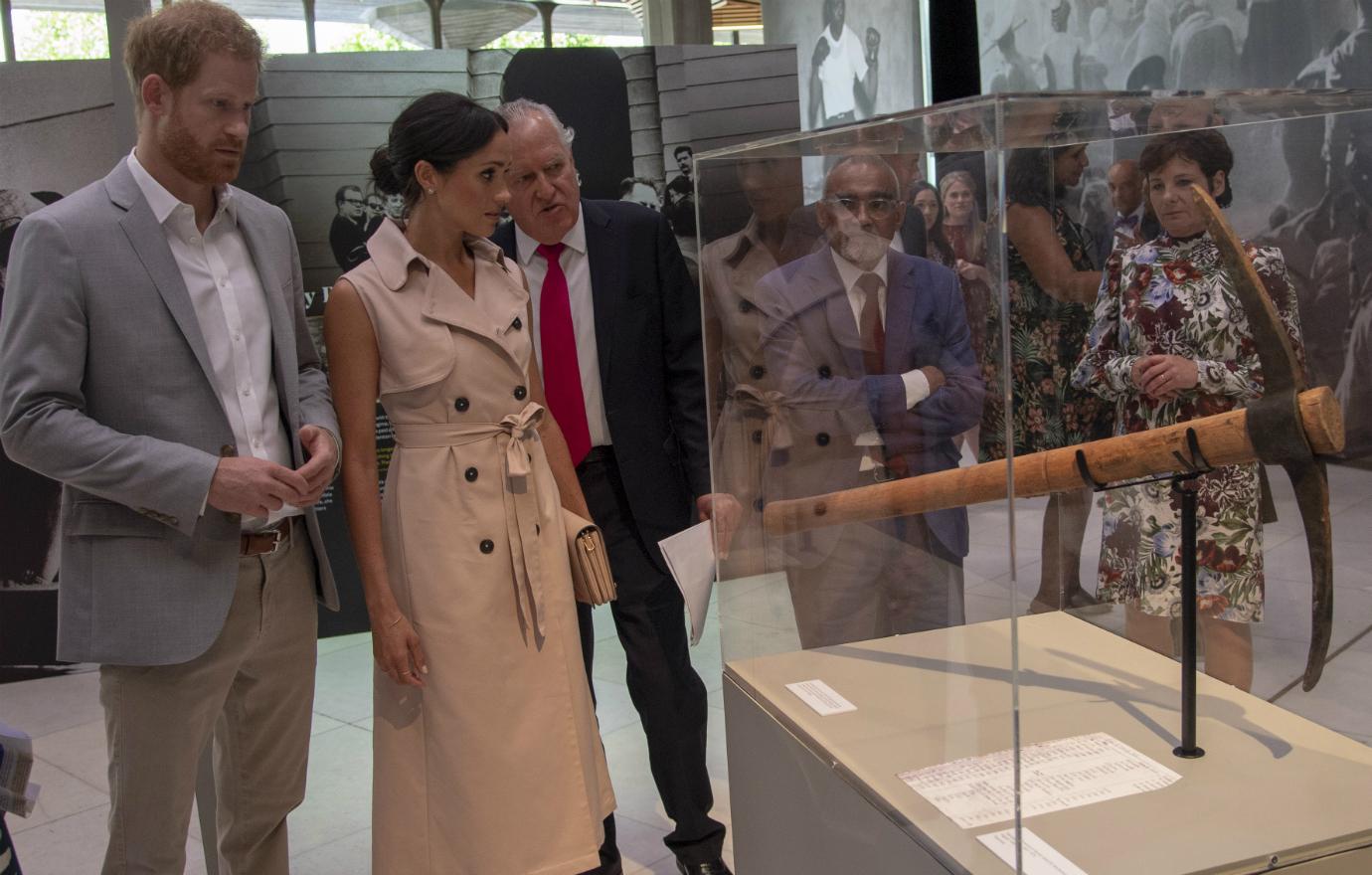 The Event: The Nelson Mandela Centenary Exhibition at Southbank Centre
What She Wore: Nonie Sleeveless Trench Dress ($825), Mulberry Pink Clutch ($782)
Article continues below advertisement
Neutrals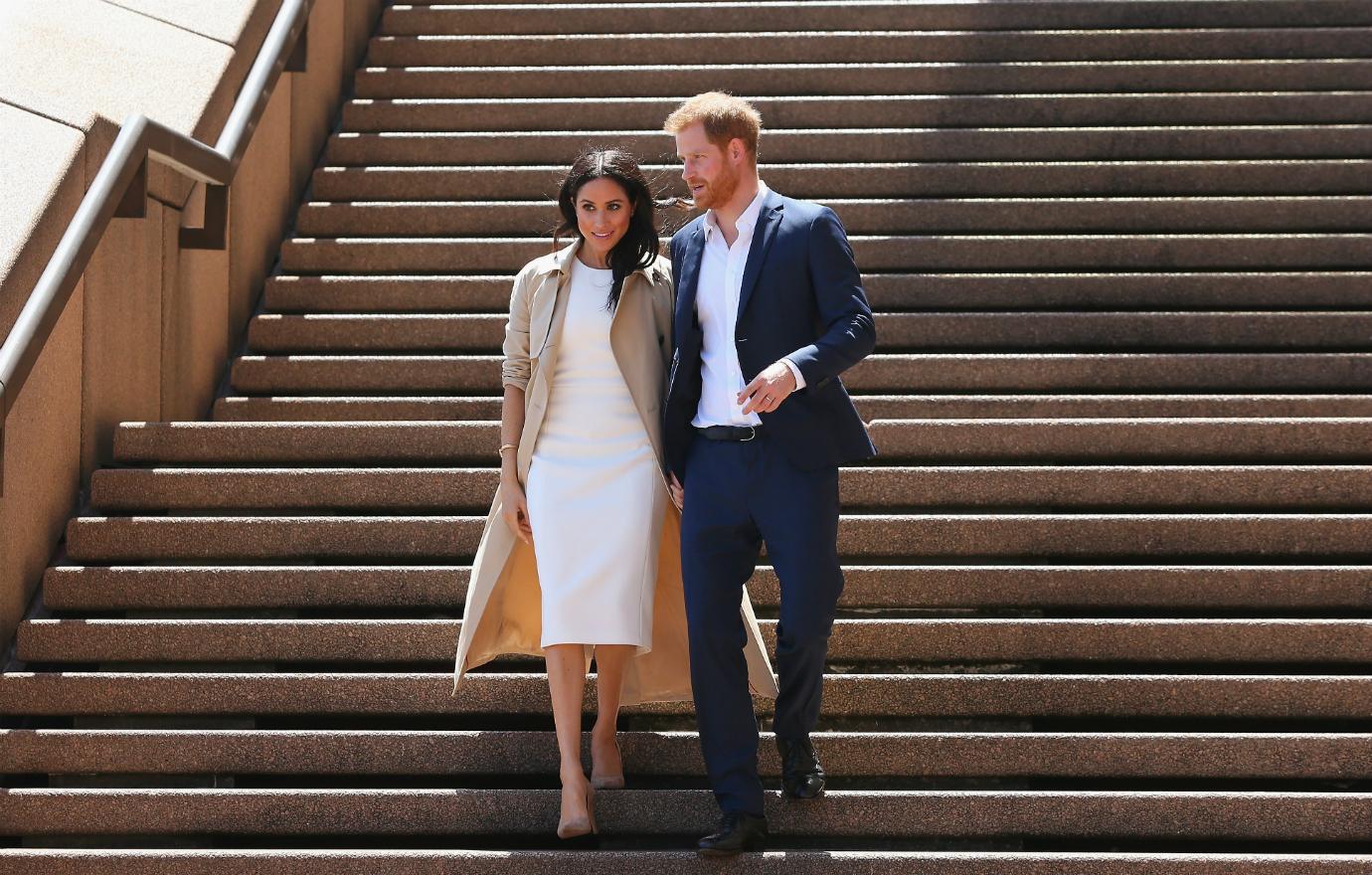 The Event: 
What She Wore: Martin Grant Trench Coat ($1,690)
Article continues below advertisement
The Classic Trench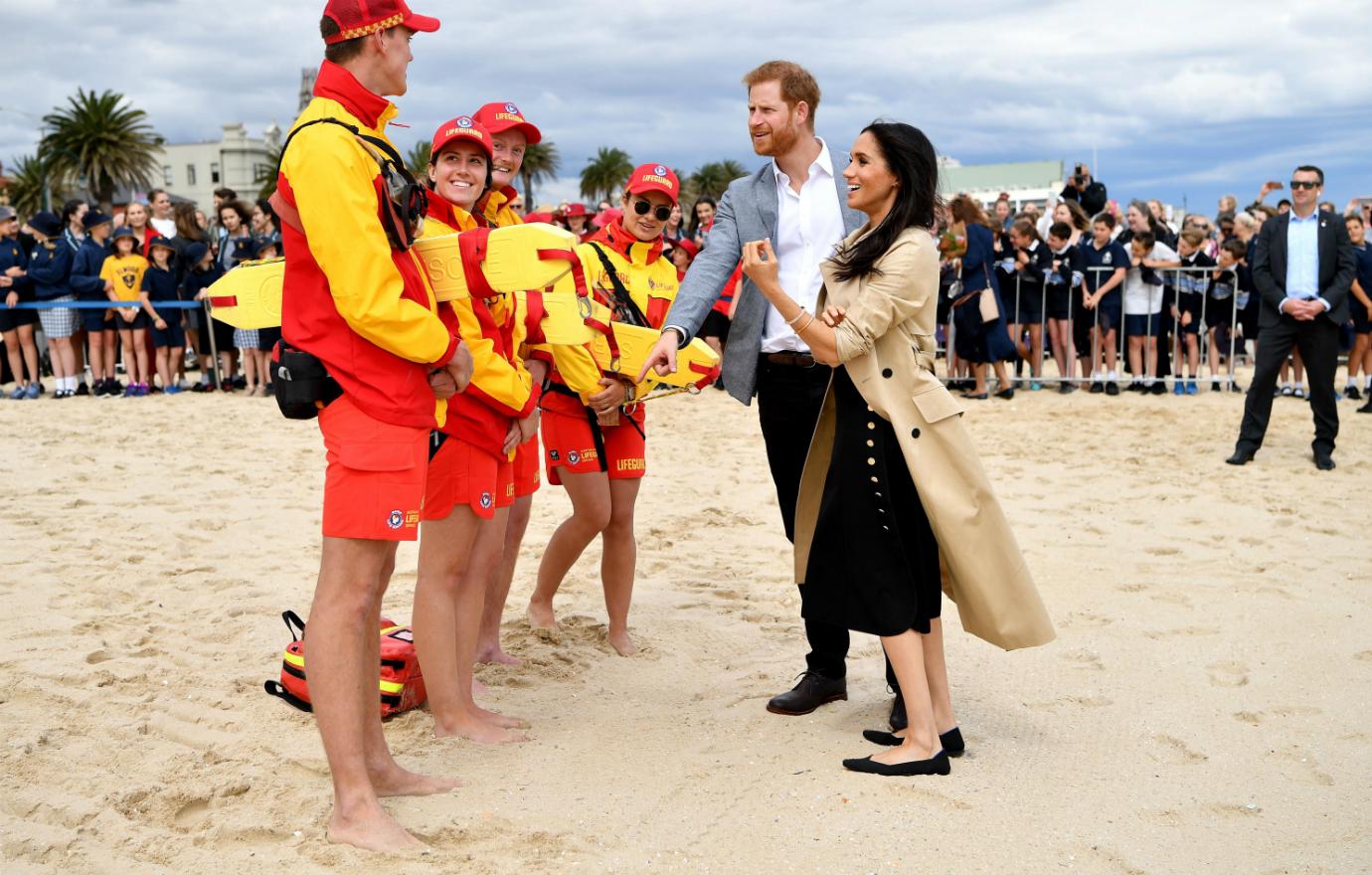 The Event: Visiting South Melbourne Beach
What She Wore: Martin Grant Trench Coat ($1,690), Club Monaco 'Miguellina' Dress ($268)
Article continues below advertisement
Something Blue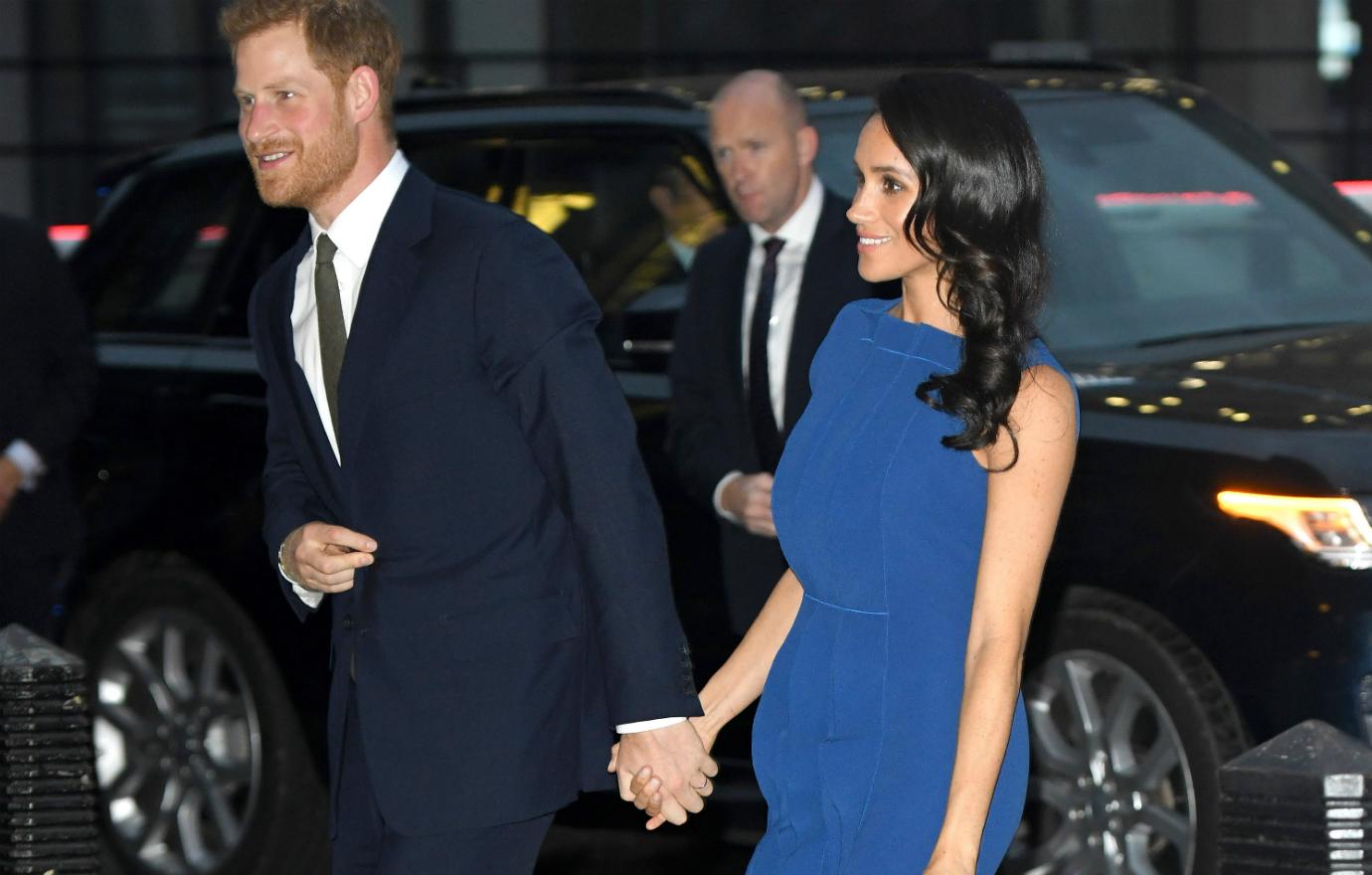 The Event: 100 Days To Peace Charity Gala
What She Wore: Jason Wu Blue Ruffled-Front Sleeveless Dress ($1,695), Renegade Black Bodysuit ($625), Misha 'Nonoo' Saturday Skirt ($250), Aquazzura Crystal Slingbacks ($950)
Article continues below advertisement
The Bold Coat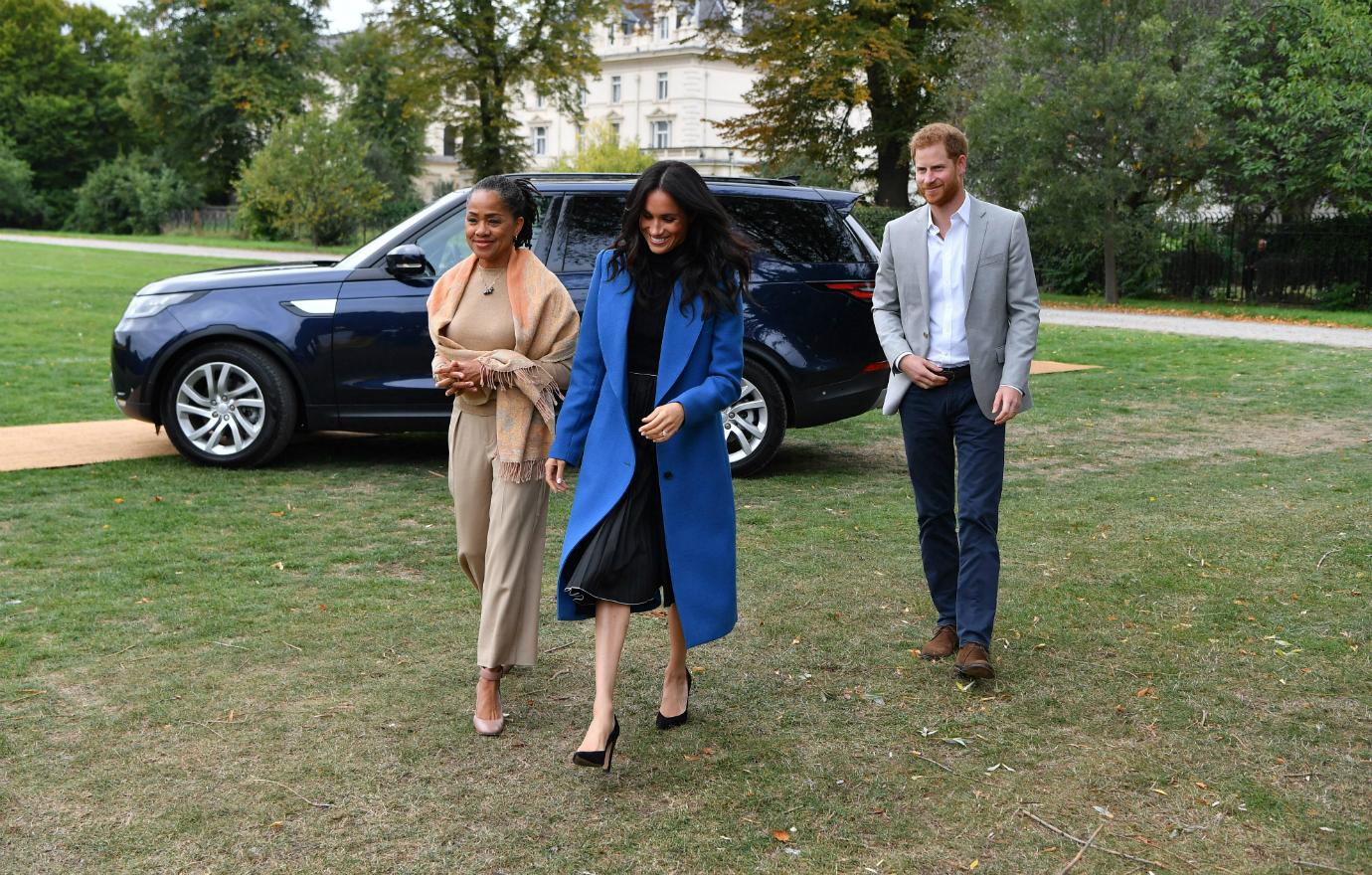 The Event: Hosting A Cookbook Launch For Women Affected by the Grenfell Tower fire at Kensington Palace
What She Wore: Smythe Coat ($1,195), Renegade Black Bodysuit ($625), Misha 'Nonoo' Saturday Skirt ($250), Sarah Flint 'Jay Pump 100' ($395)
Article continues below advertisement
A Fitted Structured Dress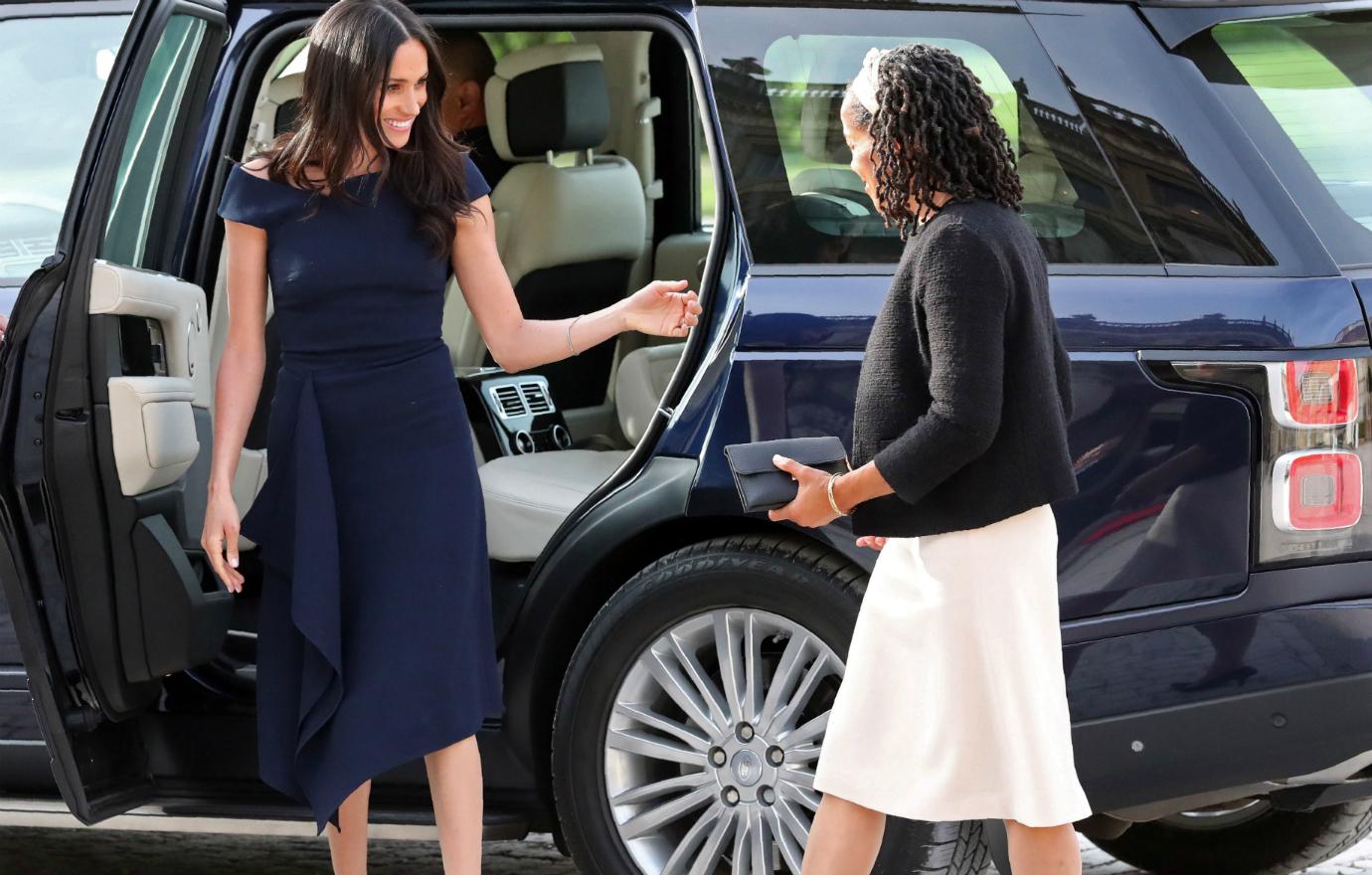 The Event: Arriving at Cliveden House hotel
What She Wore: Roland Mouret Draped Dress ($2,165), Manolo Blahnik 'BB' Pointed Pump ($625)
Article continues below advertisement
Contrast Trim Coat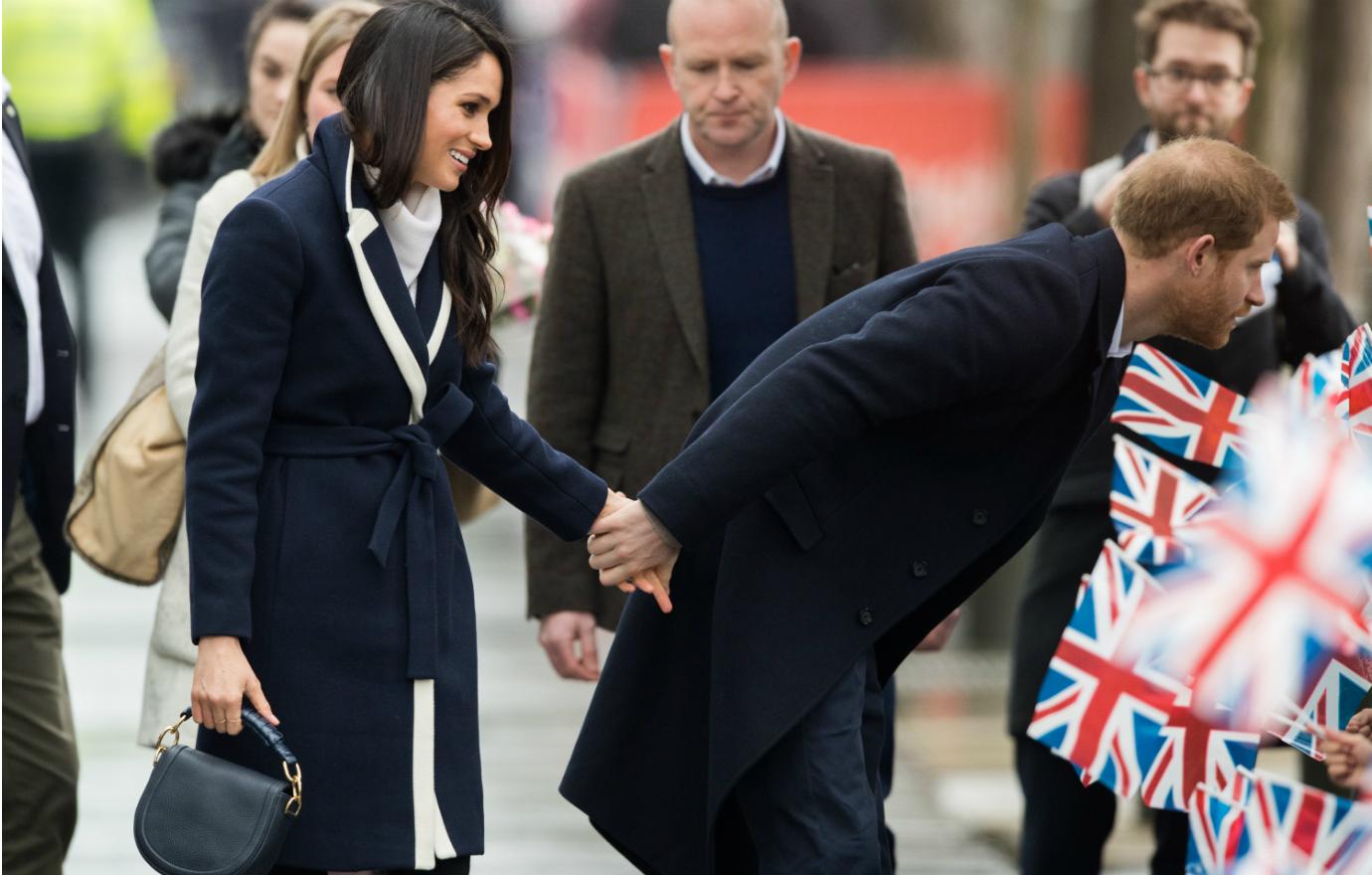 The Event: An International Women's Day event
What She Wore: J.Crew Navy Wool Topcoat ($298), AllSaints sweater, Altuzarra 'Ghianda' Mini Suede Saddle Bag ($1,295), Manolo Blahnik 'BB' Pointy-Toe Pumps  ($625)
Article continues below advertisement
Two Favorites In One: A Shirtdress In White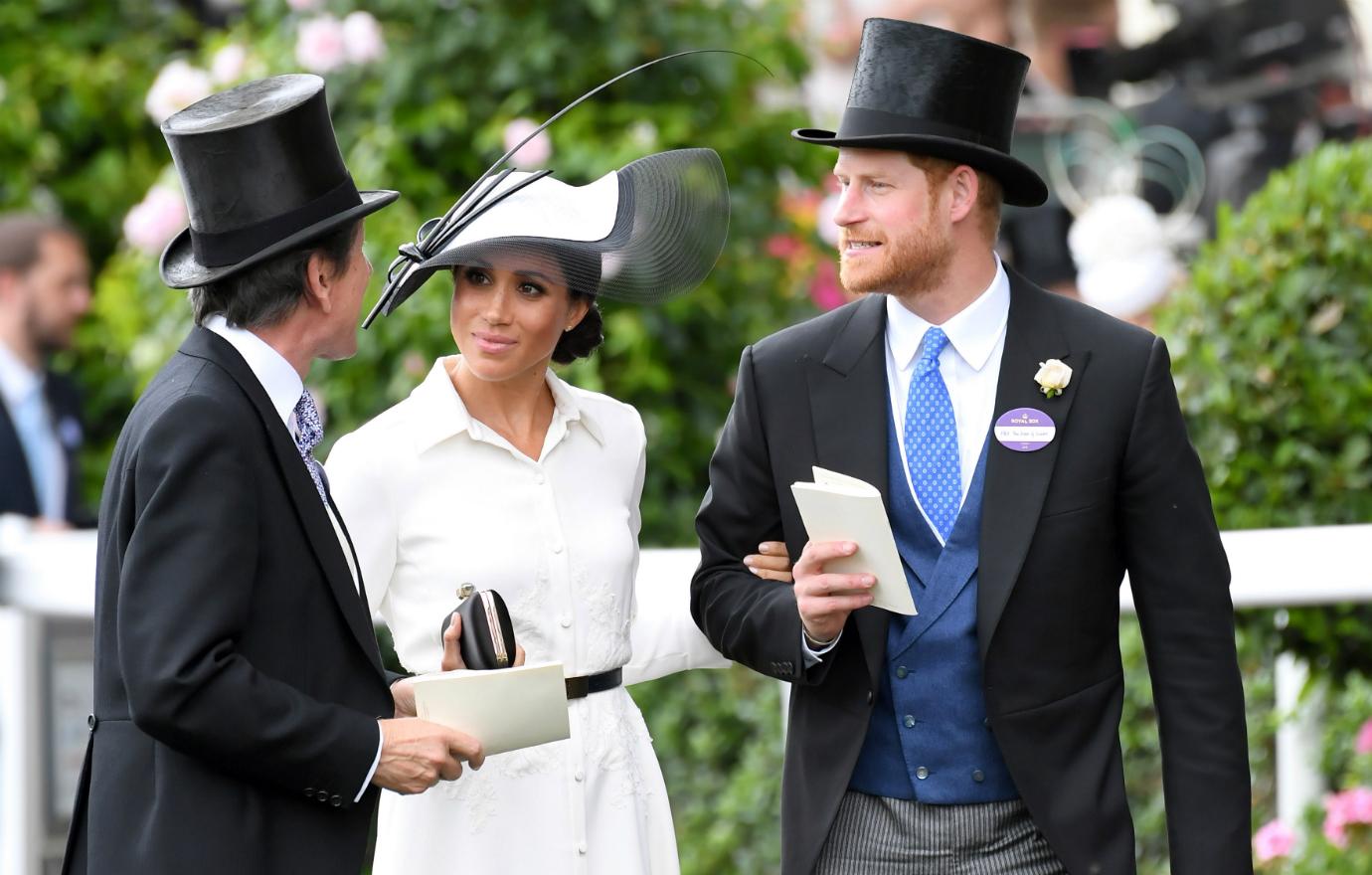 The Event: Royal Ascot Day 1 at Ascot Racecourse
What She Wore: Givenchy Shirt Dress with Handkerchief Hem ($2,304), Phillip Tracey Bespok Hat ($1,060), Balenciaga 'Knife' Pumps ($950)
Article continues below advertisement
Blushing Shoulders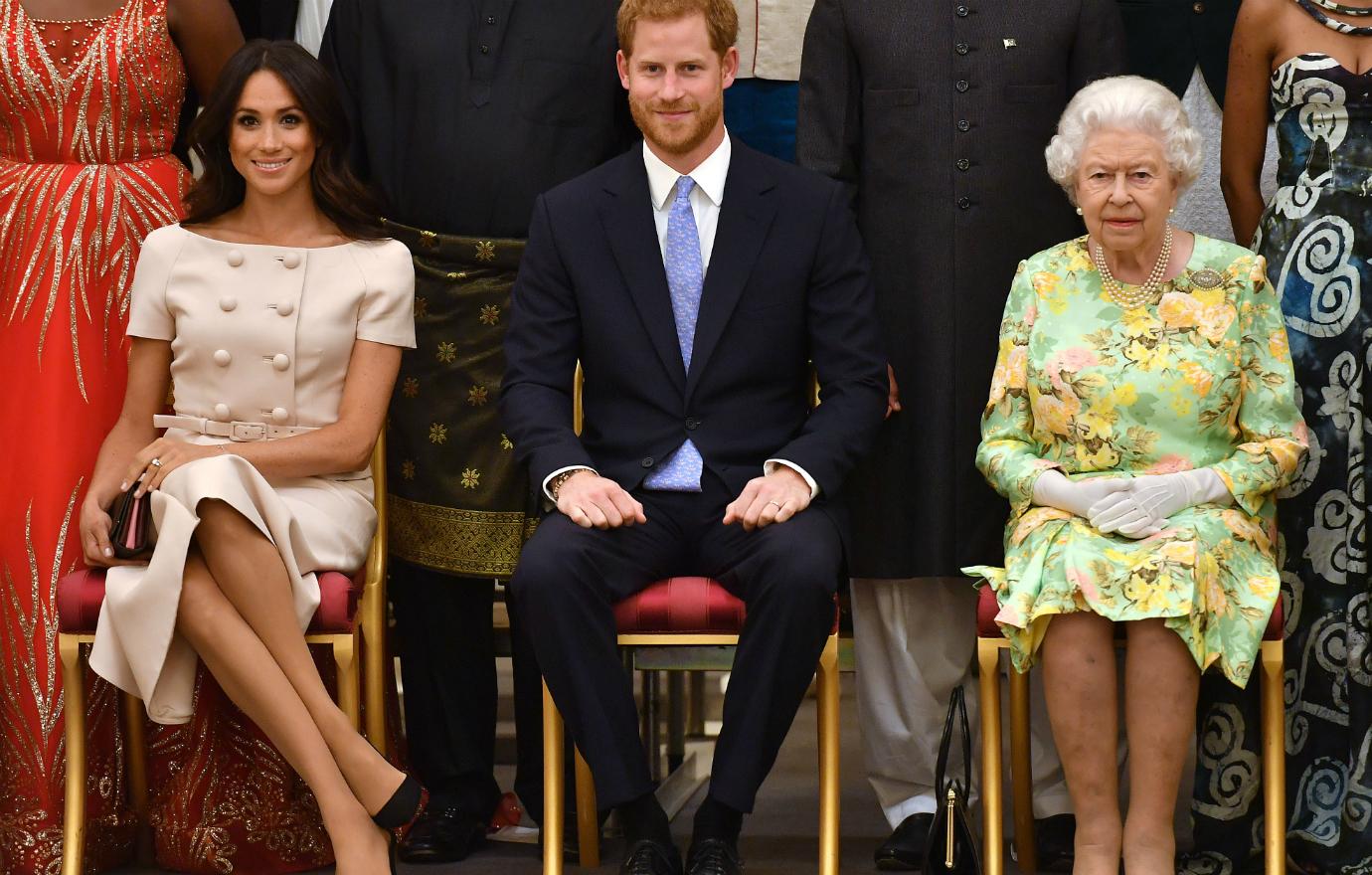 The Event: Queen's Young Leaders Awards Ceremony at Buckingham Palace
What She Wore: Prada Pale Pink Double Breasted Suit ($2,580), Aquazzura 'Deneuve' Bow Pointy Toe Pumps ($750)
Article continues below advertisement
Bold Colors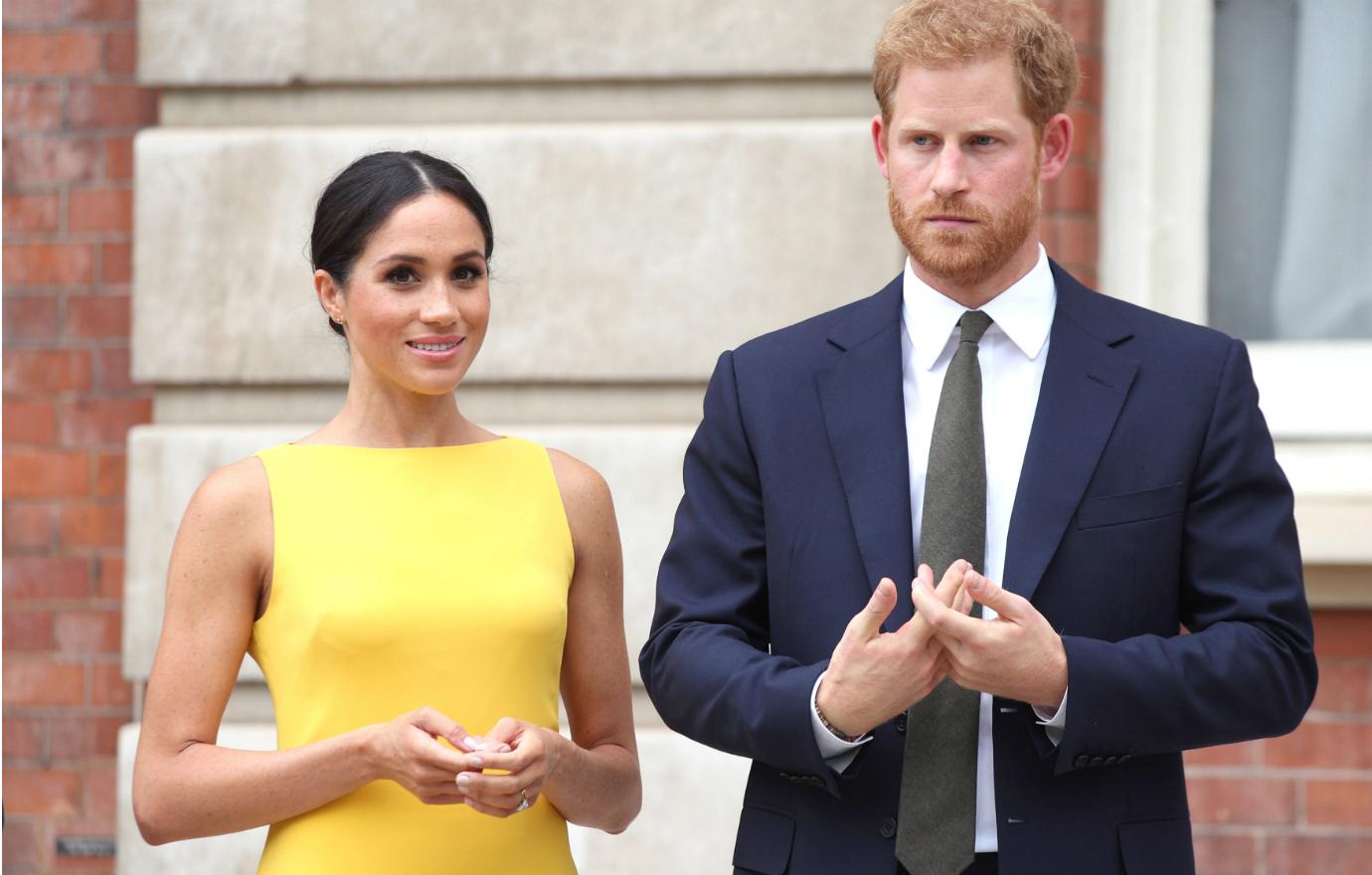 The Event: Commonwealth Youth Challenge reception at Marlborough House
What She Wore: Brandon Maxwell Yellow Sheath Dress ($1,495), Manolo Blahnik 'BB' Pumps ($625)
Article continues below advertisement
Old Hollywood Glamour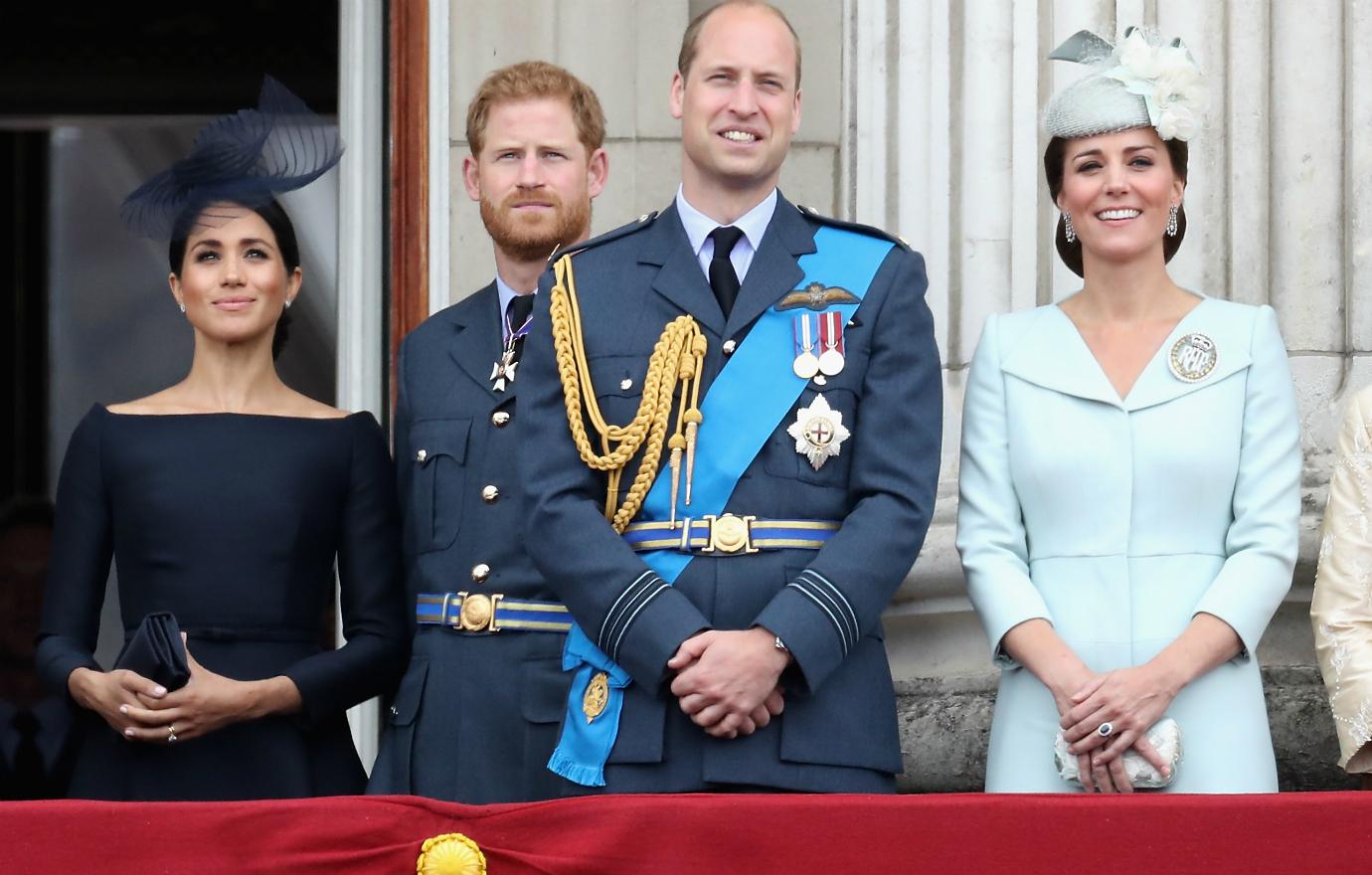 The Event: Centenary of the RAF
What She Wore: Dior Silk Crepe Off-The-Shoulder Dress ($2,490), Dior 'Dioressence' Pumps ($599)
Article continues below advertisement
Blushing In Pink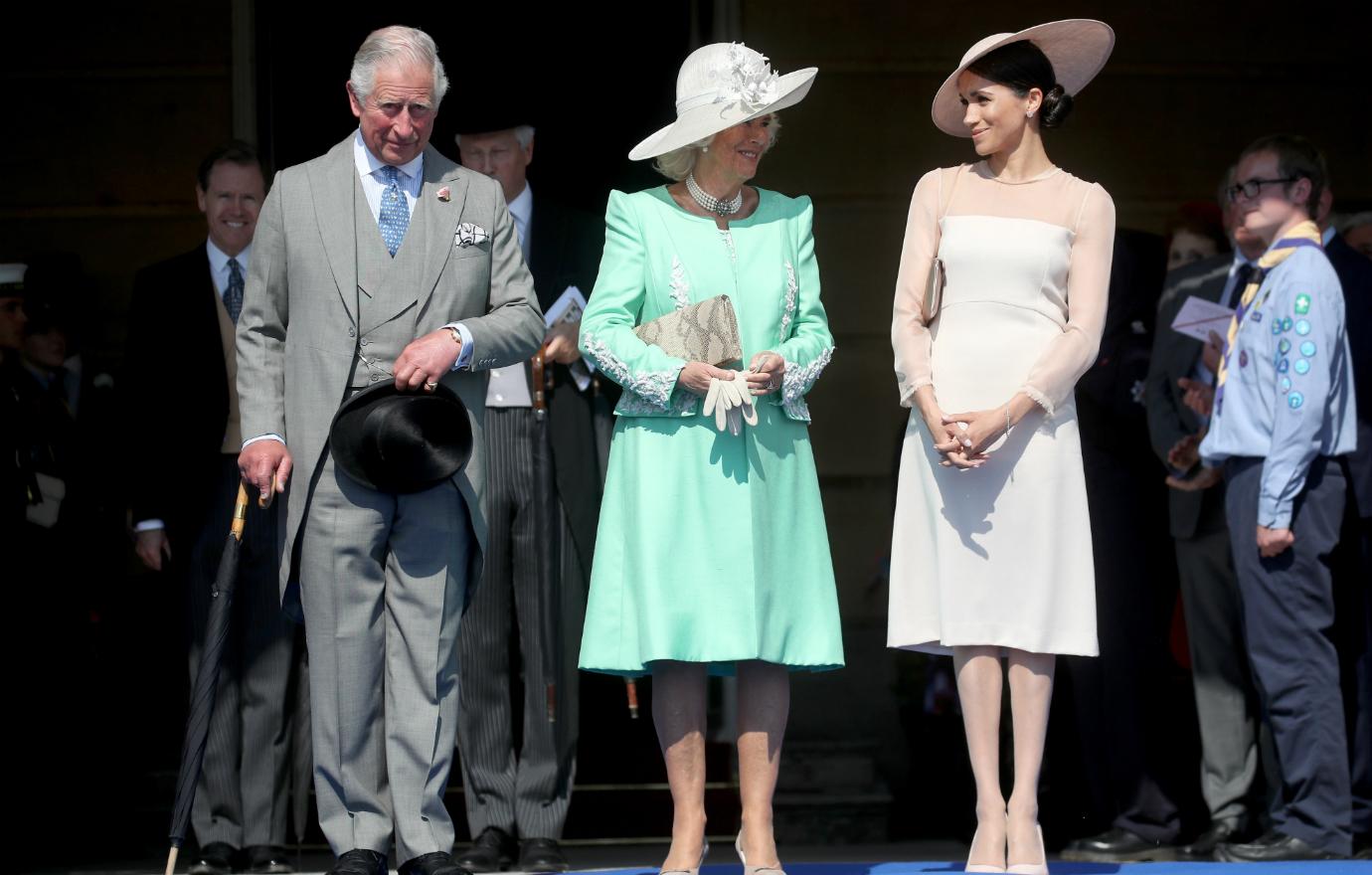 The Event: Anzac Day Dawn Service
What She Wore: GOAT Flavia Silk-Crepe Dress ($790), Phillip Tracey Bespok Hat ($1,060), Tamara Mellon Pumps ($450)
Article continues below advertisement
The Black Power Suit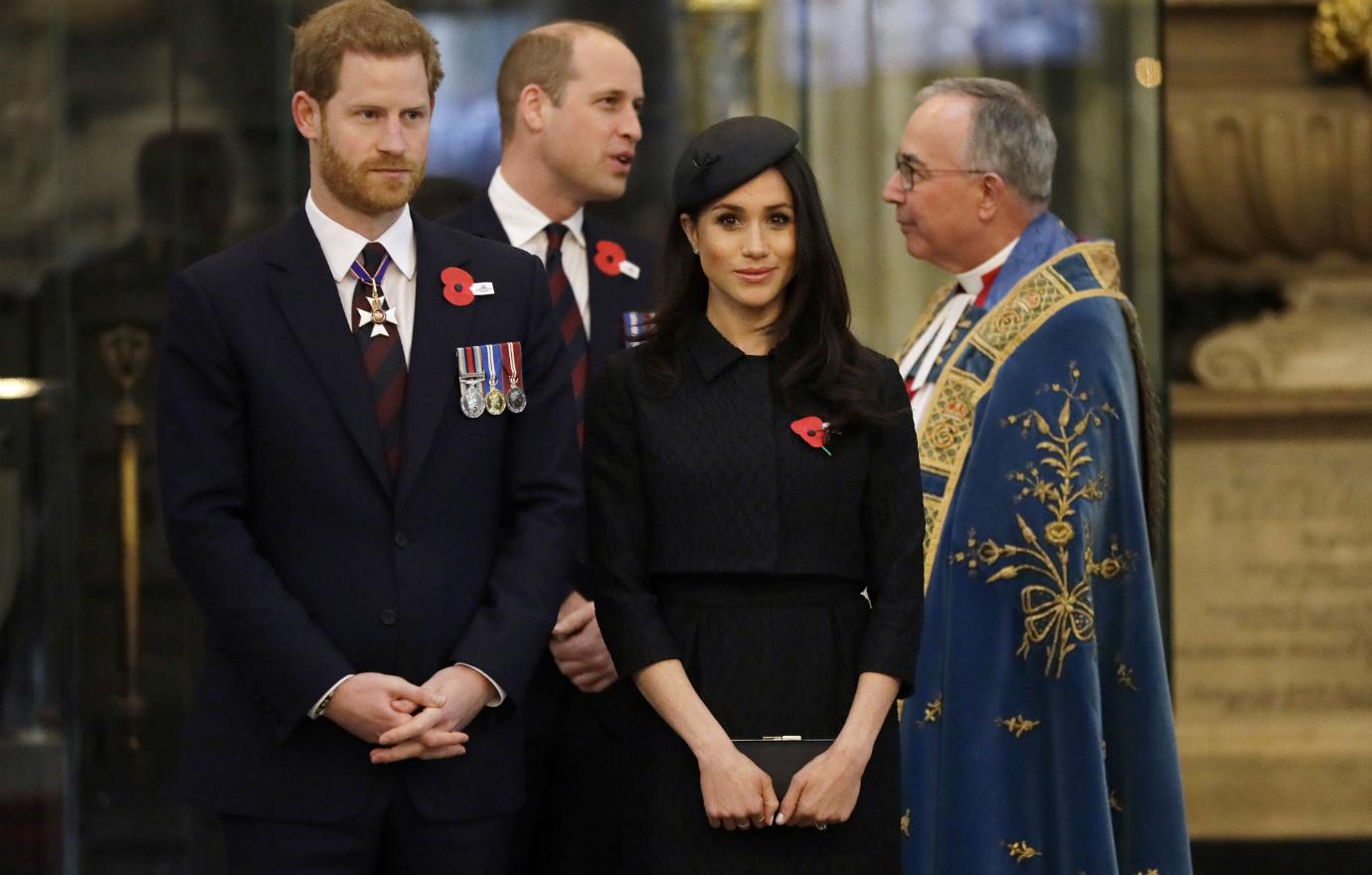 The Event: Anzac Day Dawn Service
What She Wore: Emilia Wickstead Bespoke Textured Suit ($995), Phillip Tracey Black Dragonfly Beret ($1,060), Manolo Blahnik 'BB' Pumps ($625)
Article continues below advertisement
A Military Inspired Coat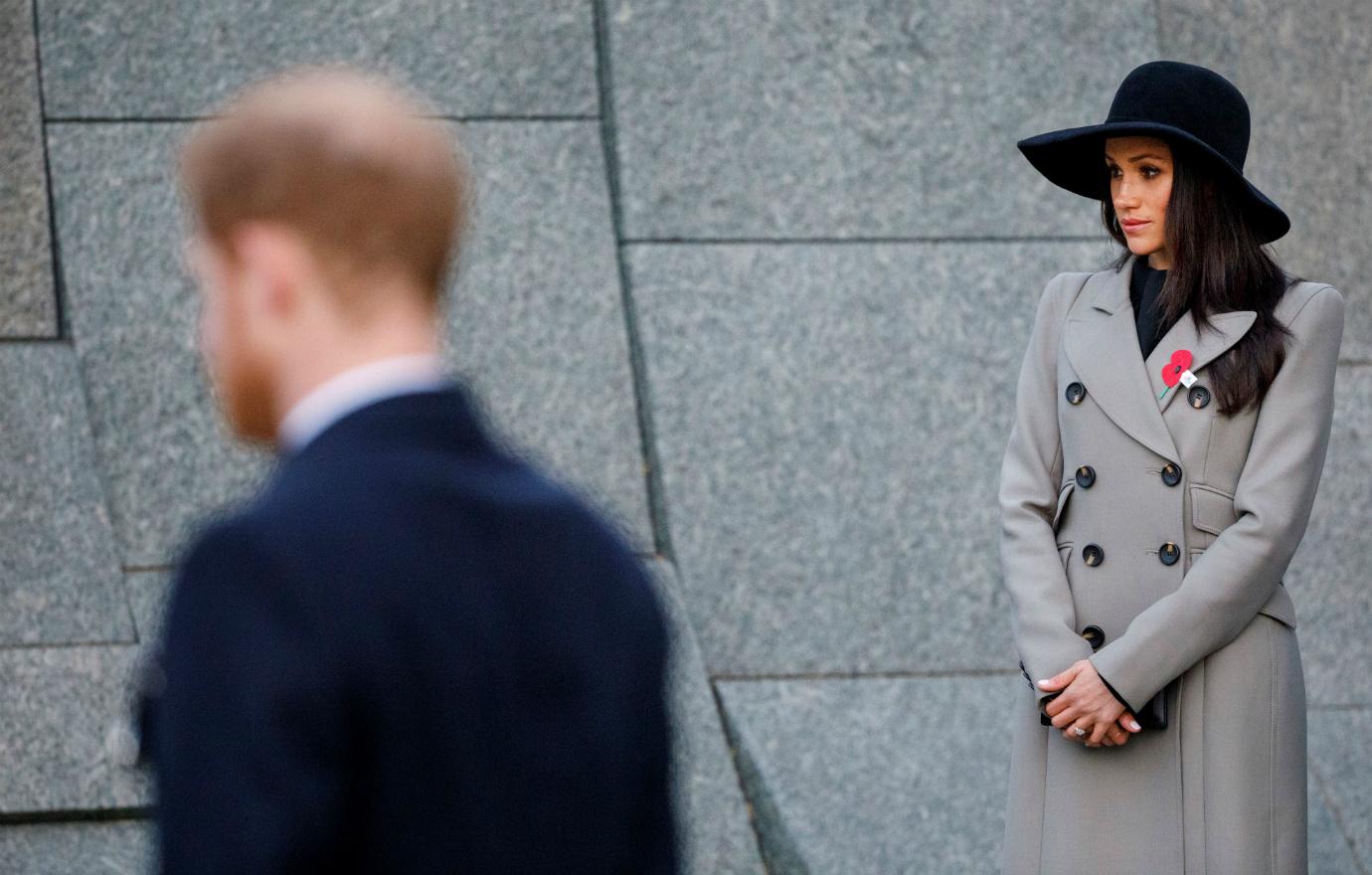 The Event: Anzac Day Dawn Service
What She Wore: Smythe 'Pagoda' coat ($995), Sarah Flint 'Jay' Pumps ($395), Gucci 'Dionysus' velvet mini bag ($830)
Article continues below advertisement
Belted A-Line Dress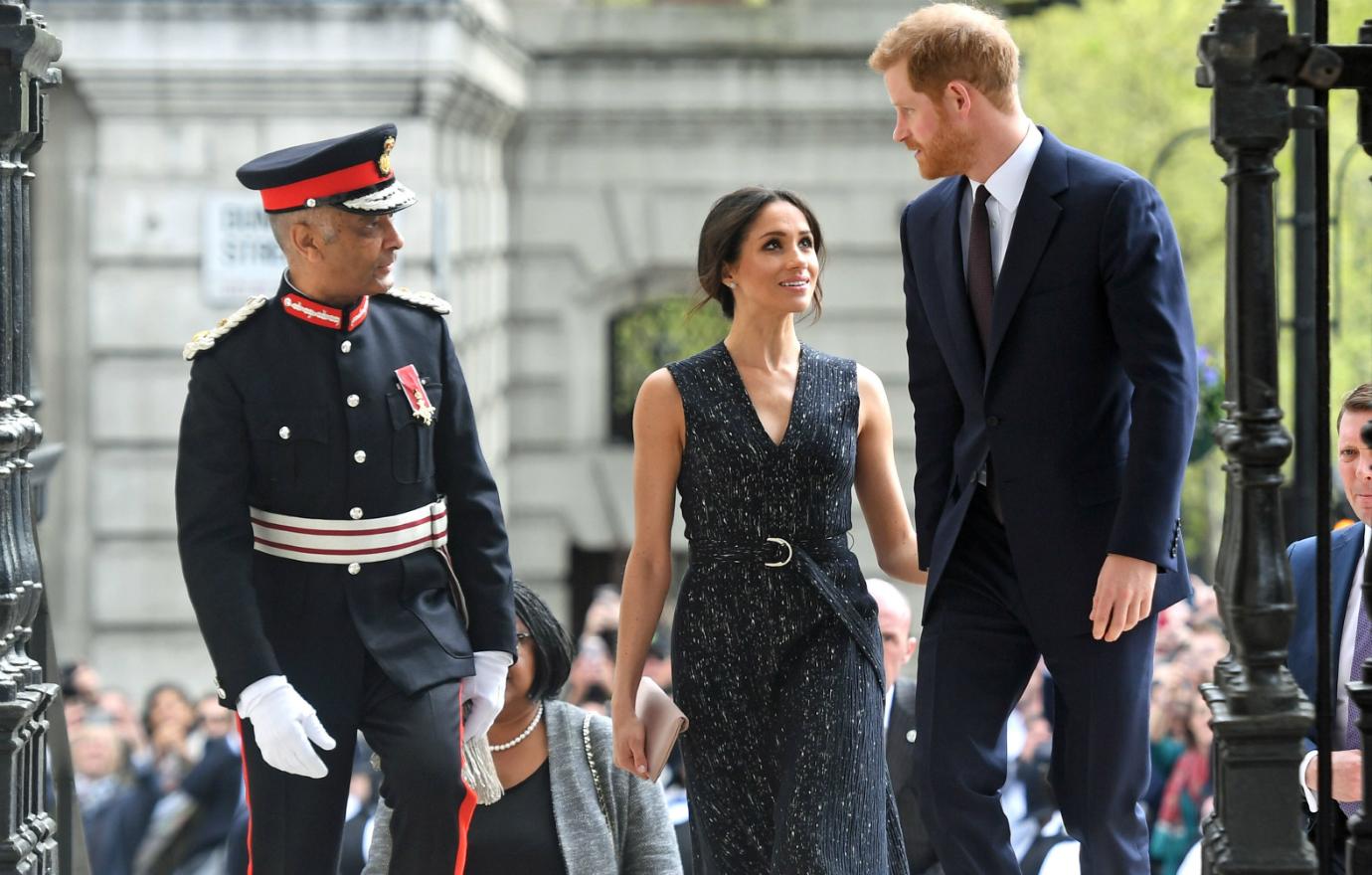 The Event: Memorial Service to celebrate the life and legacy of Stephen Lawrence
What She Wore: Hugo Boss A-Line Dress ($595), Wilbur & Gussie Bespoke Charlie Silk Clutch ($1995), Manolo Blahnik 'BB 105' in Suede Beige ($625)
Article continues below advertisement
The Prettiest Spring Dress
The Event: Invictus Games Reception
What She Wore: Self Portrait Floral Cold-Shoulder Dress ($509), Alexander McQueen Grain de Poudre Wool Blazer ($1995)
Article continues below advertisement
Well Covered Shoulders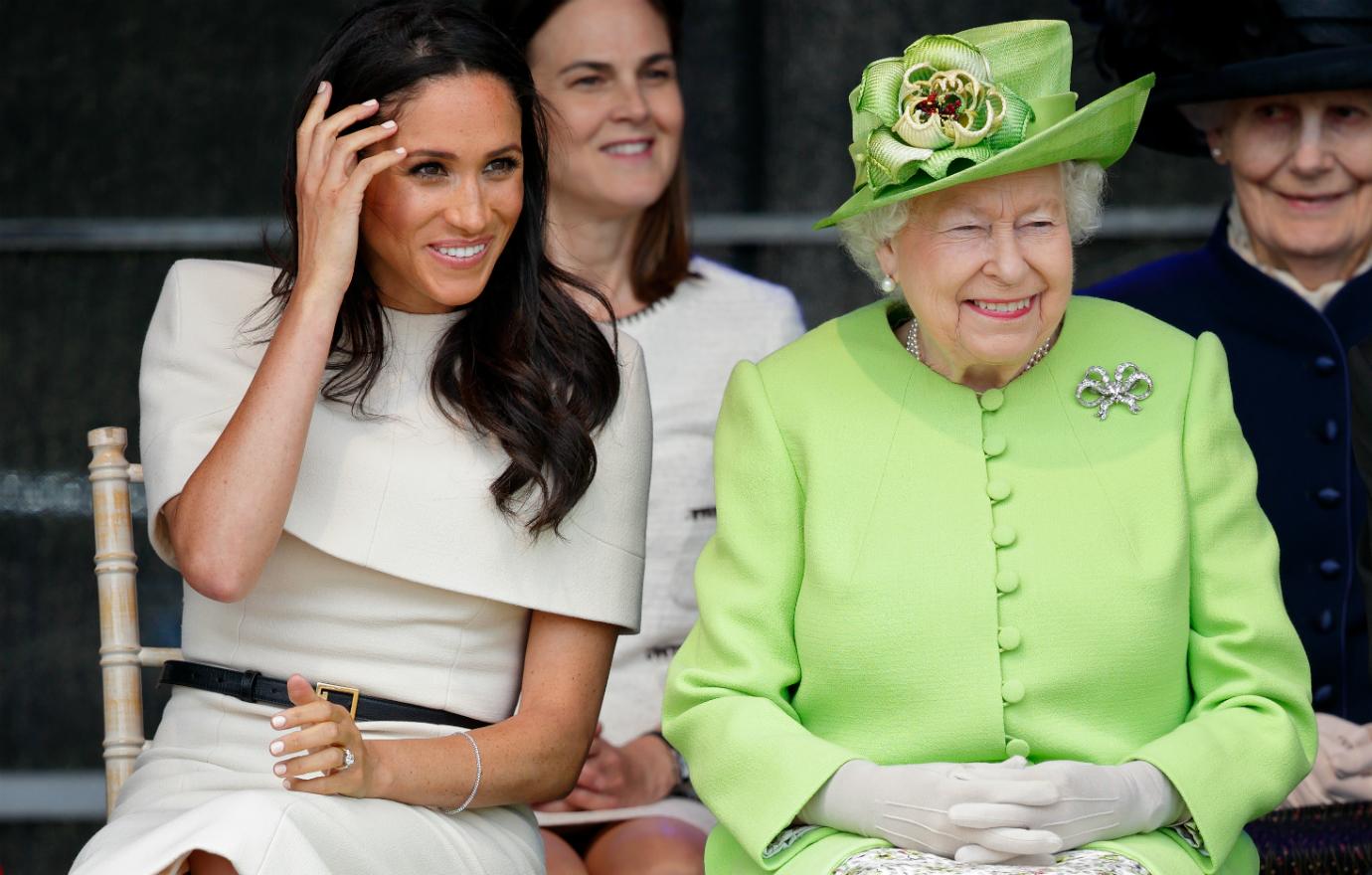 The Event: Chester City Council
What She Wore: Clare Waight Keller Bespoke Cape-Dress ($2,935), Phillip Tracey Bespok Hat ($1,060), Sarah Flint 'Perfect Pump 100' Heels ($395)
Article continues below advertisement
The White Blazer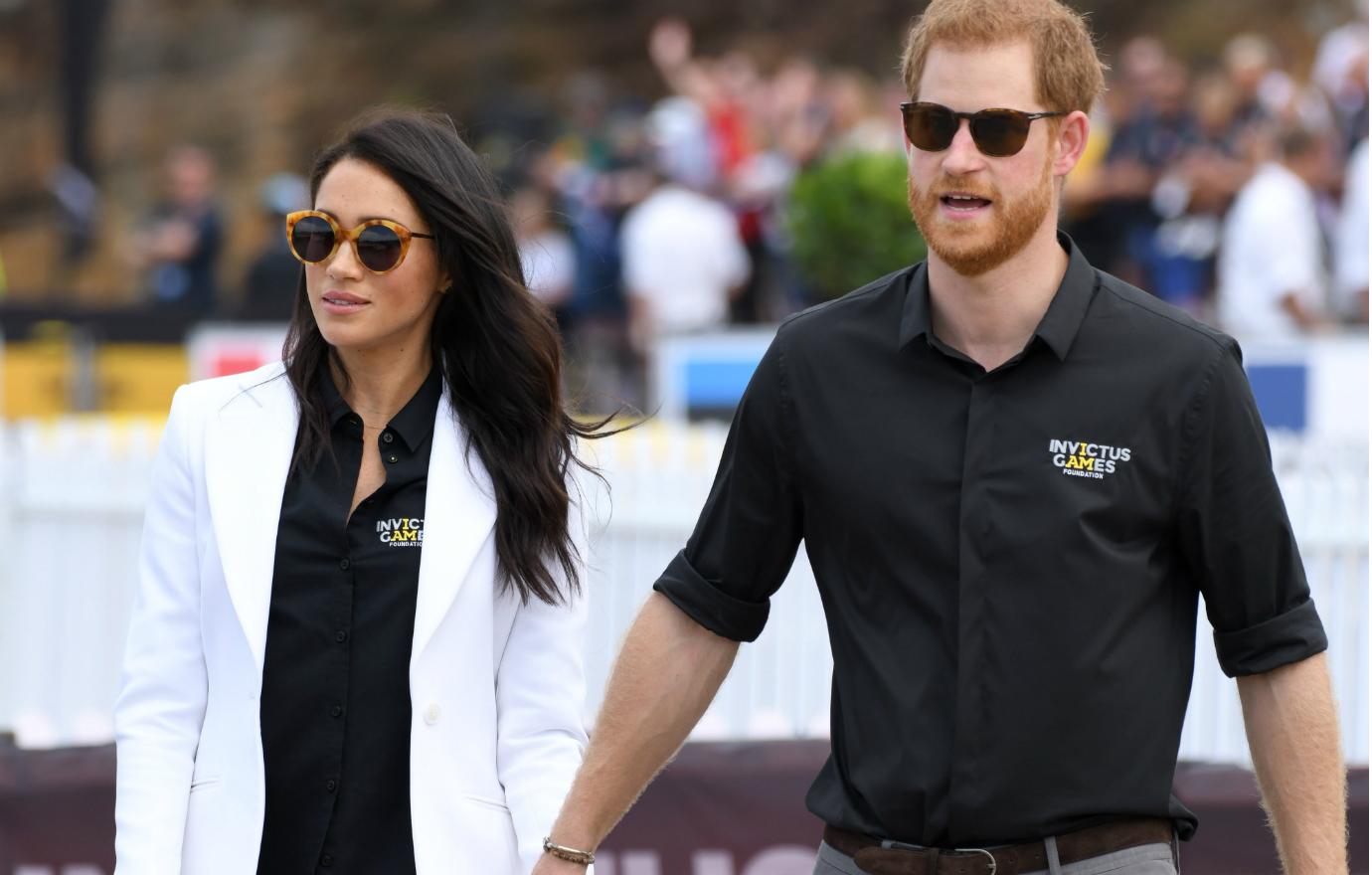 The Event: Invictus Games Sydney 2018 Jaguar Land Rover Driving Challenge on Cockatoo Island
What She Wore: Altuzarra White Blazer ($1,395), Mother Black Denim Jeans ($228)
Article continues below advertisement
Holy Slit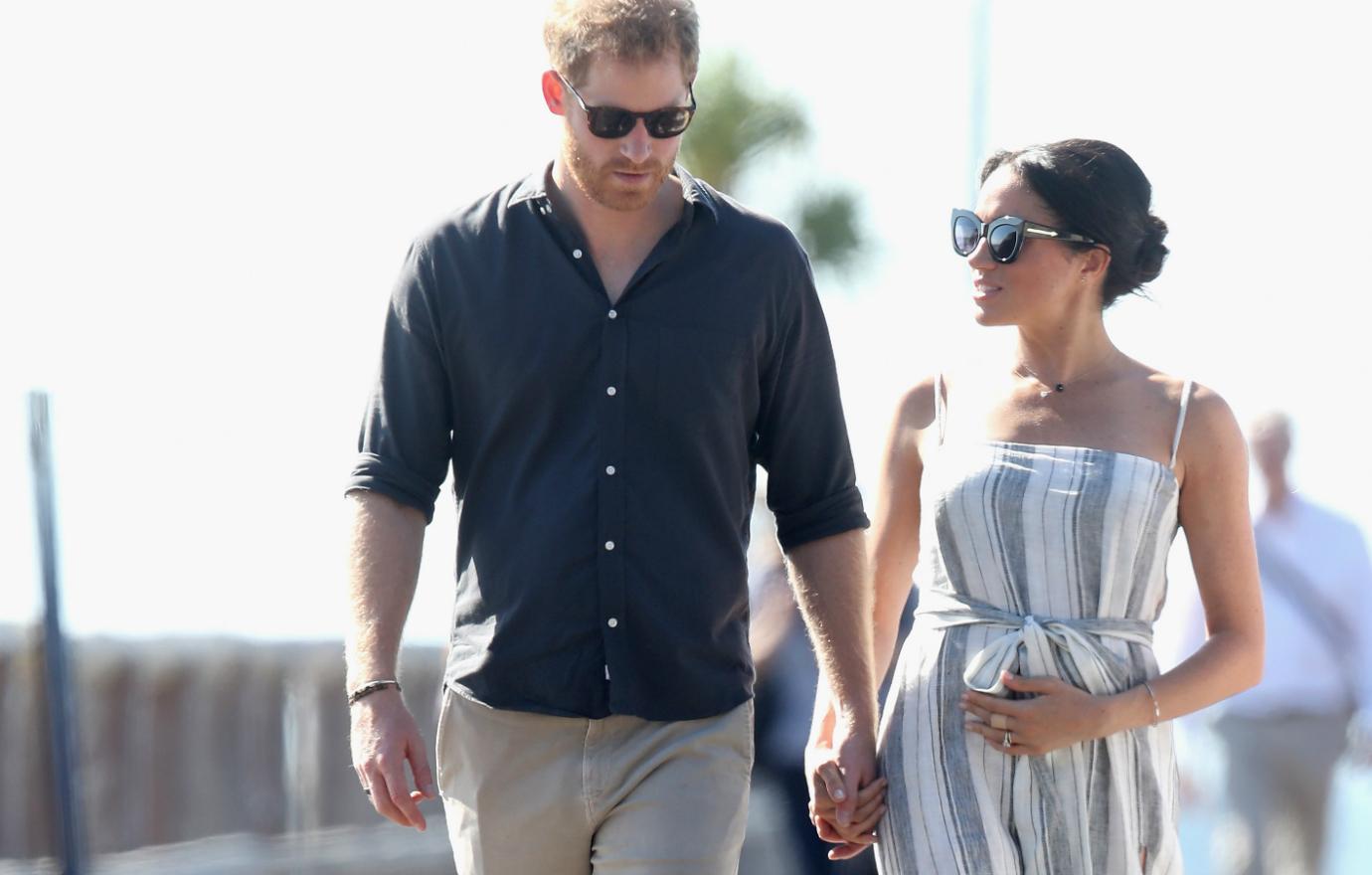 The Event: Walking Along King Fisher Island
What She Wore: Reformation Pineapple Dress ($218), Sarah Flint Grear Sandals ($245)
Article continues below advertisement
White One White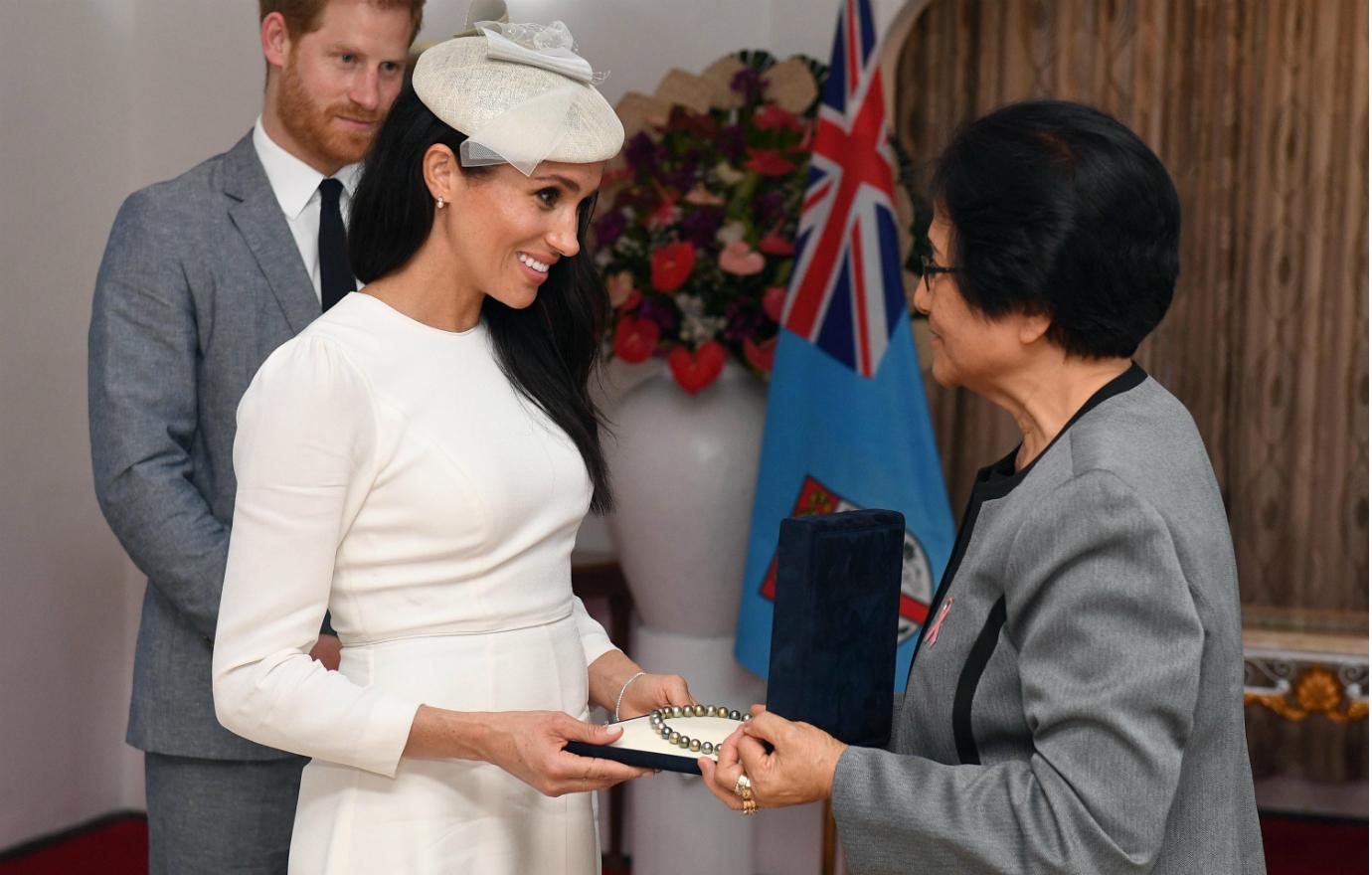 The Event: Welcoming Ceremony at Albert Park
What She Wore: Zimmerman Custom Peral Dress ($650), Stephen Jones Hat ($800), Aquazzura 'Deneuve' Suede Bow Pumps ($750)
Article continues below advertisement
Pretty In Pink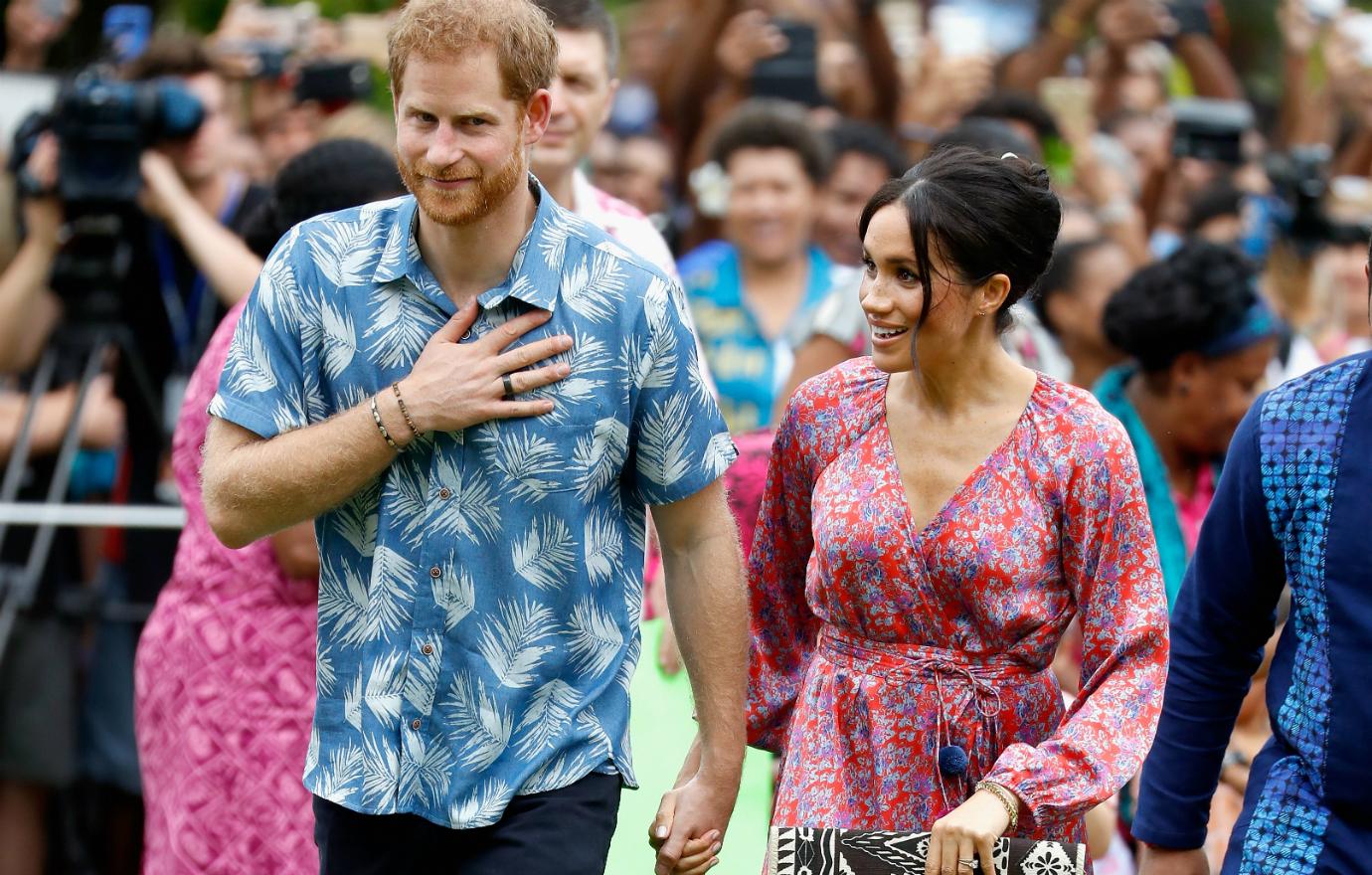 The Event: Walking Along King Fisher Island
What She Wore: Reformation Pineapple Dress ($218), Sarah Flint 'Grear' Sandals ($245)
Article continues below advertisement
Red Beauty
The Event: Fua'amotu Airport for visit to Tonga
What She Wore: Self Portrait Embroiered Dress ($500), Manolo Blahnik BB Pumps ($625)
Article continues below advertisement
The Demure Mini Dress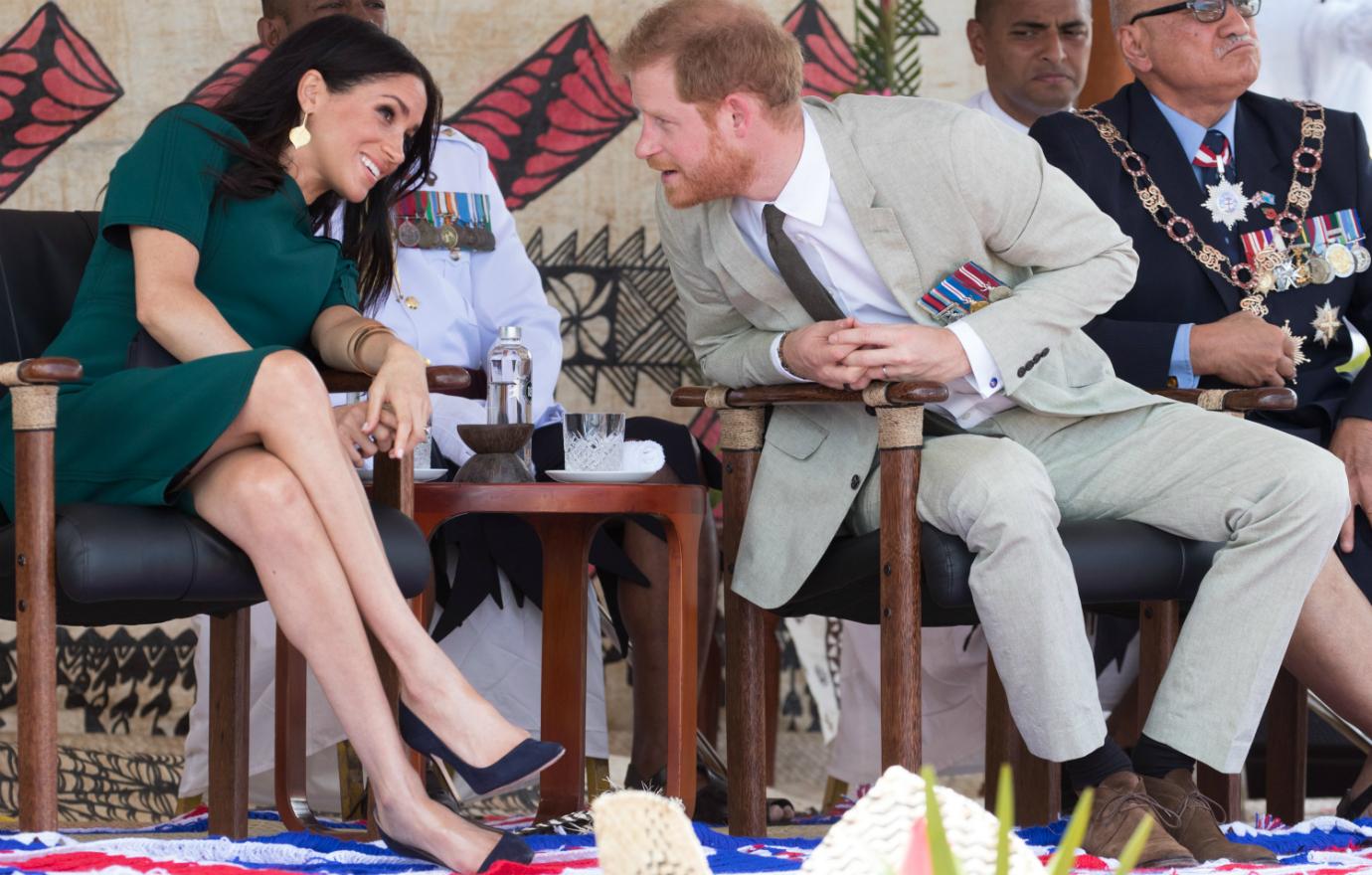 The Event: Unveiling of the Labalaba Statue in Fuji
What She Wore: Jason Wu Dress ($2,400), Manolo Blahnik 'BB' Pumps ($625)
Article continues below advertisement
Another Classic White Dress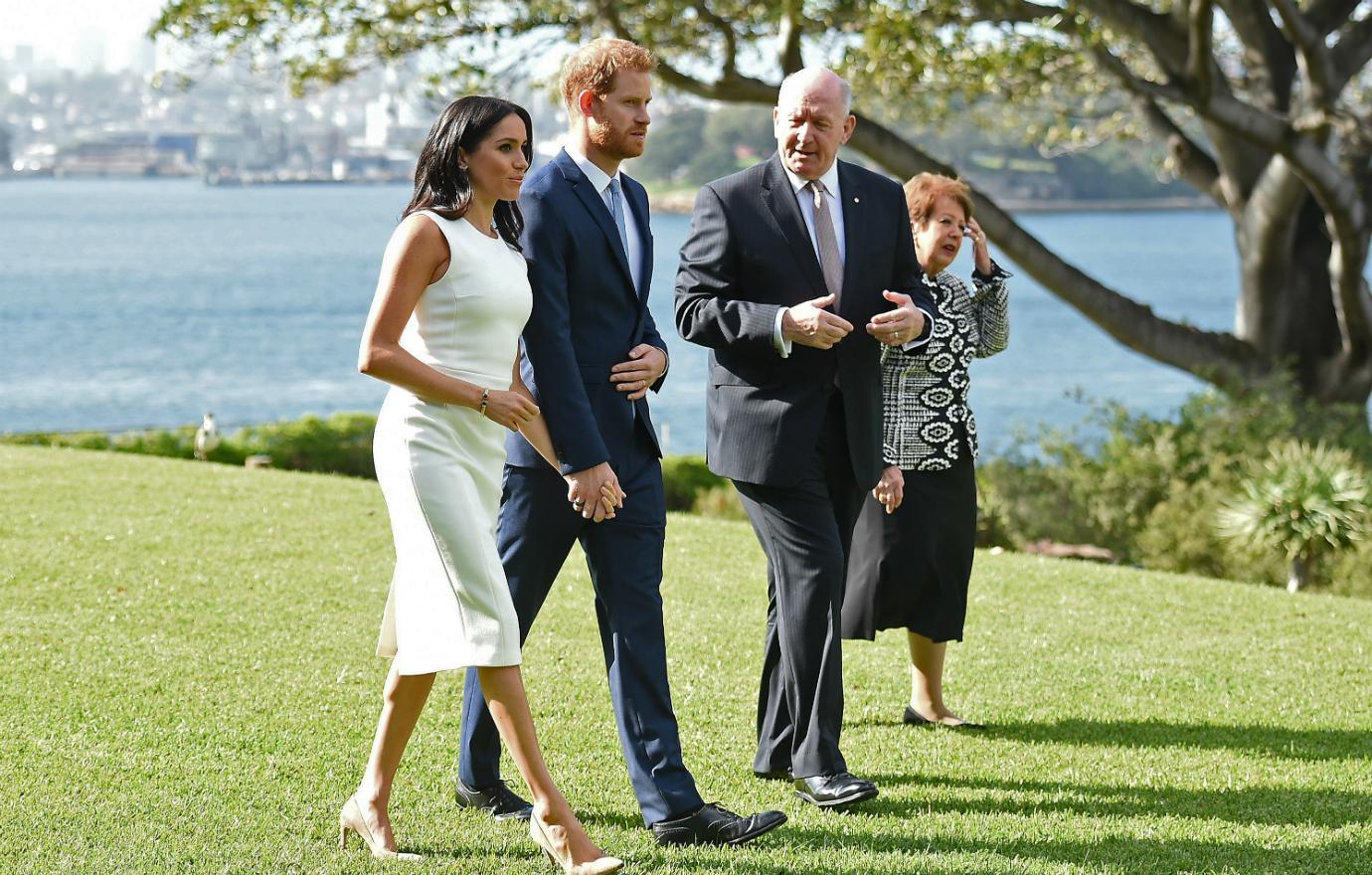 The Event: Meeting Prime Minister of Australia Scott Morrison and his wife Jenny Morrison at Kirribilli House
What She Wore: Roksanda Athena Pleated Two-Tone Dress ($1,850), Stuart Weitzman 'The Legend' Pumps ($375)
Article continues below advertisement
Simple And Elegant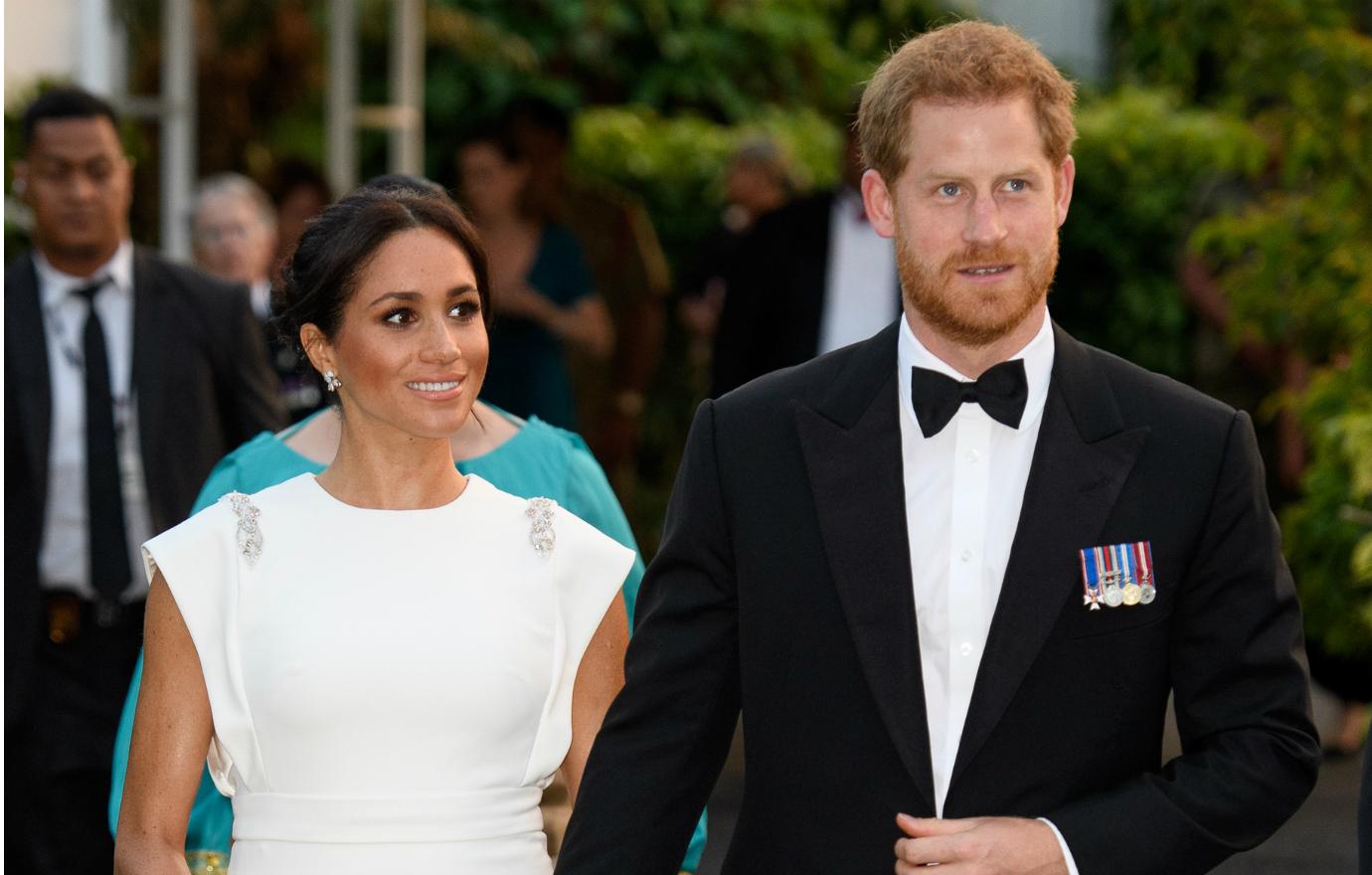 The Event: Welcome Reception & Dinner Hosted by the King and Queen of Tonga
What She Wore: Theia White Ballgown Dress ($1,295), Aquazzura 'Deneuve' Bow Pointy Toe Pumps ($750)
Article continues below advertisement
A Cape Dress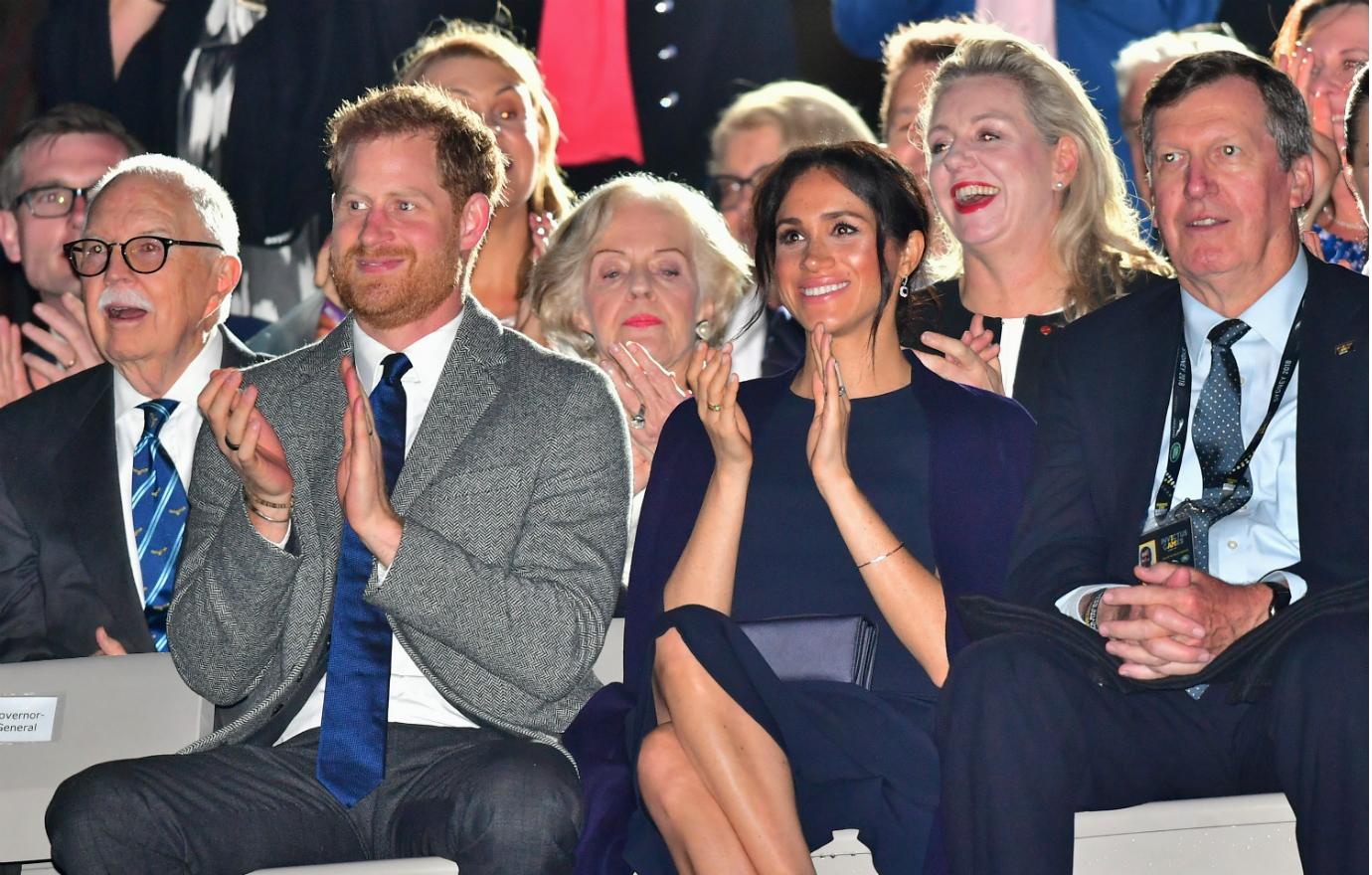 The Event: Invictus Games opening ceremony
What She Wore: Stella McCartney cape dress ($1,995), Gillian Anderson swing coat ($507), Stuart Weitzman 'Legend' heels ($375)
Article continues below advertisement
Demure Hats And Dresses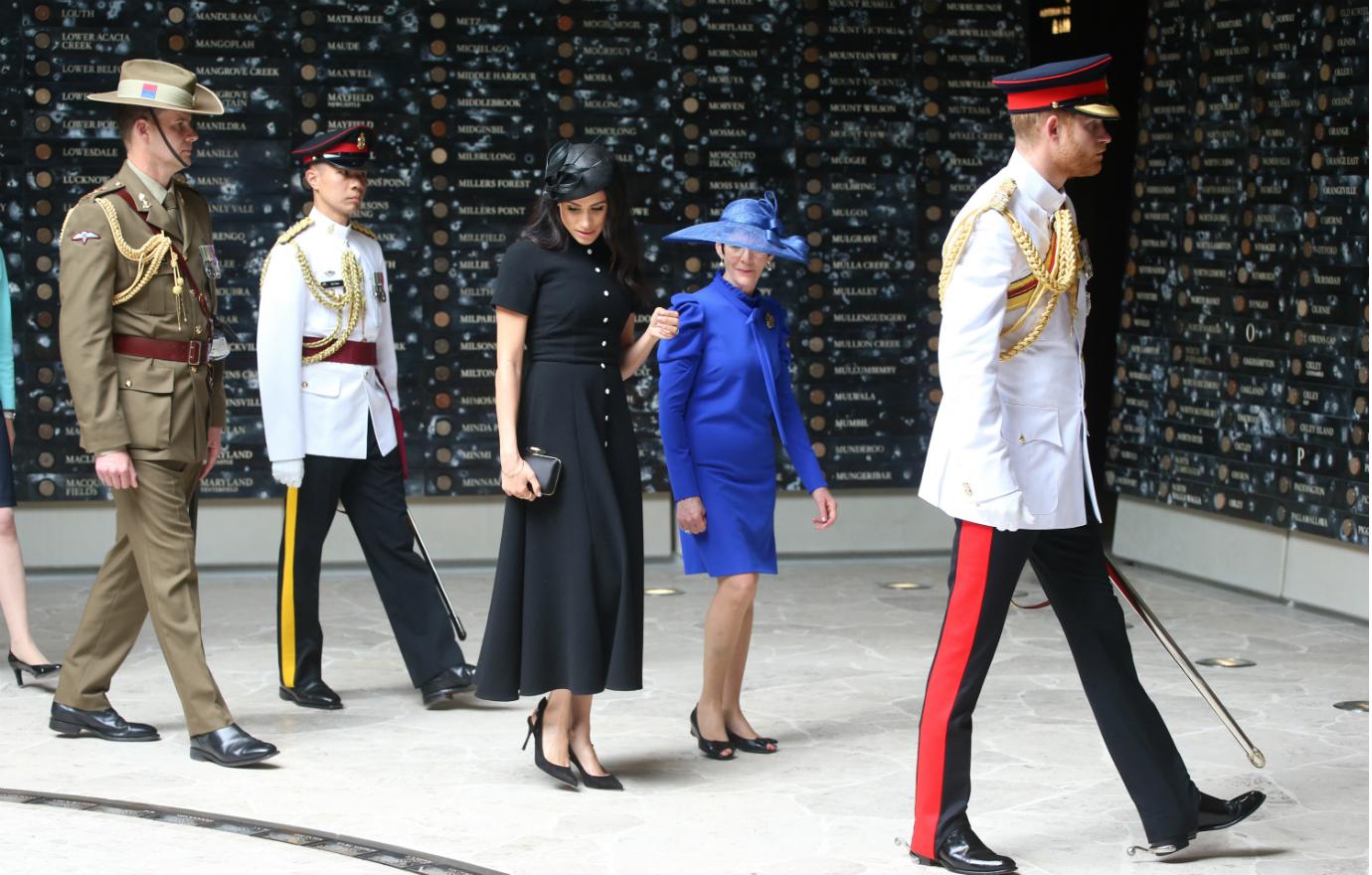 The Event: ANZAC Memorial in Hyde Park
What She Wore: Emilia Wickstead Bespoke Dress (around $1,985), Philip Treacy Hat (around $825), Tabitha Simmons Black Slingbacks ($695)
Article continues below advertisement
Maxi Beach Dresses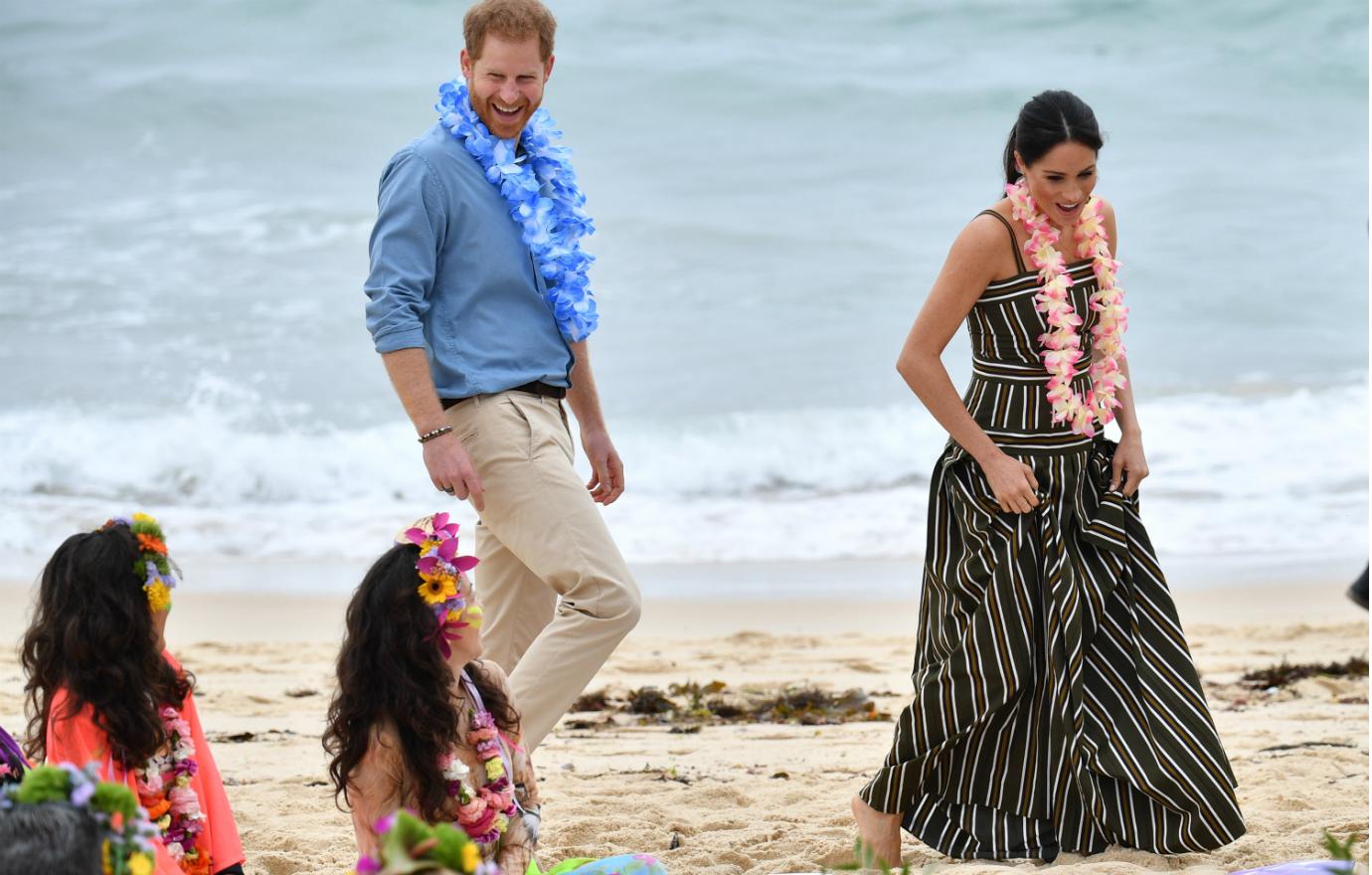 The Event: Visiting Bondi Beach
What She Wore: Martin Grant Pleated Striped Long Dress ($1,420), Castañer Espadrille Wedges ($120)
Article continues below advertisement
Color Block Dresses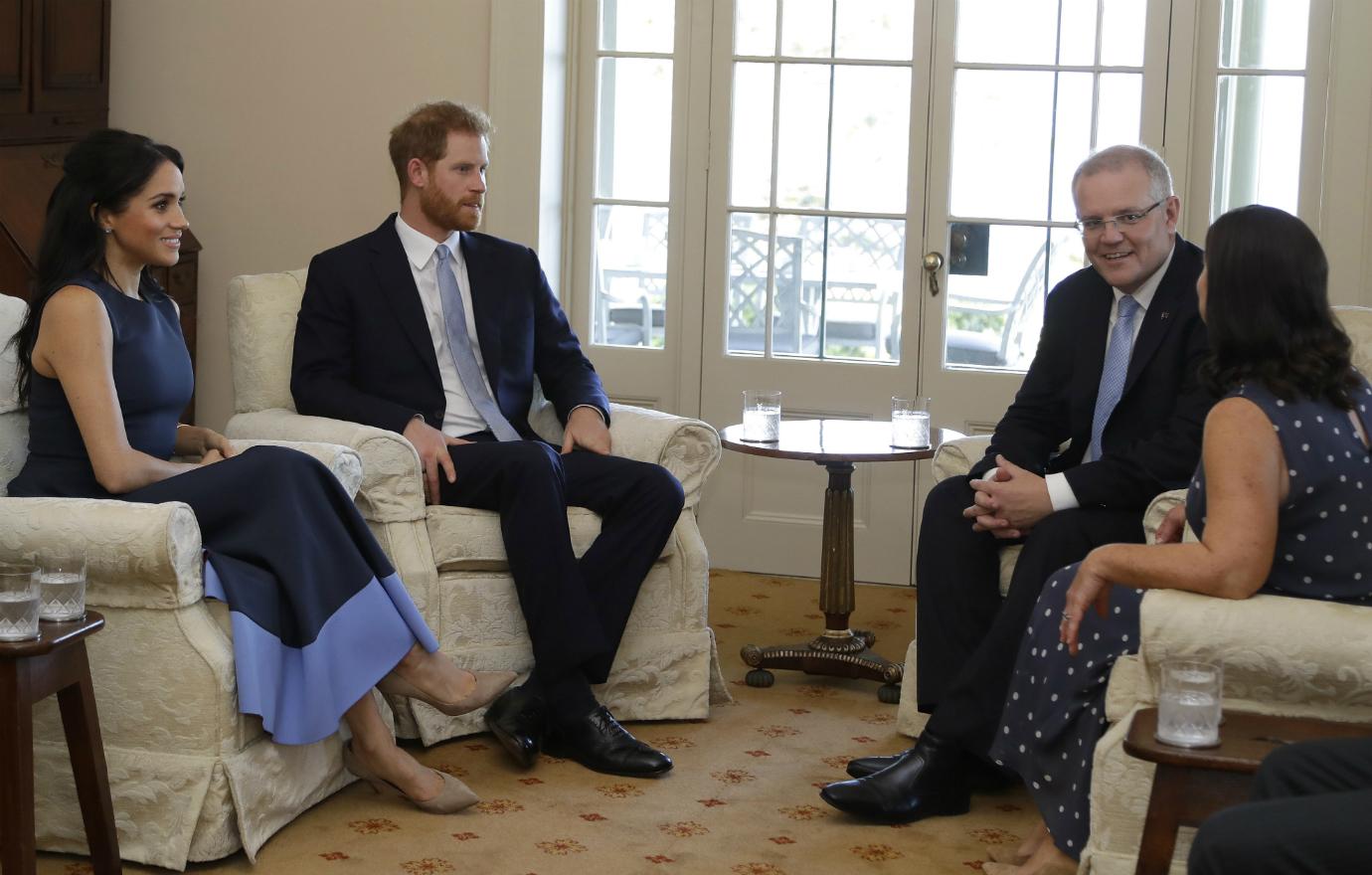 The Event: Meeting Prime Minister of Australia Scott Morrison and his wife Jenny Morrison at Kirribilli House
What She Wore: Roksanda Athena Pleated Two-Tone Dress ($1,850), Stuart Weitzman The Legend Pumps ($375)
Article continues below advertisement
The Classic Trench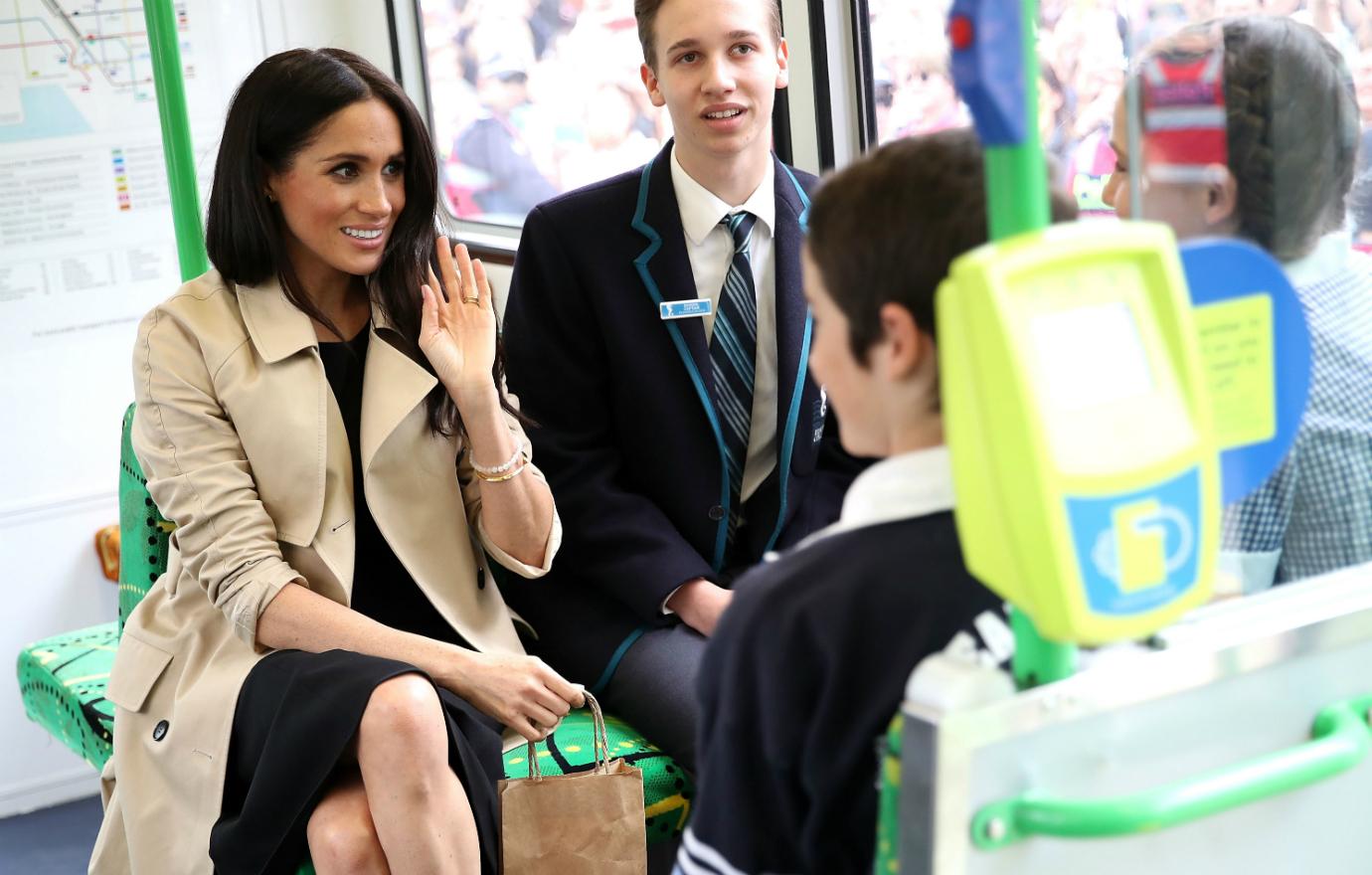 The Event: Visiting School Children on a Tram
What She Wore: Club Monaco black shift dress ($328), Rothy's 'The Point' black flats ($125)
Article continues below advertisement
Structural Sheath Dresses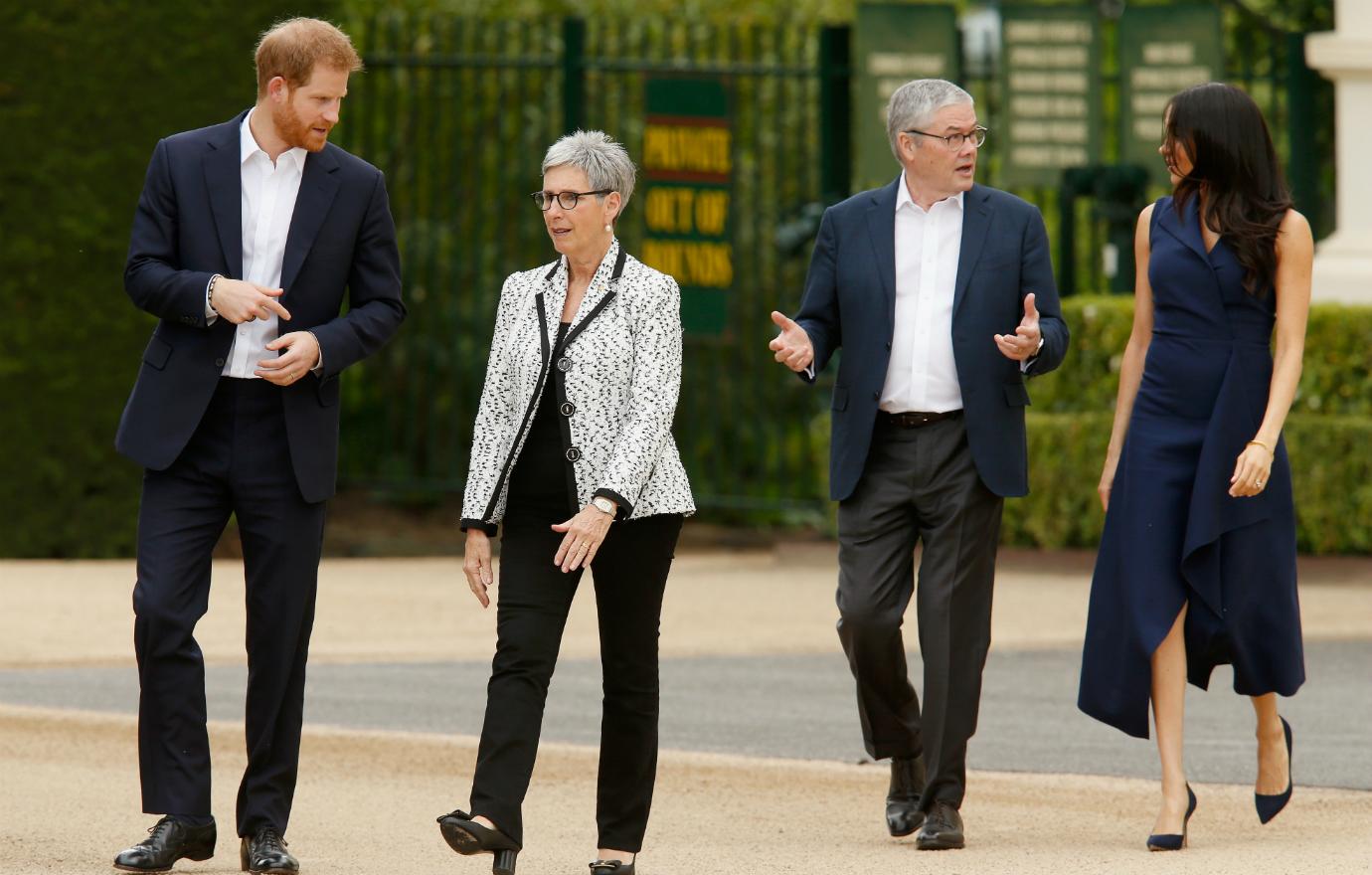 The Event: A reception at Government House Victoria
What She Wore: Dion Blue 'Folded Sail' Dress ($990), Martin Grant Trench Coat, Manolo Blahnik navy pumps
Article continues below advertisement
Casual Blazers
The Event: Visiting Mountain View Farm in Dubbo
What She Wore: Serena Boss Oversized Blazer ($145), Outland "riet' Jeans ($195), Maison Kitsuńe Logo Embroidered Shirt ($219), J.Crew 'Saddle' Ankle Boots ($178)
Article continues below advertisement
The Button-Down Dress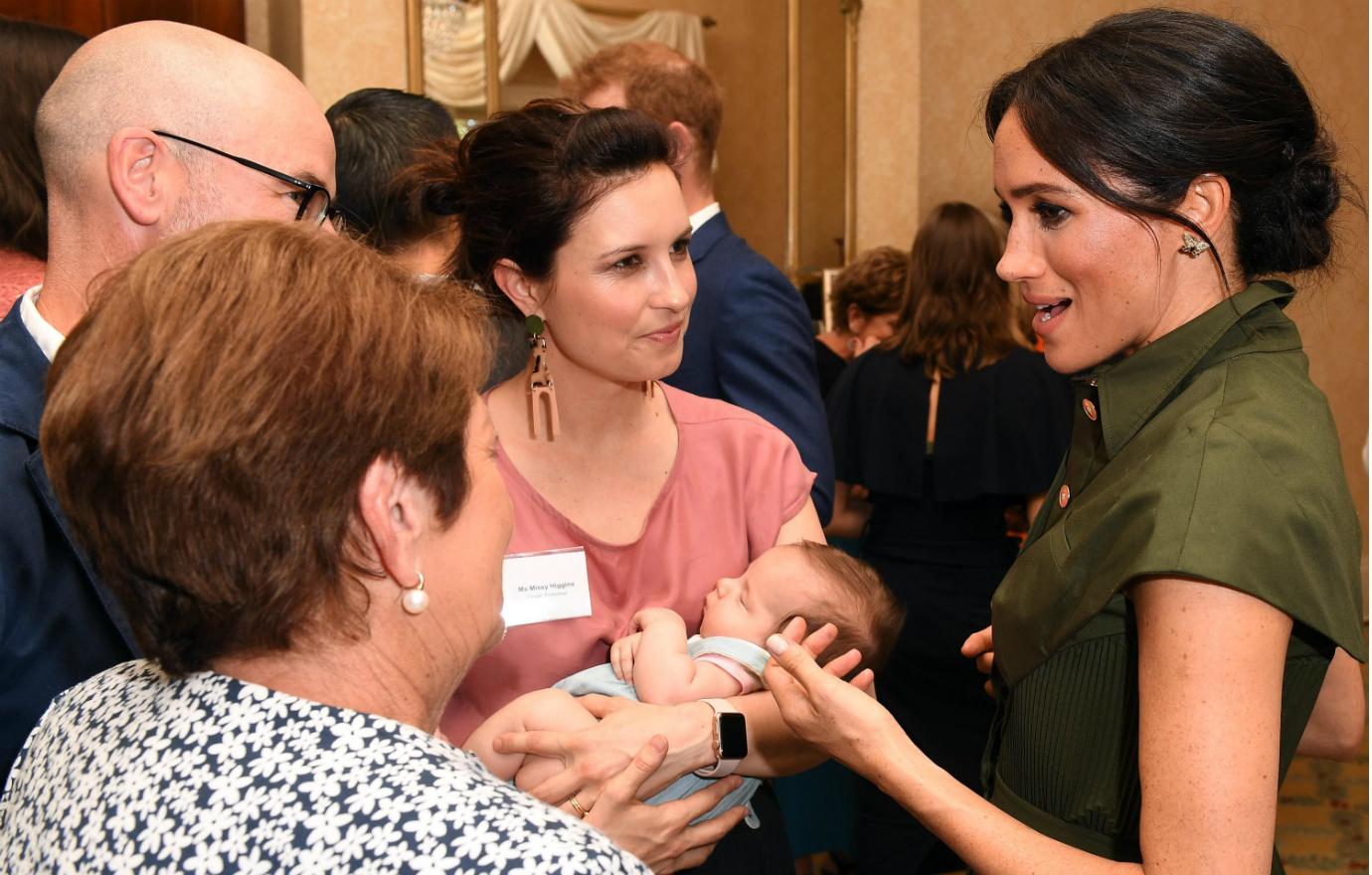 The Event: A reception hosted by the Governor-General at Admiralty House
What She Wore: Brandon Maxwell Pleated Shirt Dress ($1,595), Tamara Mellon Rebel 105 Shoes in Nude ($395), and a bracelet previously worn by Princess Diana
Article continues below advertisement
Royal Blue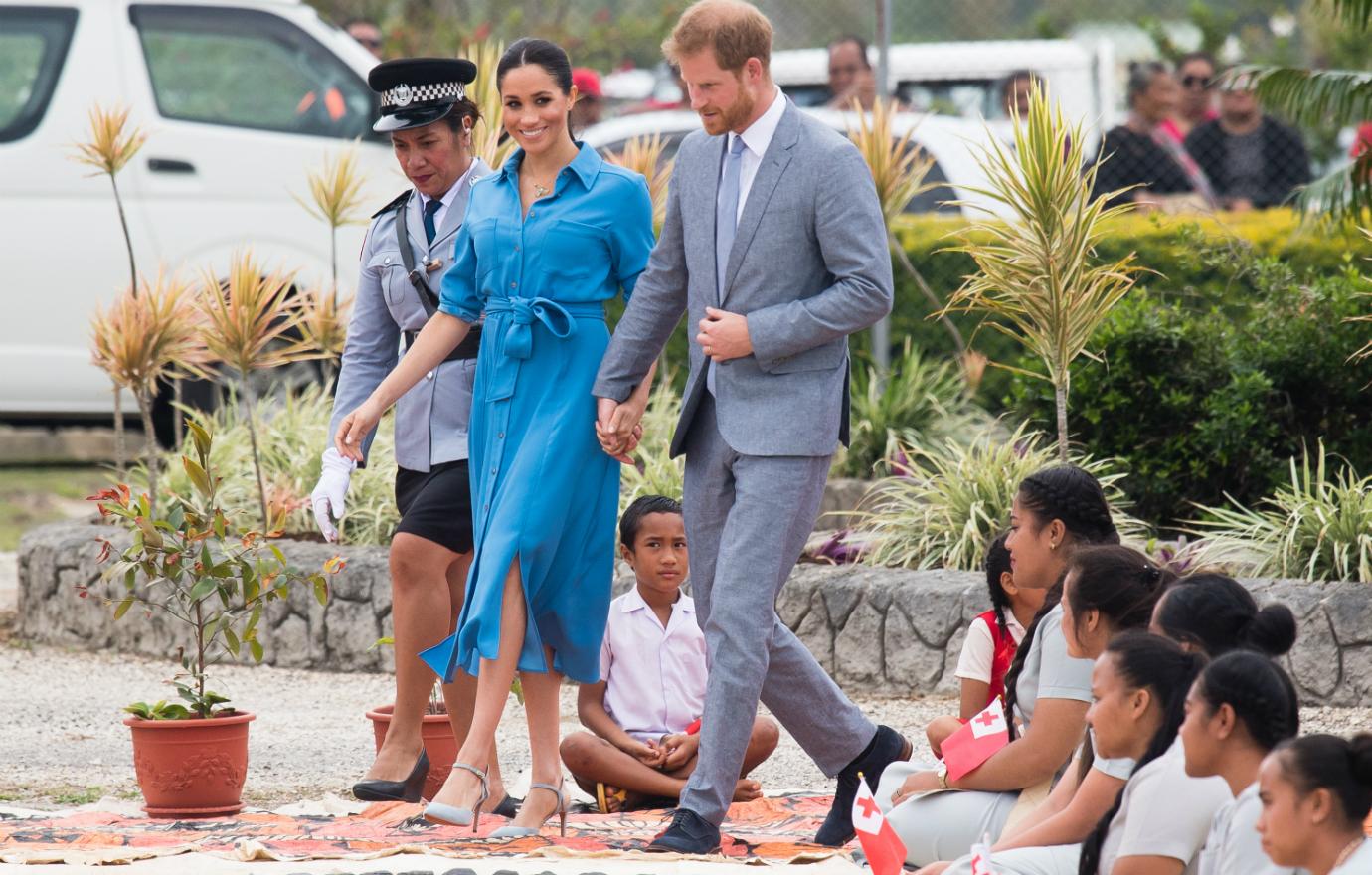 The Event: The unveiling of The Queen's Commonwealth Canopy at Tupou College
What She Wore: Self-Portrait Red Embroidered Dress ($487), Manolo Blahnik BB Suede Pumps ($595)
Article continues below advertisement
Casual Stripes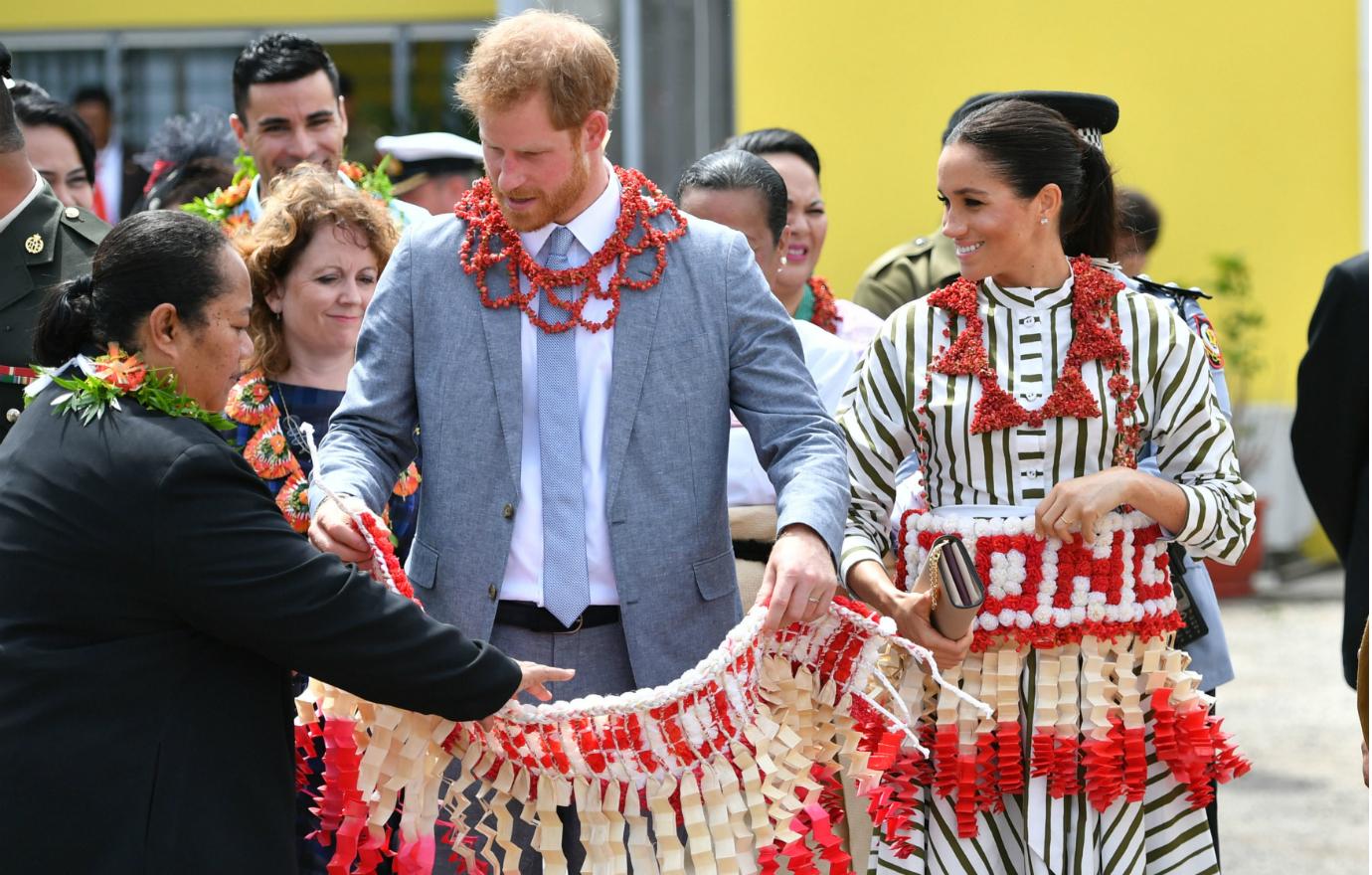 The Event: The Fa'onelua Convention Centre in Nuku'alofa, Tonga
What She's Wearing: Martin Grant Olive Green Striped Shirtdress ($1,595), Prada Bibliothèque Bag ($1,820)
Article continues below advertisement
A Little Side Ruffle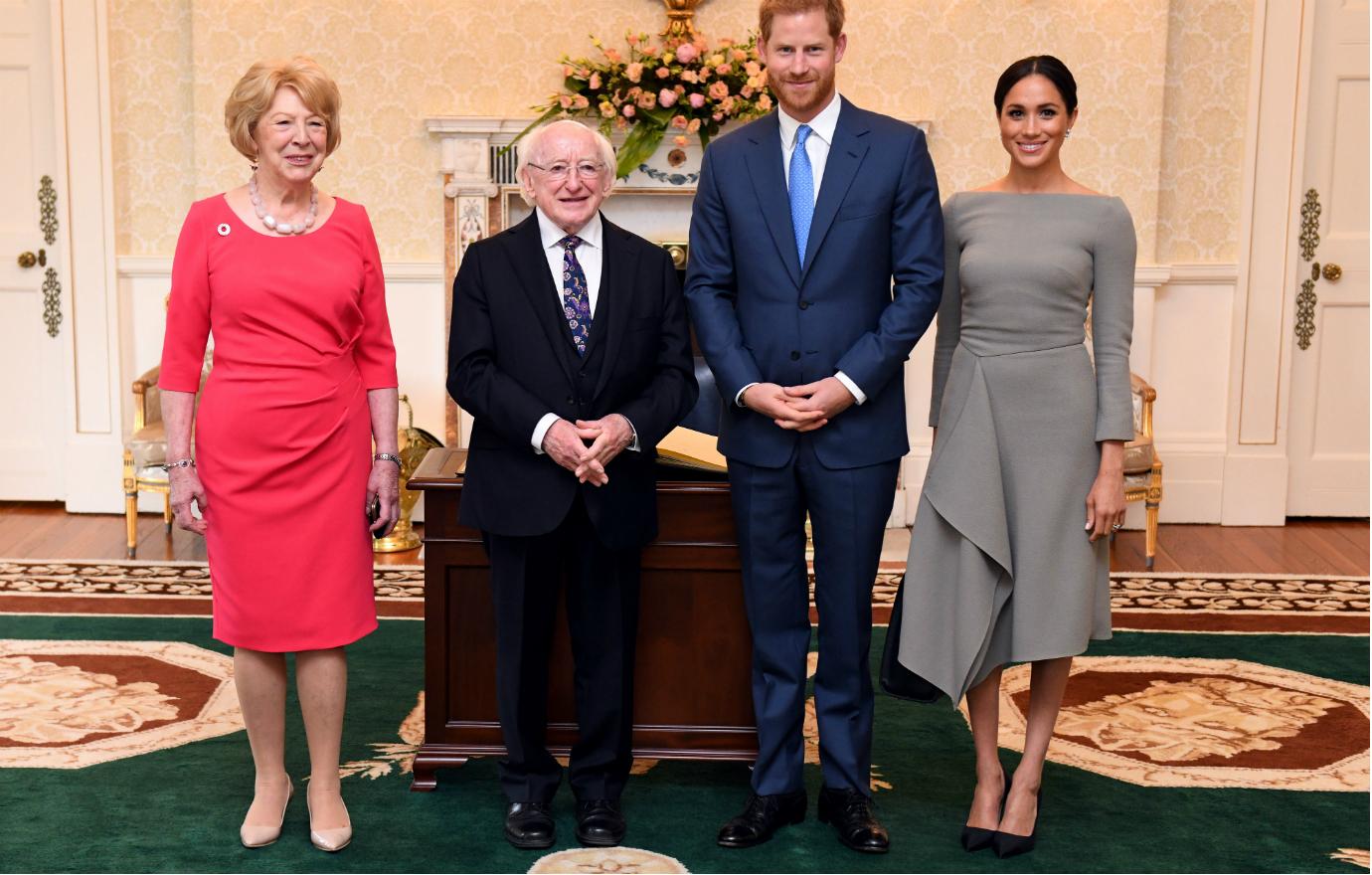 The Event: Visiting Irish President Michael Higgins and His Wife Sabina Coyne
What She Wore: Roland Mouret Dress ($2,235), Sarah Flint Pumps ($599)