PHOTOS
American Idol Insider: And Then There Were Four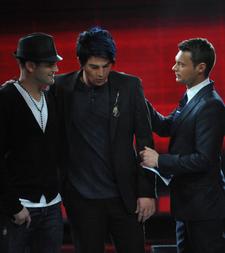 As American Idol rolls on toward the season finale, OK! reached out to one of the few people on the planet who know what it's like to ride the AI rollercoaster for an entire season — Diana DeGarmo — who will share her unique perspective on Idol every week.
April 29
It was a tough decision, but unfortunately the show must go on. It always gets so hard to see someone go once you get down to the last few people. American Idol's results show last night was chock full of great performances by Jamie Foxx, Natalie Cole, and Taylor Hicks. But of course, the part everyone was tuning in for didn't happen until the VERY last second. The producers have really gotten the whole "suspense" thing down to a T.
Article continues below advertisement
Surprisingly enough, this week's bottom two were Matt Giraud and Adam Lambert. Tuesday's performance show was so great for all of the contestants, but I don't think anyone was expecting it to be either of them. Even the wonderful Kris Allen was in the bottom three.
Obviously, with so few contestants left, being in the bottom isn't as bad, but it can still give you a good blow to your ego. I spent a few weeks in the bottom three myself so I can speak from experience!
Each week the results show gets harder and harder to watch, let alone participate in! When you're sitting on that stage watching your future hang in the balance the emotions can be overwhelming. Not only are you nervous for yourself, but you're also nervous for your friends sitting beside you. For months, you spend almost every waking moment with these people and you all become almost like family. And yet, you are still competitors. It's kind of a funky situation if you ask me! As a person, you're rooting for your friends to succeed, but as a contestant you're also rooting for yourself.
Article continues below advertisement
In my opinion, the absolute worst part about being voted off the show is that you have to sing the stupid song that got you voted off— AGAIN!! How awful is that?!? I mean, seriously, that is some deranged stuff!
Luckily, for Matt he sang a fabulous song last night and he got to leave the show on a pretty big high note. Unlike some contestants who've had to leave the show with some of the most awful songs ever. Not every finalist can fit into all the different themes they throw at you week after week, so to see someone go through a bad song again is cruel and unusual punishment for everyone.
PICS FROM THIS WEEK'S SHOWS:
I'll admit I had a few tough weeks during my Idol ride. Sometimes I honestly thought, "If I ever have to sing this song again I am going to die." I was fortunate enough to squeeze by on some of my worst weeks, an experience that then led me to take every week as possibly my last. I didn't want to ever be known as "the girl who left the show singing that awful song."
Once I started taking the competition in that sense, I got a big upward swing and found myself in the final two. American Idol is a very long, strenuous, vocal marathon, and each week is like another treacherous mile that you have to make it through.
As for the latest finalist to fall, Matt's had a huge launching pad for his career and I can't wait to see what else he makes of it!
Until next week!
—Diana
Diana can currently be seen performing in Back to Bacharach & David, directed by Kathy Najimy, at the Music Box @ Fonda in L.A. through May 17. And you can always keep up with Diana on her MySpace page!