PHOTOS
American Idolatry: And Then There Were 5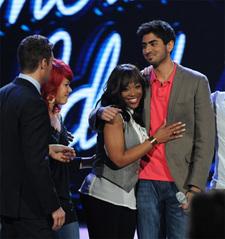 Despite Ryan Seacrest's constant use of the term "dramatic" to describe Wednesday night's double-elimination show, the results of this week's American Idol voting left little room for drama.
In fact, half the tension was cut almost immediately when Ryan dropped the night's first bad-news bomb on finalist Lil Rounds, sending the mother of three back home to her family.
Speaking of which, when Simon Cowell talked to Lil after the announcement, he said, "I'm gonna miss your family screaming at me every week."
Article continues below advertisement
The night's only minor surprise was that Matt Giraud, who would have been eliminated last week had the judges not decided to bust out their one-time-only "Judges' Save," not only wasn't eliminated — he wasn't even in the bottom three. It remains to be seen if this means the judges made the right choice — or if Matt's rebound will be briefly lived.
With Matt safe on the couches, that left Anoop Desai and the show's only remaining female finalist, Allison Iraheta, to sit awkwardly while Ryan endlessly dragged out the verdict.
In the end, it was Anoop Dogg being sent to the dog house, leaving only five remaining contestants — Matt, Allison, Danny Gokey, Kris Allen and of course Adam Lambert, who most are already declaring this season's champion.
But there's still a month left before the latest American Idol is crowned — and if there's one thing fans can expect out of the voters, it's that they are very fickle. Just ask Chris Daughtry or Jennifer Hudson, both of whom had been expected to win their seasons, only to be given the boot early.