PHOTOS
American Idolatry: The Judges Table is Divided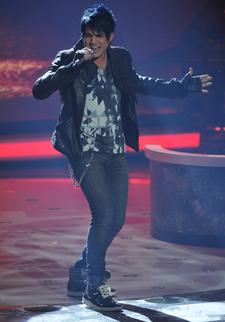 As reported in the new issue of OK!, there's a lot of tension at the overcrowded American Idol judges table, with audience faves Paula Abdul and Simon Cowell on one side and Randy Jackson and Kara DioGuardi on the other. And after Tuesday night's performance show, that divide couldn't have been made more evident.
In a move to keep the show from running over (something Idol has never seemed to care about in seven previous seasons), the producers decided that each contestant would only get to hear from two judges after performing, rather than from all four. And rather than mix and match the judges, they simply alternated Paula and Simon, then Randy and Kara.
Article continues below advertisement
And it seemed like every time the other pairing were giving their critiques, Simon and Paula were goofing around behind their backs. During Kara's review of Anoop Desai's performance of the Bryan Adams hit "Everything I Do," a seemingly disgusted Simon flung his hands up in the air while exchanging an eye roll with Paula.
Then while Randy and Kara were giving Matt Giraud feedback on his version of Bryan Adams' (yes, two Bryan Adams songs in one night...), Simon kept pretending to lean forward and interrupt her.
Getting to the actual singing on Tuesday's movie-themed show, it was once again (yawn) Adam Lambert's night to shine, when he added a bit of skinny-jeans shimmer to Steppenwolf's rock dinosaur, "Born to Be Wild." Paula told him, "You dare to dance in the path of greatness." Whatever that means.
Gaining some ground, at least to try to make the remaining weeks interesting, is Allison Iraheta, who lent her smoky voice to Aerosmith's Armageddon power ballad, "I Don't Want to Miss a Thing." Once again, Paula trotted out another gem, when she told the teen she possesses the "same special sauce" as Adam does. Simon was more succint, telling Allison, "You are the girls' only hope in this competition."
Simon made that point abundantly clear when he ripped into Lil Rounds for her gospel-ish take on Bette Midler's "The Rose."
"You're getting this completely wrong," he told her. "There's no excuses anymore... You're not the artist we met 7 or 8 weeks ago."
PICS FROM TUESDAY'S SHOW:
Have a news tip or great photo you want to tell us about? Shoot us an e-mail: tips@okmagazine.com