PHOTOS
American Idolatry: So Long, Scott!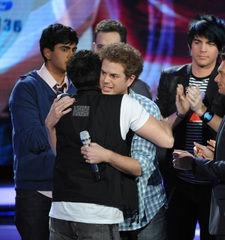 It was an emotional elimination round tonight as American Idol said goodbye to Scott MacIntyre. Out of 34 million votes cast after Tuesday night's performances, the curly haired crooner from Arizona — the show's first legally blind finalist — was edged out by fellow bottom-two dweller Anoop Desai by only a few thousand votes.
But what made it one of the more interesting nights is that, for the first time this season, the judges actually appeared to contemplate using their Judge's Save — their once a season ability to save a finalist they believe has been wrongly voted off.
Article continues below advertisement
When it came time for the foursome to reach their decision, they were deadlocked, with two wanting to give Scott another shot and two wishing to show him the door.
"Last week, I didn't care," Simon Cowell said, comparing MacIntyre to Megan Joy, who was eliminated without any pretense of a Judges' Save. "But this is a whole different ballgame. Two people think you should stay and two people think you should go."
Although he didn't reveal which of the judges voted to save Scott, it was obvious that two of his biggest fans were Paula Abdul and Kara DioGuardi, who after Simon ultimately voted to send Scott home, shook her head in disappointment.
"Paula looked genuinely upset during the deliberation," one audience member tells OK!. "And when they played the video recap of Scott's time on Idol played, she called Ryan Seacrest over to the table. For a moment, everyone nearby thought the judges had had a change of heart."
Article continues below advertisement
But in the end, she told Scott, "you've been an inspiration to the entire world through your commitment, through your talent. We love you."
And what a season it's been for MacIntyre, who despite a visual impairment that required him to rely on others to guide him on and off stage, made audiences forget his disability with the sheer size and measure of his talent.
Musically, Scott often relied on the safety of his piano week after week, and received criticism for failing to step outside his comfort zone. But tonight, as he prepared to sing his final song for the judges, MacIntyre bravely practiced his moves during the commercial break, studiously trying to perfect every hand gesture, every body movement.
"It was so cute, he was concentrating so hard during the break, silently rehearsing his song so he wouldn't get it wrong. You could see why the judges were tied over whether to keep him. This obviously meant a lot to him," an audience member tells OK!.
And while he may not have had the physical support of his piano, he had the emotional support of his family, who stood during his final performance, wiping away tears and cheering him on.
PICS FROM THIS WEEK'S AMERICAN IDOL:
With performances from Frankie Avalon, Flo Rida and former Idol finalist Kellie Pickler, the show had its usual upbeat moments. During commercial breaks, Simon and Randy chatted with Mario Lopez and acclaimed filmmaker Rob Reiner cheered from the nosebleed seats.
By Katie Rhames