PHOTOS
Amy Smart Couples Up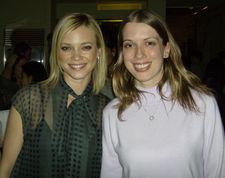 Amy Smart loves to hike with fiance Branden Williams.
"I really feel like I live in the present moment with him," the actress, 33, tells me of the man she's dated since high school. "When we're together, we have fun, we laugh and we just enjoy life together."
What does their future hold?
"I'd like to be a mom at some point," she tells me. "And at the same time, as much as I can plan for what I want, I also find that life is much more interesting when you allow it to unfold. It's better than you can imagine. I don't put too many expectations in the future because I have many wants and I allow it to sort of unfold the way the universe will give it to me."
Article continues below advertisement