PHOTOS
Andie MacDowell Shares Love Lessons With Kids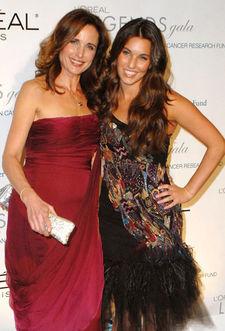 Andie MacDowell has certainly had a rocky love life, having been through two husbands and one fiancé in the past ten years.
But the actress, who calls Asheville, N.C., home stays strong in part because of her kids, who include daughters Rainey, 20, and Sarah Margaret, 14, whose dad is model/rancher Paul Qualley. (They also have an older brother, Justin, 23.)
"My biggest love advice to them is to do as I say and not as I've done," Andie, 50, tells me. "And really take their time getting to know someone. But they already know that because I've already said that."
Article continues below advertisement
As her kids have gotten older, her relationship with them has changed.
"Having a 20-year-old that lives in New York, I have to have a lot of trust and faith and acknowledge her independence," Andie says. "It's sort of like that balancing of giving someone structure and knowing when to give them freedom."
Dating isn't something she does a lot of these days, but her kids play a big part in the men she chooses.
"I usually ask them what they think, and they're usually right. I think if I were to ask my kids every time what their opinion was, I would be better off."
What qualities is she looking for these days?
"Someone who owns an apple orchard. That would be really nice."
Pick up the OK! on newsstands this week for more Andie MacDowell. The cover line is "Biggest Loser Diet Secrets: Half My Size."
SEE PHOTOS FROM DRESSED TO KILT. ANDIE AND HER DAUGHTERS WALKED IN THE FASHION SHOW: