PHOTOS
Ashlee Avoids Answering Pregnancy Questions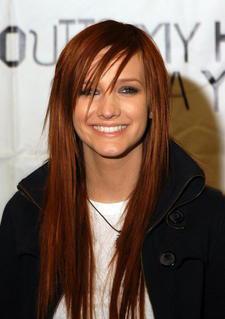 As Ashlee Simpson taped her Thursday appearance of TRL today, there was sure plenty to talk about. Besides her new engagement, the question on everyone's mind was: Is she pregnant?
Ashlee looked a little uncomfortable talking about her personal life during the taping. One eyewitness tells OK!, "She looked awkward for a few minutes, almost nervous, before taping but she just kept smiling. She was wearing pretty much her usual look, white frilly shirt, black oversized cardigan — well, it looked oversized, like it was a little bit baggy, anyways. She was standing with her hand on her hip so you could see her engagement ring in the audience. They oooed and aahed over it and Ashlee got a huge smile.
Article continues below advertisement
"She kept laughing and not wanting to talk about her personal life," the onlooker ads. "She just avoided the question altogether about pregnancy — basically she made some comment about having kids by now, something along those lines. Everyone didn't believe her."
Despite her efforts to deflect the questioning, the singer certainly didn't seem pleased about the prying. The eyewitness said, "Ashlee started to fume because they weren't supposed to ask anything too personal and they 100% had discussed that they weren't really supposed to talk about the pregnancy. She was pretty pissed off but she needs MTV, so she just smiled bigger and fumed after the cameras were off."
She capped off her performance by singing her new single, "Little Miss Obsessive." It seems the audience enjoyed the song but, a second witness tells OK!, some people remained upset. "Right after taping, one fan who wasn't so pleased she didn't answer the pregnancy question called out, 'Way to get knocked up! Just admit it!' Not sure how much of it Ashlee actually heard, but she looked annoyed."
Shortly after finishing up with MTV, Ashlee, along with her mom and three female friends, made her way over to BBQ hot spot Virgil's and, according to the restaurant's employees, was very sweet and cute. She had the brisket sandwich, but no word on whether she had any alcohol to drink.