PHOTOS
Ashlee, Pete, More Celebrate Romance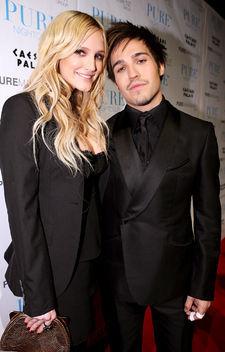 Couples everywhere are creating their love stories this Valentine's Day.
It's hard to imagine a time when they weren't together, but Fall Out Boy's Pete Wentz and wife Ashlee Simpson weren't always parents to their two-month-old son Bronx. In fact, three years ago, he confessed his crush to me.
"I think Ashlee Simpson's pretty awesome," Pete confessed to me in November 2005. "We talk sometimes but I don't think she knows too much about me. I think she's cute and she's nice and the couple of times we talked she made me laugh a bunch."
Article continues below advertisement
To get ready for Valentine's Day, Ashlee will put on her signature outfit. "For a woman, it's very important to have a nice, beautiful, simple dress," she tells me.
Meanwhile, Christina Aguilera will break out the red lipstick. What does she appreciate about her hubby's grooming habits? "I like a little laidback scruffiness sometimes, but the put-together vibe is good," Max's mom says. "He has good hygiene, that's for sure."
What is Brooke Shields one Valentine request? Godiva chocolate. "When you have small children, basically all you need is chocolate," she says.
Carmen Electra makes her love life hot with fiancé Rob Patterson. "We keep it fun, keep it light, full of surprises. I guess that's why to me it's been fun to have a stripper pole."
Ugly Betty's Ana Ortiz stays close to her hubby through iChat when she can't be around.
Article continues below advertisement
What's the secret to a happy marriage?
"Communication," Tom Cruise says of life with wife Katie Holmes. "I'm lucky to communicate with her. With any relationship, you have to keep creating it and it's fun."
Clive Owen says, "To keep on working toward it, I think."
Cindy Crawford agrees. "Work," the former supermodel tells me. "You can't take the other person for granted. It's hard. Living with anybody, being in a relationship with anybody, you have to be committed to working at it and not taking that person for granted."
As for Jennifer Hudson's high school crush? "Probably one of my teachers," she chuckles.
How can a guy impress Ciara? "Just having fun with the person – dinner, movies, whatever. It's all about having fun. If I walk out of my date having fun, I feel good."
Single ladies will certainly appreciate the gestures of Gone Country bachelor Richard Grieco, who likes to take his girls to Paris. "We were supposed to be there for six days, but we ended up being there for three weeks," he tells me.
Article continues below advertisement
Martina McBride appreciates the romantic gestures her hubby does. "We went out for dinner and when we came home, the place we like to sit outside was filled with candles and he got some love poems and we sat around and read to each other and had some wine."
Indeed, food is the way to win over many celebs.
Both Sarah Wynter and The City's Olivia Palermo have a special dish: chicken! "I'm good at cooking chicken," Sarah chuckles.
Gone Country's Justin Guarini is playing it simple with his fiancé Reina Capodici. "I'm cool with getting on the couch, cuddling up, watching a good movie and cooking a great meal together, getting a nice bottle of wine and eating it."
What's his divine dish?
"Oysters are always fantastic," he tells me. "And then, it's the Valentine's food and Valentine's spirit. But really, I think if you can get a nice hearty red wine and a flank steak – a skirt steak, maybe – and some vegetables and maybe some nice garlic mashed potatoes, that's good too. It's nothing openly fancy, but stimulating in a bunch of different ways."
Katie Lee Joel also shares her passion for food with hubby Billy Joel. "Food is what brought us together. We love to go out to eat, and we love to cook at home. We're always trying something new. He loves my peach cobbler, and he loves meat loaf. Those are his two favorites."
Happy Valentine's Day, everyone!