PHOTOS
AUGUST 21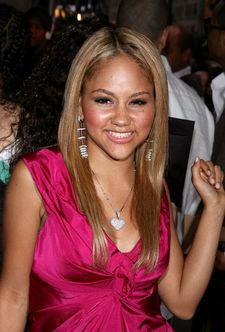 Last night I went to the Illegal Tender premiere. We were crammed under the tent on the red carpet since it was sporadically raining outside. The girl next to me kept moving around, and I was like, aghh, we don't have enough space for that! I was happy to see two of my fave roving red carpet reporters. There's usually a lot of downtime before things start happening, so it's a great time to catch up, but then, boom!, the party starts and the flashbulbs signal celeb after celeb. , , and Cheetah Girl were the big stars — good times. :) John Singleton, who is not much taller than 5'6"-ish me, told OK! what he loves about Illegal Tender. "The fact that it's a gangster movie and that I had a chance to be part of it and make history," the hot-shot producer/director told OK!, "It's going to be a hot ticket."
Article continues below advertisement
"Whine Up" singer Kat DeLuna was very bouncy and friendly, and thanked me for making her a success when I congratulated her on her rise to stardom. Um, what did I do? Something tells me things have improved since she had her first job. "I worked at Dunkin' Donuts," she told OK!. "I served doughnuts; I ate doughnuts. I was actually young getting a job, so it was cool. I loved blueberry doughnuts. It's one of my favorites. sings Ahhhhh."
MIMS, who hit the big time with his song "This Is Why I'm Hot," grinned when he told OK! why he's hot.
"I think being hot is about being confident," he said. "It's about believing in yourself. A lot of people confuse it with the cars they drive and how many women they have, what kind of clothes they have, but it's all about what makes you feel good, what makes you feel confident. For me, I could feel good in a broke-down vehicle, I could feel good in a rented car. When I walk down the street, I feel confident about myself, and that's what makes me hot."
MORE ON:
Christina Aguilera
Article continues below advertisement
Adrienne, whose cousin Jorge dated back in the day, gushed about her new doll. "My niece called me and said, 'Auntie, I'm playing with your doll,'" she told OK!. "It actually looks very much like me. They got the feature I didn't want them to capture. I'm like, 'It has my nose! Why?'"
A photographer approached me asking if I knew who a "celebrity" was. Um, nope. It's always a challenge identifying the fringe.
Speaking of fringe, it was great to see , who is in the movie. I was invited to his surprise party on Friday. I know him from El Cantante, but he actually has five films coming out in 2007. Whoop, whoop!
In the meantime, I got a frantic phone call from a colleague in search of ' label publicist. I leave my phone on silent till red carpet festivities are finished, so luckily she worked it out by the time I was able to make the call.