NEWS
Bad Hair Day: Britney's Bedraggled Braids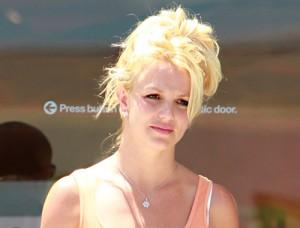 We understand that being the mother of two young boys can be hard work, but this doesn't mean we allow our hair to literally fall out! Britney Spears was spotted visiting the Crate & Barrel store in Sherman Oaks, Calif. on Tuesday, and the pop star was a hot mess. Brit was practically balding on the back of her head with her extensions tugging out half of her hair.
Article continues below advertisement
With her dreary orange tank top, studded khaki bermuda shorts, and wild blond locks, Brit was in the midst of a fashion crisis. Although the fashion part isn't unusual nowadays, the sight of her tragically tight hair was.
OK! GALLERY: BRITNEY SPEARS EMERGES IN L.A.
We know Britney can afford a trip to the salon. Maybe that's where she should have gone, instead of Crate & Barrel. That patch of hair is need of serious repair, and if she doesn't get it taken care of soon we might see bald Britney once again!