PHOTOS
Barbara Flirts With Barack on The View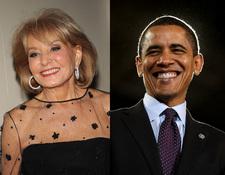 Whoopi, Sherri, Elizabeth, Joy, Barbara and – Barack?
This morning Barack Obama appeared on The View and answered tough questions about his campaigns goals — and his connection to Brad Pitt to whom he's distantly related.
"I guess we're ninth cousins removed or something," said Obama. "He got the better looking side of the gene pool."
View co-host Barbara Walters begged to differ. "We were talking before the show and we thought you were very sexy looking."
Article continues below advertisement
View co-host Sherri Shepard admitted that Obama's recent speech in Philadelphia convinced her to switch her vote from Hillary Clinton to Obama. "It made me want to leave The View and campaign for you," she said, before quickly adding, "well, not leave The View, but campaign on the weekends!"