PHOTOS
Beauty Queen Dropouts!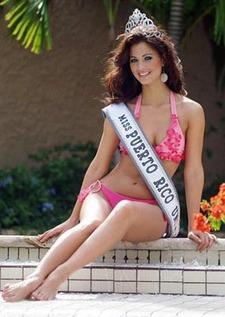 This past week, (Click name for gallery) beat out 29 other contestants to become Miss Puerto Rico, and the island's 2008 Miss Universe contestant, despite reports that her makeup and dress had been doused in pepper spray. Officials investigated the itchy claims but found no traces of the spray, prompting accusations that Rivera made the incident up. Police are currently investigating whether Rivera or pageant officials made false statements, which is considered a felony. OK! takes a look at some past beauty queen blowups!
Article continues below advertisement
In 1973, became the first American woman to be crowned Miss World but was summarily stripped of her title less than four months into her reign due to what was then considered unseemly behavior. Pageant organizers felt that Wallace, who was known for dating high-profile men like soccer star George Best and singer Tom Jones, had tarnished Miss World's rep. She went on to host Entertainment Tonight.
Perhaps the best known beauty queen scandal victim: In 1984, became the first African-American Miss America but was forced to resign when nude photos of her surfaced in Penthouse magazine. Despite early disgrace, Williams "saved the best for last" with a successful recording and acting career.
Russian beauty was crowned Miss Universe in 2002 but lost the title less than four months later after missing too many events. Federova was in law school at the time and claimed that her beauty queen duties interfered with her school responsibilities.
Article continues below advertisement
That same year, Miss North Carolina was embroiled in scandal after an ex-boyfriend told pageant executives he had topless photos of her. The photos never surfaced, but Revels was sufficiently shaken and voluntarily gave up her crown
was chosen as Miss Great Britain in 2006 but was stripped of her title when it was revealed that she had posed for Playboy and had dated one of the judges during the time of the pageant. She is currently being sued for nearly $200,000 by pageant organizers, who claim that she has hurt the competition's reputation.
won the Miss USA title in 2006, but her hard-partying ways got her into trouble. Donald Trump agreed to allow her to keep her title if the underage Conner entered rehab and underwent regular drug testing. Conner was often joined in her underage carousing with Katie Blair, Miss Teen USA. Though pageant officials have said that she'll keep her crown, Blair's bad behavior raised the ire of Mothers Against Drunk Driving, who severed ties with Blair last year.
Article continues below advertisement
, Miss Nevada 2007, was stripped of her crown after extra-X-rated photos of her surfaced. The photos featured Rees topless and kissing her female friends. Rees pleaded with pageant owner Donald Trump to keep her crown, but The Donald fired her anyway. Rees recently inked a deal to host a variety show at the Hard Rock Hotel and Casino in Las Vegas.
Rees' scandalous-sister-in-arms, , won the 2007 Miss New Jersey title but gave it up voluntarily when she found out she was pregnant. It's against pageant rules to compete while pregnant.
In early 2007, Miss New Jersey, , announced that she was being blackmailed by someone who demanded that she give up her crown or racy photos of the young beauty queen would be leaked to the press. Rather than kowtow to the demand, Polumbo kept the crown and released the PG-13 photos herself on the Today show.
How times have changed: In 1957, was crowned Miss USA. But soon after, Gage's mother-in-law revealed that she was 18, not 21 (as stated on her application), was on her second marriage and had two children. Gage was forced to give up the title, and we're betting holidays at the Gage household were rather awkward after that.