PHOTOS
The Best Beauty Looks at the 2013 Met Ball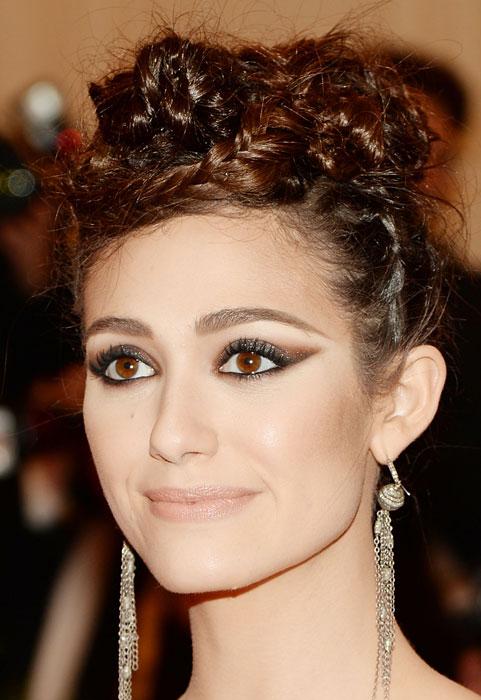 Article continues below advertisement
1. Emmy Rossum's Eye Makeup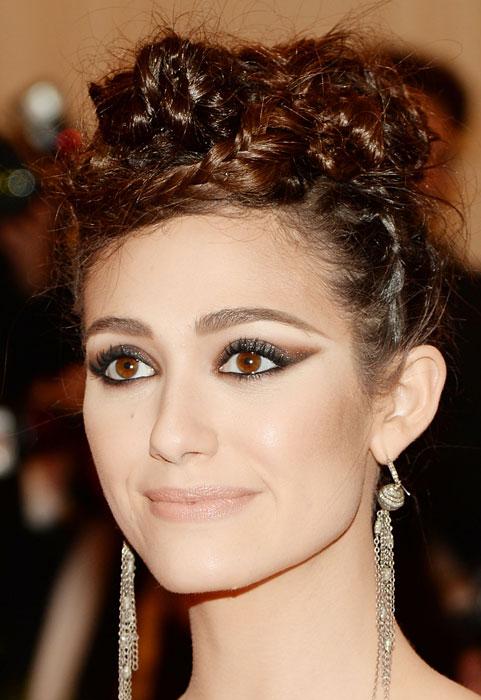 Many tried the exaggerated smoky eye at last night's gala, but few succeeded like Emmy did! Her Dark Shadows stole the spotlight—here's how to get her eye:
1. Celebrity Makeup Artist Jo Baker started with NYX Eye Shadow Base in White. She then applied NYX Cream Shadow in Chocolate to create the overall shape and dimension of the eye and eyebrow.
2. She added extra definition by pressing the NYX Roll On Eye Shimmer in Onyx with her finger onto the outside of the eyes and blended with a flat brush.
3. She then softened the shimmer of the shadows with NYX Nude Matte Shadow in Tryst to make the smoky eye more sophisticated.
4. NYX Kohl Kajal Black Liner was used to create a winged liner that extended to the outside of Emmy's eyes and blended up to the eyebrows.
5. To complete the look, Baker applied NYX Propel My Eyes Mascara heavily on her top lashes.
2. Blake Lively's Glossy Nude Lip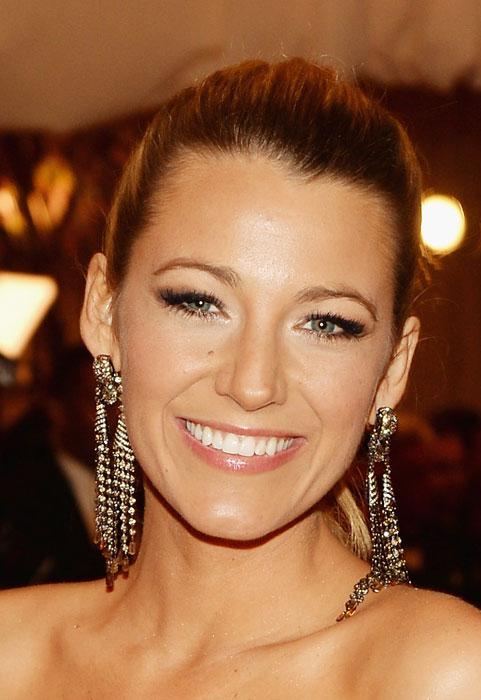 Blake's makeup may have been more princess than punk, but it was flawless nonetheless. She was also giving us more eye makeup than usual, so PROPS for that, girl. To steal her soft, shiny lip try NARS Floralies Satin Lip Pencil.
Article continues below advertisement
3. Emily Blunt's Pink Lids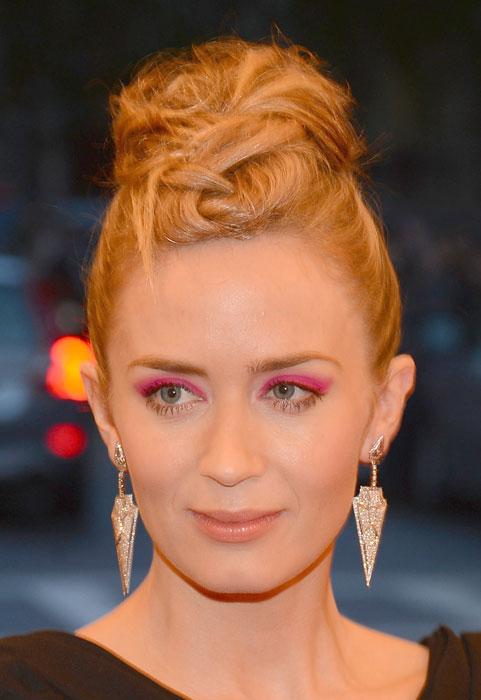 Anna Wintour put in best: "Pink is Punk" and Emily embraced that statement with her bold makeup. It was nice to see at least ONE celeb depart from the smoky eye/vampy lip look. Emily was wearing NARS Jardin des Plantes Satin Lip Pencil and Desire Powder Blush on her eyes last night.
Article continues below advertisement
4. J. Lo's Pompadour Hair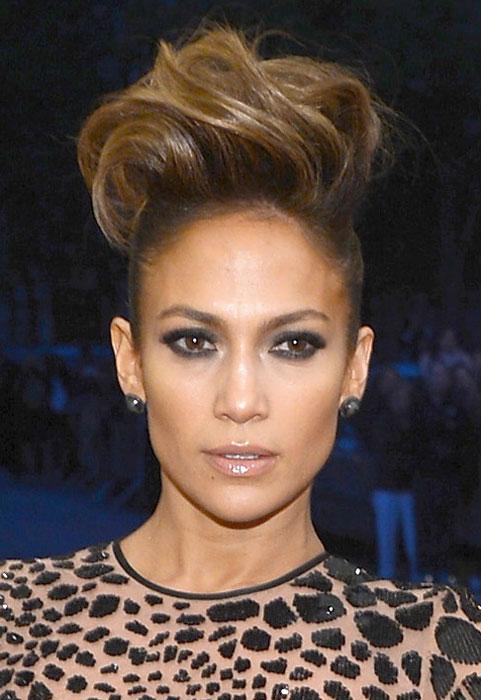 Jenny's hair was the hottest (and probably the highest!) on the Metropolitan Museum block last night. The key to this look involves serious teasing, TONS of hairspray, and every high-volume product you can find. Drybar's Volumizing Mousse is a good place to start...
Article continues below advertisement
5. Julianne Hough's Dramatic Lashes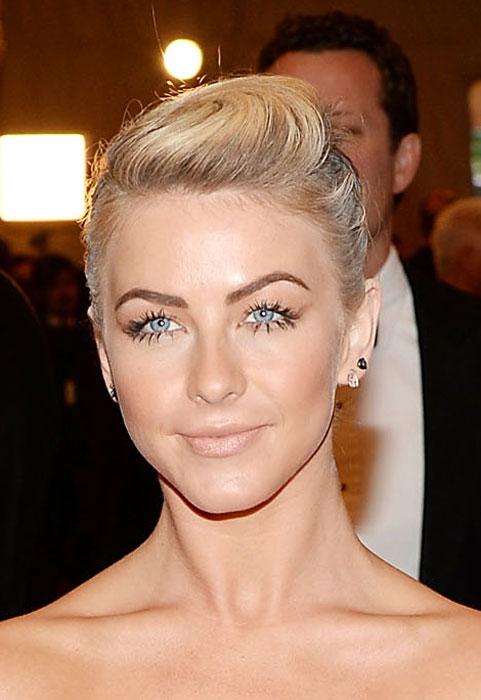 Leaving the focus on her brows and mega lashes, Julianne upped the drama factor on her otherwise minimalistic makeup. Channeling Twiggy's spider-y vibe but not be suitable for the everyday affair, but it's definitely appropriate for the Met Costume Gala!
Article continues below advertisement
6. Katy Perry's Ornate Tips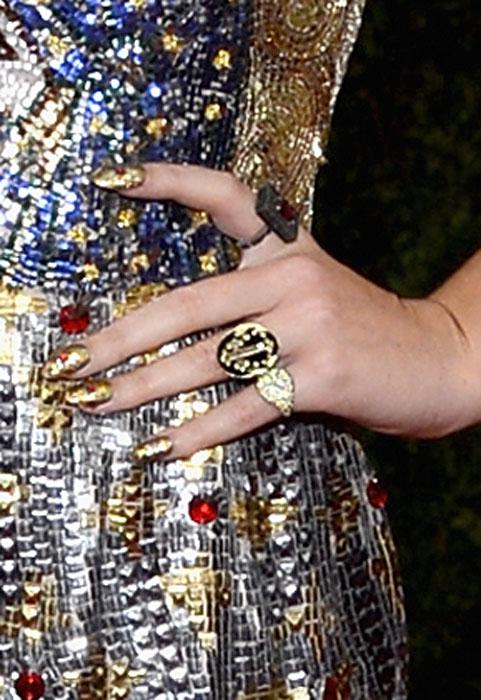 Celeb manicurist Pattie Yankee created this custom mani for the singer that was a mix of gold foil, square pyramid studs in the form of a cross, and ruby red crystals. One of the best of the night!
Article continues below advertisement
7. Kristen Stewart's Burgundy Smolder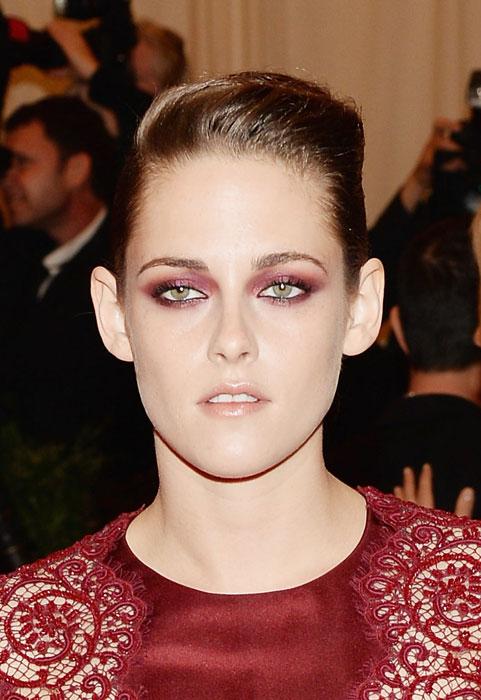 Celeb Makeup Artist Beau Nelson said he wanted to create a "dark punk shape on Kristen's eye, but also give it some edgy elegance by working in reds, burgundies and blacks." Consider that mission accomplished—this was one one eye that was pure art all the way.
Article continues below advertisement
8. Rita Ora's Bejeweled Nails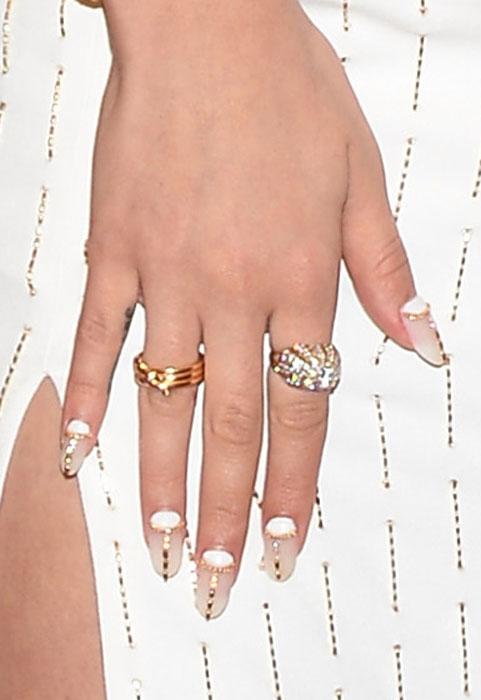 CND Luxury manicurist Dawn Sterling created Rita's edgy embellished mani using CND Shellac in 'Studio White' in a half moon and CND 'Brisa Lite' to secure the gold chains and Swarovski crystals. Pretty sure she won #ManicureMonday with these gems.
Article continues below advertisement
9. Diane Kruger's Iridescent Navy Shimmer and Pink-Died Strands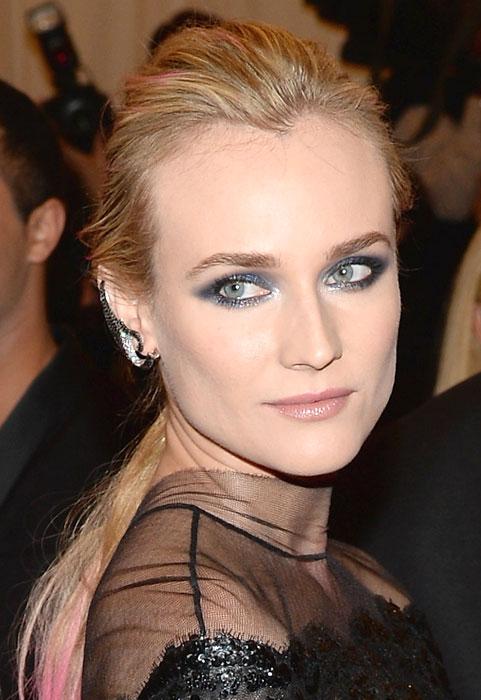 Diane's dazzling blue eye and pale mauve lip combo was one of the most striking makeup looks to grace the red carpet. I was also loving her fun pink locks!
1. To achieve this look, apply Chanel Limited Edition Stylo Eyeshadow in Blue Bay on the top and bottom lids, then blend Chanel Limited Edition Stylo Eyeshadow in Black Stream to the outer corners.
2. To accentuate the blue and black eyeshadow shades, Celeb Makeup Artist Fulvia Farolfi added the deeper tones from the Chanel Quadra Eyeshadow in Lagons and Mystère (available July 2013).
3. Lastly, she placed a touch of the lightest eyeshadow shade from Chanel Quadra Eyeshadow in Lagons in the inner corner of the eyes.
Try: Rita Hazan's Pop Color Spray in Pink on the ends of your hair.