PHOTOS
Betty White Volunteered to Do Nude Scene!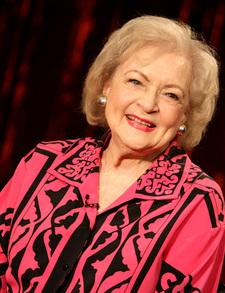 The big buzz about the upcoming movie The Proposal is that superstar Sandra Bullock appears nude for the first time. But when OK! caught up Bullock's co-star, TV legend Betty White at a special screening of the film in Manhattan, the 87-year-old told us Sandy wasn't the only one willing to take it all off for the camera.
"I sort of volunteered," Betty joked with OK! about baring it all on-screen. "I said, 'I'll do it! This is a comedy, we'll get laughs!'"
Article continues below advertisement
But seriously folks, the former Golden Girl revealed, "The only time I've ever been asked to do a nude scene was on my own time."
In the proposal, Sandra's character forces hunky leading man Ryan Reynolds into marrying her. But the ever-feisty Betty tells OK! that's just not her way.
"I'm sorry, I'm an old-fashioned girl," she explained. "A guy's gotta call me and a guy's gotta propose to me. I don't want to be the pushy one. If he doesn't, then that's my tough luck."
BETTY VS. JIMMY FALLON IN BEER PONG:
So does the actress and animal rights activist have any plans to retire after 60 years in the entertainment industry? Not a chance!
"Why when I'm having such a good time?" she asked. "I can't believe they keep asking me! They haven't caught onto me yet."
Be sure to see a fully clothed Betty in The Proposal when it opens nationwide on June 12.
By Kenneth Wert