PHOTOS
Biggest Loser is Bigger Winner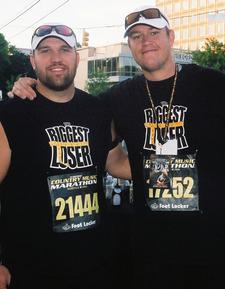 Not even a year ago, Dane Patterson was floating around 400 lbs. with not much hope of seeing his old football-playing physique again. But now, after competing on the current season of NBC's The Biggest Loser, Dane has not only shed a ridiculous amount of weight, he just finished an entire marathon!
On Saturday, Dane, along with his cousin and Biggest Loser teammate Blaine Cotter, completed the 2009 Country Music Marathon in Nashville with a time of 5 hours, 47 minutes and 20 seconds. Consider this — that's about the same time it took fit-and-trim Katie Holmes to finish the 2007 NYC Marathon!
Article continues below advertisement
"I'm so excited that I was able to redeem myself and complete this marathon," says Dane, who was eliminated from the competition after eight weeks, but who can still compete for the show's "At-Home" title. "I feel as though this has been a personal milestone for me and an amazing experience here in Nashville."
The season finale of Biggest Loser will air Tuesday, May 12 on NBC.