PHOTOS
Britney Issues Statement About Disrupted Concert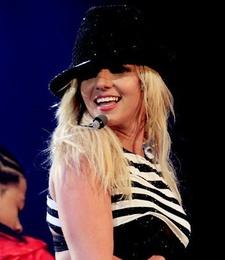 When Britney Spears' Circus tour began several weeks ago in New Orleans, the big question was whether or not the notoriously fickle superstar would be able to handle the daily grind of traveling and performing. But — with the exception of a few punch-happy crew members in Pittsburgh — the whole tour has managed to go off without any embarrassing drama. Until last night in Vancouver, that is.
As first reported by PerezHilton.com, the Circus show came to a dead halt on Wednesday night when Britney walked off the stage after only three songs.
Article continues below advertisement
Eventually, an announcement was made that smokers — of both tobacco and marijuana — in the audience were making it unsafe for Brit and her crew to keep going on with the show.
The concert did ultimately continue after about an hour's delay, though the pop star was reportedly no longer in the mood to give it her all.
At the end of the show, as Britney walked off stage, she urged her fans, perhaps half-jokingly to "Don't smoke weed! And rock out with your c*cks out!" The moment was, of course, caught on video:
This morning, the Spears camp released a statement about the incident on Britney's official site:
"We want to apologize to all the fans who attended our Vancouver show tonight for the brief pause in Britney's set. Crew members above the stage became ill due to a ventilation issue."
MORE BRITNEY PICS: