PHOTOS
Britney's (Sorta) Bare Breasts Hit the Internet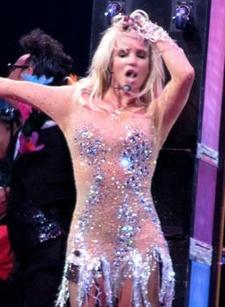 Just when you thought it was all sunshine and roses for Britney Spears, who only a year ago was still embroiled in nasty legal and medical battles with everyone from her ex-husband to her father to her supposed best friends, along comes yet another scandal, as nearly two-year-old topless photos of the singer hit the internet.
The pics first appeared on the web site of a British tabloid over the weekend. According to the accompanying story (yes, we didn't just look at the pics!), the photos of the bare-breasted Brit were taken during the 2007 video shoot for her single "Gimme More."
Article continues below advertisement
Nude pics of the pop superstar had long been considered a huge "get" for tabloids around the world, with rumors of revealing pics or sex tapes popping up seemingly every few months. But these appear to be the real deal, though some folks might feel let down as the singer's boobs are actually covered by what appear to be painted-on tattoos over her nipples.
Whether this latest blip on the Britney radar will have any negative impact on her resurgent career is still to be seen. She just began the European leg of her Circus tour last week and will continue on through the summer.