PHOTOS
Brittany Aldean Admits She Felt Like She Had An 'Alien Body' After Giving Birth To Daughter Navy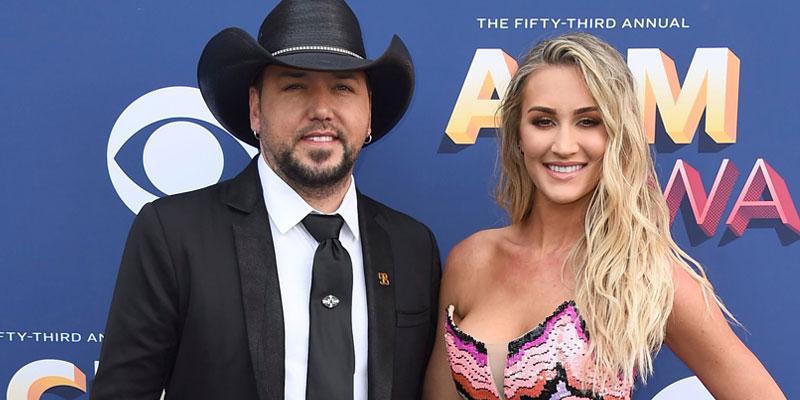 Brittany Aldean officially became a mother of two seven months ago when she gave birth to her and husband Jason Aldean's daughter, Navy Rome. But trying to bounce back has been a challenge for the American Idol alum.
Article continues below advertisement
While promoting her South Beach Diet ambassadorship on Tuesday, September 17, the 31-year-old opened up about getting back into shape after Navy's birth. She gained over 40 pounds during her pregnancy and has been trying to lose the extra weight.
"I felt like if I took charge and focused on my health and what I was putting into my body, that would reflect on the outside," she said at the event. The former cheerleader added that she struggled with her confidence after coming home from the hospital.
Article continues below advertisement
The mother of two went on to speak about the health and fitness routine that she's been following for the last several months. She continued, "My go-to fitness routine is anything that's naturally active. I'm not so much the one in the gym..to lift weights and run on the treadmill. It's just not fun. I would just prefer walking my kids. Fun, natural activities is what's fun and works best for me."
Her advice for new moms struggling to get healthy? "Give yourself grace. Give yourself time. It does not happen overnight by any means. Eating well, doing your part, is great, and that's where you have control. Your body will heal in time and it will happen eventually," she said.
Article continues below advertisement
The North Carolina native also admitted the feeling of her post-baby bod is a weird one. "You feel almost like your in an alien body," she said. "It's not yours. It's nice to find comfort in knowing it's not going to take a week to do. It's going to take time."
Brittany shares 21-month-old son, Memphis, with Jason, 42. She is also stepmom to the country star's oldest daughters, Kendyl and Keeley. Navy was born on February 4 after the couple suffered through several fertility issues. Memphis was conceived with the help of In Vitro Fertilization.
What are your thoughts on Brittany's diet and fitness routine? Sound off in the comments below!