PHOTOS
Bruno Star Sued Over Bingo Boondoggle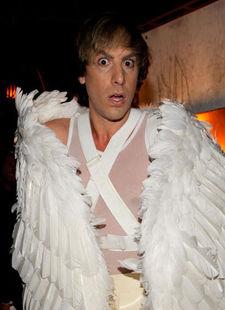 Unlike his much-publicized bare-bottomed run-in with Eminem at Sunday night's MTV Movie Awards, Sacha Baron Cohen's latest scandal appears to be completely unscripted, as the Bruno star finds himself the subject of a lawsuit over, of all things, a Bingo game.
According to a report on TMZ.com, Cohen and the producers of the upcoming Bruno film are being sued over the ruckus caused by the British comedian at a Palmdale, Calif., Bingo hall in 2007.
Article continues below advertisement
Apparently, the organizers of the Bingo night had been convinced that the surprise Bingo caller at their charity match was to be an actual celebrity of some sort. Instead, they were shocked and appalled when Cohen showed up as Bruno, his flamboyant alter-ego known for his unabashed snobbery, ridiculous and revealing costumes and his vaguely Austrian accent.
In papers filed for the lawsuit, Richelle Olson, the woman behind the Bingo night, describes Cohen's creation as an "extreme, outrageous, offensive caricature of a gay man dressed in sexually revealing clothing," who used "vulgar and offensive language."
At the heart of the lawsuit isn't necessarily the actor's lack of clothing or tact, but what happened when Olson attempted to end his little ruse. She alleges that a "physical struggle ensued" when she tried to wrest the microphone from Bruno, who "offensively touched, pushed and battered" her, causing her to fall to the ground.
It gets worse.
Olson claims that, after several minutes of being humiliated on camera, she went into another to cry privately, only to pass out and fall "forward onto the thinly covered concrete slab, passing out and causing her to hit her head."
She was reportedly taken to the hospital, diagnosed with "two brain bleeds" and has been confined to a wheelchair since.
PICS OF COHEN FROM THE MOVIE AWARDS:
Lawsuits are nothing new to Cohen, whose previous film, Borat, has been the target of legal claims by several of the unwitting participants. Among them, a group of University of South Carolina students who sued for damages after being filmed in a less-than-positive light while intoxicated in an RV. Also, the people of the Romanian village of Glod filed suit alleging that they had been deceived by the filmmakers about the nature of the movie, which uses their hometown to paint a picture of a backwards, rural Eastern European village.