PHOTOS
Cameron Opens Up About Father's Passing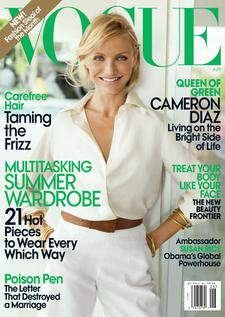 Cameron Diaz might seem to always be all sunshine and light, smiling, pretty and constantly being funny. But when her dad, Emilio Diaz, died unexpectedly at 58 of pneumonia while she was filming My Sister's Keeper, she says that experience changed her.
"I think, emotionally.… It definitely took its toll. Definitely," she says in an interview in the June issue of Vogue. She later revealed to her friends that returning to the cast and crew was a comfort to her.
Article continues below advertisement
"It's the human experience," she says of death. "You know, that's what the heart does. Things are given to us, and things are taken away. And I think the heart becomes stronger, more capable."
In My Sister's Keeper, Cam plays a mom dealing with a daughter dying of leukemia, in a role that's definitely a shift to the serious side for her.
"I mean, I'm not 25 years old anymore, nor do I want to be," she confesses of her career. "I wouldn't even want to go back to being 30. You know what I mean? That journey — I've done it already. I don't want to do it again. It's a lot of work to get through it, and I am excited about moving forward. I think that people get caught up in getting back to some place that they already passed. Or to a place where you cannot stay."