PHOTOS
Carnie Wilson Works It Out!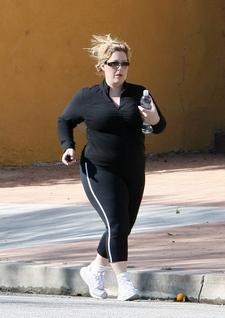 On Monday, Carnie Wilson was seen jogging near her home in Los Angeles, a small part of her infamous, and well-chronicled, battle to get and stay thin.
In this week's issue of OK!, Carnie opens up about her weight gain struggles since giving birth to her daughter Lola, 2.
"Everyone can see that I'm bigger, but I cannot hibernate," she tells OK!. "I've never lied or been dishonest about what's going on in my life. Even all these years later, having had such a great weight-loss story, being back in this place is so familiar. And it hurts. I don't want to feel this way anymore. It doesn't feel good when you have to struggle to get your pants on."
Article continues below advertisement
The singer underwent gastric by pass surgery in 1999 and lost 150 lbs. from her then 300 lb. frame. Even after shedding 22 lbs. on a season of VH1's Celebrity Fit Club, Carnie says she gained some weight back and currenty weighs 208 lbs.
But, if the photo shows us anything, it's that Carnie looks like she's ready to get thin again!
"I'd like to lose 45 to 50 pounds and then try to get pregnant again," she said, "I know I will do it! I don't consider myself a failure. I just got off track."