PHOTOS
Carrie Underwood Wins Big at ACMAs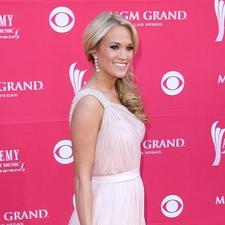 Adding yet another trophy to her lengthy list of honors, country superstar Carrie Underwood was named Entertainer of the Year on Sunday night at the 44th Academy of Country Music Awards. And not only did the former American Idol champ's victory secure her status as country's hottest star, it was the perfect finish to a an evening that showed a changing of the guard in this ever-popular genre.
Carrie, who also won in the Top Female Vocalist category, is only the seventh woman in 39 years to win the ACM's Entertainer of the Year title. And in so doing, she snapped Kenny Chesney's four-year winning streak.
Article continues below advertisement
"I've had a lot of good moments in the past four years but this one takes the cake," a tearful Underwood said in accepting the night's biggest award.
"Thank you God. I never thought I'd be nominated. I never thought I would win. I don't know what to say. I've got nothing," the 26-year-old star said before letting out an emotional scream and spinning as she walked off stage.
Earlier in the evening, when accepting her Female Vocalist trophy, she exclaimed, "I feel like I just won American Idol all over again!"
Another young star getting her due on Sunday night was Taylor Swift, who, in addition to winning Album of the Year for Fearless, was also honored with a special Crystal Milestone award for selling the most albums of any country artist in 2008.
"Oh my, thanks so much," a genuinely startled Swift said at the time. "I didn't know this was going to happen actually."
Some of the night's other winners included Trace Adkins, whose "You're Going to Miss This" won for Single of the Year and the boys of Rascal Flatts, who were named Top Vocal Group by the Academy.
Meanwhile, it as a triumphant night for Dancing With the Stars' Julianne Hough, who proved she can do more than tango and cha-cha-cha, when she was named Top New Artist of the Year.
VOTE ON THE BEST AND WORST OF THIS YEAR'S RED CARPET IN OK!'S BUY IT OR BURN IT GALLERY:
BY WYNTER MITCHELL