PHOTOS
Casey Aldridge Charged in Car Wreck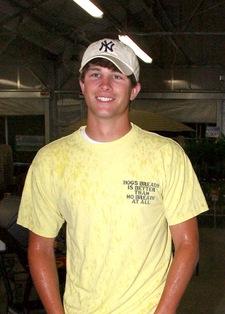 According to a report on TMZ.com, Casey Aldridge — aka Jamie Lynn Spears' boyfriend and baby-daddy — is now facing misdemeanor criminal charges in Louisiana following an auto accident on Saturday night.
The story claims that Casey, who made headlines in Dec. 2007 when then-16-year-old Jamie Lynn announced in the pages of OK! that the two were expecting a child together — was driving around 1:30 a.m. last night in Louisiana's Tensas Parish when he lost control of his Ford F-150 truck.
Article continues below advertisement
Louisiana State Troopers say that there were five total passengers in Casey's truck and that three of them — including Casey — were ejected in the crash that occurred when he reportedly swerved off the side of the road and into a ditch and then made matters worse by turning too quickly back onto the road, causing the vehicle to flip.
According to TMZ, the two other ejectees refused medical treatment at the scene.
Casey, who has yet to wed Jamie Lynn and who has dogged reports of cheating, was first taken to the Riverland Medical Facility in Ferriday, Louisiana, before being shipped across the state line to the University of Mississippi Medical Center in Jackson, Miss, about a 90-minute drive to the house he shares with Jamie Lynn and their daughter Maddie Briann in Liberty, Miss.
OK!'s EXCLUSIVE PICS OF CASEY, JAMIE LYNN AND MADDIE: