PHOTOS
Cheetah Girls Dropped from Macy's Parade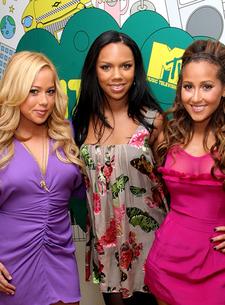 In the wake of recent news that naughty photos of Cheetah Girl Adrienne Bailon had made their way onto the internet, OK! has confirmed that the Disney pop trio is no longer slated to be a part of a huge holiday tradition — the Macy's Thanksgiving Day parade in NYC.
Of course, while we're hearing that it is indeed the nude pix of Adrienne that have removed the Cheetahs from Macy's roll call of superstars for next week's parade, the official line from the department store tells a different story.
Article continues below advertisement
"Performer confirmations are always fluid and subject to change for any live event," a rep for Macy's tells OK! in a statement. "In fact we just received confirmations of three new acts this week. The Cheetah Girls were scheduled to appear in Macy's Thanksgiving Day Parade, but due to scheduling issues they could not make it."
Yeah... scheduling conflicts. Because they had something to do on Thanksgiving other than make a high-profile appearance on a parade that is watched by millions of people around the world.