PHOTOS
Chuck Norris: The New Angelina?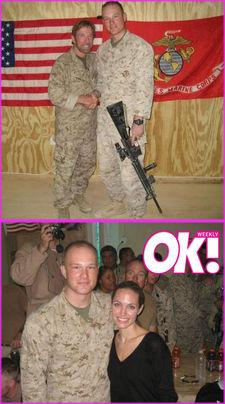 When Lance Corporal Samuel Petersen went off to join his fellow Marines in Iraq, there was no way the Colorado native could have foreseen that he'd be hobknobbing with some of Hollywood's biggest A-listers. But that's exactly what happened.
Last month, in a photo that ran exclusively here on OKmagazine.com, silver screen queen popped by to get a picture with Samuel and the other troops. And, today, the 22-year-old got the chance to meet Walker, Texas Ranger himself — !
Article continues below advertisement
"He thought it was so cool to be able to meet Angelina and now Chuck," Samuel's mother, Sue, explains to OK!. "I think it really boosts their morale and takes their mind off what they're doing."
Chuck, who likes to come out and visit with the troops once a year and has been made an honorary Marine, regaled the soldiers with a story about him and Bruce Lee.
For full-size image, click HERE.