PHOTOS
Up Close With Leonardo DiCaprio, Russell Crowe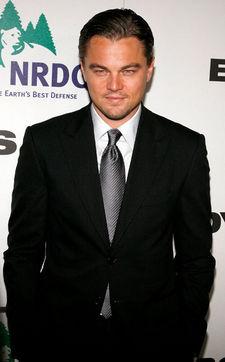 Leonardo DiCaprio is the center of attention at the NRDC-sponsored Body Of Lies premiere, which takes place at Frederick P. Rose Theater in NYC.
The heartthrob leans down to chat with me about what he'd do if he weren't in showbiz (environmental scientist!), and entertains my question about whether he'll settle down or remain an eternal bachelor. "We'll see," he winks. Nice! I like him.
The thriller, which is in theaters now, places Leo in the role of a CIA operative. While Blood Diamond raised the profile of diamonds worldwide, what does he hope this flick will do?
Article continues below advertisement
"I think it's important to look at what the war in Iraq and the war on terror is doing to our relationships worldwide," Leo says. "In terms of what we've accomplished, we give a realistic, stark view of what the United States' relationships are worldwide."
Russell Crowe first worked with Leo in 1995's Quick And The Dead. How has he changed now that they are back in action on this film?
"There's a wonderful process of maturation that's happened with Leo," Russell tells me. "He knew what he liked. It's cool to see that he's growing up and he's had an incredible career, but who he is as a person hasn't been altered. I've seen his intellect mature over time in the way that he can explain his feelings and elucidate how he sees the world. A lot has changed in that regard, but then nothing has changed at the same time."
Did Leo try to convert him to his environmental ways? "He doesn't have to convert me at all," Russell says.
What was life like while filming in Morocco? "There's lines on the road, but they're purely optional," he says. Whoa!
Director Ridley Scott calls Russell "one of the best dads I've witnessed," and shares his thoughts on his Assassination of Jesse James star Brad Pitt as a father of six. "Good luck to him," he tells me.
Article continues below advertisement
Hey! It's Aubrey O'Day, who greets me with a hug and a kiss. I see her nearly every night! "It's been a minute," she tells me. Aubrey admits she's seen Leo around but she's never met him, and that she "definitely" had a crush on him when she was younger. "He's undeniably gorgeous," she gushes.
Oh look, it's American Idol season one runner-up Justin Guarini standing a few spots away from me on the red carpet. He's reporting for The TV Guide Channel. "That's one of the many hats that I wear," he tells me. "I've really been fortunate over the past six years to consistently work in entertainment."
Body of Lies is in theaters now.
Pick up the OK! on newsstands now for more on Leonardo DiCaprio. Jamie Lynn Spears/"Casey Breaks His Silence … 'I'm No Cheater'" is the cover line.