PHOTOS
Colin Farrell, Jon Voight Tackle 'Pride And Glory'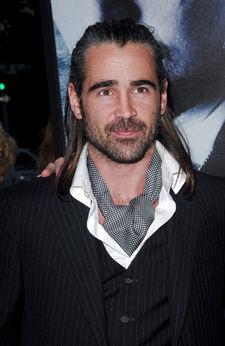 Colin Farrell is shockingly orange with long, stringy hair when I catch him during the Pride And Glory premiere held at AMC Lincoln Square in NYC.
The Irish actor is on hand to promote the police drama he stars in alongside Edward Norton and Jon Voight. Who is tougher – him or Edward Norton? "He is," he sighs. "I'll give it to him because of Fight Club."
And, riffing on the movie's tagline, what comes first: blood or loyalty?
Article continues below advertisement
"Sometimes one brings about the presence of the other," Colin says. "That's what it's about - the difficulty sometimes in telling the truth and the pain that comes with that and understanding on your own. The loneliness, as well, in doing the right thing, especially in an institutional environment. It depends on the situation."
Reporters crowd around Jon, who is pummeled with questions about estranged daughter Angelina Jolie, politics – and the movie. Would he like to film with Angelina? "Well, wouldn't that be nice," he laments. "I hear her film that opens the same day we do Changeling is great. I hear she's wonderful in it." Has he seen the twins she shares with Brad Pitt? "No, I haven't," he says. Will he see Angelina soon? "You can never tell. It sure looks good." Is he proud of her? "Oh yeah. I'm very proud. Her brother and I are her biggest fans." With his amazing career, is it hard to find time to spend with his grandkids? He winks, and reaches for the recorder.
Hey Lake Bell, what was it like working with Colin?
"He's great. The entire cast is masterful actors. We had fun."
Noah Emmerich tells me Colin is the "sweetest, most kindest, most generous man," and Manny Perez tells me "You read stuff about him that he's a bad boy, and he's not a bad boy. He's a real guy. He's all about the work and the craft and respects the craft."
Jennifer Ehle, who is pregnant with her second child from hubby Michael Ryan, thinks Colin might make a decent boyfriend.
"He's incredibly warm, incredibly kind, he's funny, he's charming in a very honest way. He came to the trailer and welcomed me on my first day, which is something I wouldn't expect someone in his position to do. He's very kind. I think kindness is underrated when looking for a partner."
Catch Colin, Jon, Ed, Lake, Noah, Manny and Jennifer in Pride and Glory, which is in theaters tomorrow.