PHOTOS
COUNTDOWN: Age Ain't Nothin' but a Number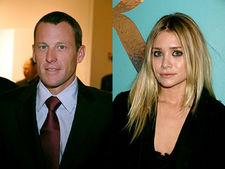 News of cyclist Lance Armstrong's late-night canoodling with mega-twin Ashley Olsen may come as a surprise to some who find the 15-year age difference — he's a fit 36 and she's a wee 21 — a surprise. But, in Hollywood, pairings between "dirty old men" and bright young ingenues is nothing new.
A nubile young ladyfriend or wife is par for the course among Tinseltown's silver foxes ("I'll take one Beverly Hills mansion, a garage full of fast cars and succession of younger and younger trophy wives, please!"). Just look at Michael Douglas — who settled down with Welsh beauty Catherine Zeta-Jones, 24 years his junior, or Tom Cruise, whose first wife Mimi Rogers had five years on him, but who has gone 16 years the other way with wife #3, Katie Holmes.
Article continues below advertisement
But while Lance may simply be following a well-worn path of May-December romances, there are also plenty of Hollywood ladies who are choosing to marry mates 10 or 15 years younger. Courteney Cox, Demi Moore and Madonna all married men significantly younger than them. Heck, even Lance's most recent high-profile relationship was with Sheryl Crow — a woman nine years his senior.
Keeping all that in mind, here's OK!'s countdown of Hollywood's most-intriguing age-defying romances:
(CLICK HERE TO SEE ENTIRE GALLERY)
8. Courteney Cox & David Arquette: On paper, she's only eight years older than spastic hubby David, but she often seems more like his mother than his wife. Cool Courteney often plays straight man to her wacky husband's childish ways .
7. Susan Sarandon & Tim Robbins: Dammit, Susan, you're 12 years older than your beau of almost 20 years — the pair have never married, despite having two children together! — whom she met while seducing him onscreen in Bull Durham.
Article continues below advertisement
6. Tom Cruise & Katie Holmes: As a girl, the former Dawson's Creek starlet had a poster of her future hubby up on her bedroom wall. Now she shares a bedroom with him. Some say "awwww..." Other say "ick!"
5. Madonna & Guy Ritchie: The Kaballah mama is 10 years older — and tons more famous — than her filmmaker husband, who directed wifey in the 2002 stinker Swept Away, which did just that to both of their movie careers.
4. Billy & Katie Lee Joel: Former Top Chef host Katie Lee was 24 — only five years older than her new stepdaughter, Alexa Ray — when she married the piano man, who is 25 years her senior.
3. Woody Allen & Soon Yi-Previn: Sure, these two have 35 years separating them — but that's the least of their problems. The legendary director met his future bride while in a 12-year relationship with her adoptive mom, Mia Farrow! Daddy issues anyone?
2. Halle Berry & Gabriel Aubrey: The Oscar-winner's soon-to-be-baby-daddy is nine years younger than she is. Good thing — he'll need his youthful energy to keep up with their new tot.
1. Demi Moore & Ashton Kutcher: The Punk'd dude isn't just 15 years younger than his bride — he's actually closer in age to two of her three daughters! Well hello, daddy!