PHOTOS
Cover Story: Ashley Tisdale Like You've Never Seen Her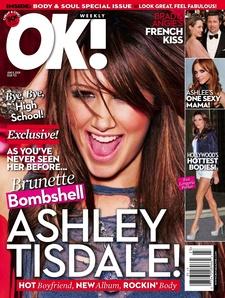 At only 23 years old, Ashley Tisdale has already achieved a level of success most stars could only dream of in an entire career. Tisdale's work includes the three monster High School Musical films, a starring role in the upcoming summer flick Aliens in the Attic, and her second solo album, Guilty Pleasure, which hits stores June 16.
In the new issue of OK!, the brunette beauty talks openly about being inspired by heartbreak following the end of her two-year relationship with singer-dancer Jared Murillo, finding new love with video director Scott Speer, and how she feels about — and maintains — her famous figure.
Article continues below advertisement
On Hollywood's Obsession with being Thin:
"I've been very skinny my whole life... I don't really like this look. I like curves — I think that's more beautiful... I look at Jessica Alba and think she's got a great body. I think that's what women are supposed to look like."
Ashley's Eating Habits:
"I love French fries and bread, and when I'm on tour I have McDonald's... At home, I like to cook — I love omelets in the morning. Still, I have started working out, so I do try to limit carbs and add protein. I want to build a little muscle."
About Her New Album, Guilty Pleasure:
"It's edgier and more mature... There's a lot of breakup songs from stuff I experienced." The most personal, a ballad titled "What If," penned with American Idol judge Kara DioGuardi, "is about when you're in a relationship and you say 'If I really needed you, would you actually be there?' "
HOT NEW PICS OF ASHLEY!
A Little Help from Her Friends:
"It's important to have girlfriends, because guys tend to come and go... I hang out with Miley Cyrus and Vanessa Hudgens a lot and watch chick flicks and I listen to music like Pink's 'So What' and Britney Spears' 'Out From Under.' That helps me move on faster. Miley's a big sweetheart. She's stayed true to herself and hasn't changed for how huge she is. She's always there to listen."
Article continues below advertisement
Her Ideal Man:
"I'm a big romantic, so I love guys who are romantic too. I think it's important to be with someone that you can be yourself around. I need a guy that I can hang out with in sweats and no makeup and still feel comfortable and beautiful. Someone who's trustworthy."
Ashley's Dream Co-Stars:
"I'm a big fan of Kate Hudson, Goldie Hawn and Cameron Diaz. They're strong, independent women who don't hold back. I'd love to work with them."
For the complete interview, including details on Ashley's workout regimen, be sure to pick up the new issue of OK! — on sale everywhere Thursday!