PHOTOS
Cover Story: Biggest Loser Secrets Revealed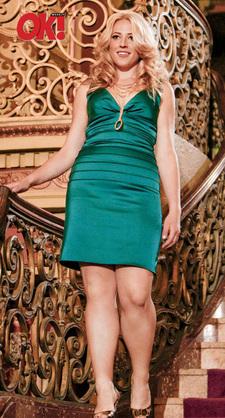 In only a few months on The Biggest Loser, contestants Tara Costa and Helen Phillips have managed to sweat and diet their way to newer, slimmer selves, dropping a combined total of almost 200 lbs. And exclusively in the new issue of OK!, these two inspiring women sit down to talk about how they did it — and how they plan to keep the weight off!
"I was a very sad person before," Helen confessed to OK!. "Coming here has actually saved my life."
Article continues below advertisement
Meanwhile, former plus-size model Tara admitted, "I was an overweight teen all the way up to 24... I did everything."
OK! caught up with both Tara and Helen when we visited the set of the hit NBC show's upcoming fashion episode, where the remaining contestants work with style guru Tim Gunn to pick new looks to highlight their svelte figures. And here for the first time is your preview of their new looks:
CLICK PICS FOR FULL-SIZE IMAGES:
Integral to Tara's dramatic weight loss is her "6-Mile Workout," which consists of: Jogging 3 miles, doing 20 push-ups, jogging another mile, then another set of push-ups, another mile, more push-ups, one last mile and then one final round of push-ups. We're losing weight just thinking about it!
"Right now I'm embracing day in and day out of what I'm living," explains Tara. "I'm finally allowing myself to realize that, okay, I can lose weight and I can be small and the weight will come off. And the second that you start believing that it will come off, it comes off."
Article continues below advertisement
Helen hopes that she can be an inspiration to those who think they're too old to get healthy. I would like to be that help for someone else now to get people started," she tells OK!. "I want them to know that they can do it and it's never too late. At one point I was thinking, 'I'm 48, almost 50, this is my life now' but don't ever settle. Anything is possible and if I can do it, anyone can do it. You just have to keep trying, take little steps and work on it every single day."
MORE PICS FROM THE BIGGEST LOSER:
For the complete story, pick up the new issue of OK! — on newsstands everywhere Thursday!