PHOTOS
Cover Story: Hills Secrets Revealed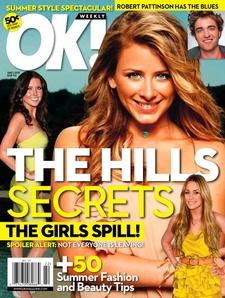 For nearly five years, Lauren "Lo" Bosworth and BFF Lauren Conrad have partied through living rooms across the country on MTV's Laguna Beach and, most recently, The Hills. But big changes loom: LC is leaving at the end of this season, and Kristin Cavallari, the girls' former Laguna Beach co-star and LC's arch-nemesis, is joining the cast — an addition sure to add spice to the already zesty show.
The 22-year-old UCLA grad spills to OK! on how she'll spend her SoCal summer — Bosworth will kick it off by hosting the MTV Movie Awards preshow with Hills co-star Stephanie Pratt and Frankie Delgado on May 31 — and how she really feels about, well, everything.
Article continues below advertisement
OK!: Let's get right to it. Lauren's leaving.
It scares me. We really are best friends. We've done the show for so long that we know the ins and outs — we know when we're funny.
OK!: Is the show going to end once she leaves?
I don't know the answer to that. We're doing the next few episodes as part of season five, not a new season.
OK!: But your boyfriend Christian is coming on board?
I have a different boyfriend now laughs! I keep that separate. My new boyfriend is very happy, but I don't bring him into this.
OK!'s exclusive summer fashion shoot with Lo:
OK!: What do you think about Kristin joining the cast of The Hills?
I'm excited! I grew up down the street from her and we had a lot of fun together. She knows how to be the center of attention and how to get the party started.
OK!: How do you think she'll change the chemistry of the cast?
Right now we're a unit and we all like each other for the first time. We've gotten to a point where we know each other well and work together really well. She may stir things up. When anyone new comes into your group, you don't know exactly what the outcome will be. You never know.
OK!: You and Lauren have been friends since childhood. How has your relationship grown and changed through the years while being on two hit MTV shows?
I feel like we were more wild before. Now I hold myself back and don't put all my cards on the table. I think that you'd find that we are pretty funny in our everyday life. There's a lot more to me than meets the eye.
OK!: How have you personally changed since the show began?
I'm more sensitive than I thought I was. We are judged; people say horrible things about you. It really sucks, but you have to look the other way. I'm caring and loving and giving. I don't think that comes across on the show. It's more drama and fights.
Check out this exclusive video of Lo's OK! shoot below:
For the scoop on Lo's summer and her fashion must-haves, pick up the new issue of OK! – on newsstands everywhere Thursday!