PHOTOS
Cover Story: Robert & Kristen's Love Story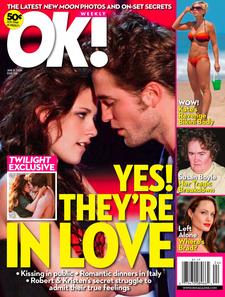 As Twilight stars Robert Pattinson and Kristen Stewart took the stage to accept the prize for Best Kiss at the May 31 MTV Movie Awards, the apparent hormonal combustion ignited Universal City's Gibson Amphitheatre and flew out over the airwaves to 5.3 million viewers worldwide.
Ditching his chewing gum, the smoldering Robert braced himself for a steamy smooch with his onscreen paramour; Kristen stood hands on hips, seemingly daring him on. They drew closer, and Rob's lips parted, while the erotic heat built to an unbearable pitch. Then, at the last second, "Bella the Reluctant Virgin" demurred and pulled away, leaving "Edward the Conflicted Vampire" ... dangling.
Article continues below advertisement
"Thank you sooo much," Stewart told the audience, sounding every bit the 19-year-old from L.A.
Were all those feverish pheromones for real, or were the onscreen lovers merely doing their best to create a romantic Hollywood illusion? Rumors have been rampant that the introverted, guitar-playing Rob, a 23-year-old Brit who is arguably filmdom's foremost fantasy, has been nursing an unrequited passion for his leading lady, who has been dating actor Michael Angarano, 21, for five years.
"Robert and Kristen spent a lot of time alone together when they filmed the first Twilight movie — they'd stay up most of the night talking, laughing, playing music," a friend of Stewart tells OK!. "Although Robert knew Kristen had a boyfriend, he made no secret of the fact that he was crazy about her."
R-PATTS & KRISTEN:
Clearly, there is a mutual attraction.
"Kristen and Robert hit it off the minute they were introduced," Kristen's friend says. "When they auditioned together for the first time back in 2007, sparks flew. The problem is, she's torn between her onscreen and off-screen loves."
Michael, for his part, has had enough of the scuttlebutt. "A lot of guys would not be as understanding as Michael has been," says the friend. "But one thing Michael is not quite as understanding of is all the gossip about her and Pattinson."
For more, pick up the new issue of OK!— on sale everywhere Thursday — to find out the latest on the onscreen lovers!