PHOTOS
Cover Story: Stars' Real Sizes Revealed!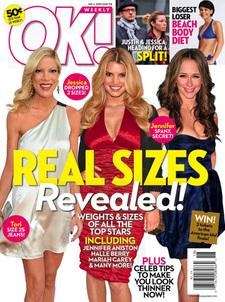 Promoting her new memoir, Mommywood, Tori Spelling has garnered more attention for her waistline than her work.
"I'm not 98 pounds," the mother of two told the Today show on April 15, addressing rumors of an eating disorder.
"No one's seen me in two and a half years not pregnant... I'm the exact same size I was before."
Meanwhile, stars such as Jessica Simpson, Mariah Carey and Jennifer Love Hewitt have been accused of being too curvy.
Article continues below advertisement
"I'm not in the best shape yet," Jennifer admits, "but I'm working toward it." Clearly, size is a weighty issue for women in Hollywood (and everywhere else!).
And just this week, curvy reality star Kim Kardashian let loose on a tabloid item that referred to her as plus-sized, when in actuality she's more petite than the average woman.
In the new issue of OK! — on sale everywhere Thursday, we separate fact from fiction to reveal the measurements of your favorite famous figures.
CLICK ON THESE THUMBNAILS FOR A PREVIEW OF THIS REVEALING STORY!