PHOTOS
Danielle Fishel Talks Lance Bass, Love Life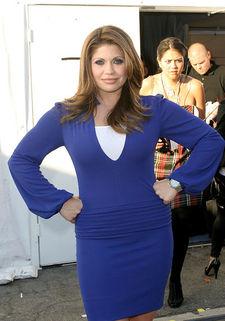 Danielle Fishel is no stranger to gossip. After all, the former Boy Meets World star romanced *NSYNC's Lance Bass, who came out of the closet in 2006. They dated from 1999-2000, and remain cordial.
Now the single beauty, 27, returns to TV as a host for celeb news show The Dish, which airs on Style Network. She opened up to me about her life with Lance, current outlook on love and heading back to college.
Article continues below advertisement
What is your relationship like with Lance these days?
Lance and I are very good friends. I absolutely adore him, and I support him in everything he does. I actually went to go see him dance at Dancing With The Stars a couple times. We talk via text, and we see each other when we can, and keep each other updated on what's going on. Our lives take us all over the place, so I don't get to see him nearly as often as I'd like, but we stay in touch regularly.
What was your reaction when you found out he was gay?
Well, I found out many years before he went public with it. I found out when he had a Halloween party at his house, and I was out one night with him at his house, and we just openly talked about it. I was like 'we've never really discussed this, but I've heard all these rumors.' It was kind of just accepted amongst our friends that he was gay, but we had never addressed it face-to-face. So I just asked him, 'are you gay?' and he was like 'yeah.' I was like 'all right, cool. I'm happy for you. I'm happy that you were able to come to this realization.'
Article continues below advertisement
I was really happy after he was able to go public with it because I don't think anybody should have to live their life in a way where they feel like they're keeping a secret.
Of course not! Now when you were dating him, did you ever suspect?
I didn't, but I was a little naïve because I was 17. I didn't really have a lot of experience in relationships, but my mom had actually suspected and had said something to me after we broke up. She asked me if I thought it was a possibility, and at first my reaction was like 'Nooo!' And then, the more I thought about it, I was like 'hm, maybe.'
After we broke up, I started thinking about it and I started hearing things from people we were friends with. I was like 'OK, I wish he had felt more comfortable at that time to be honest with me then' but I respect his decision and the way he handled everything. He was nothing but a great boyfriend and an incredible gentleman.
You found out after you guys broke up?
Yes, I found out after we broke up.
Article continues below advertisement
And how far did you guys get? Was he the kissing-only kind of boyfriend?
Yeah, we never slept together. We never had sex or anything. I was a virgin all through my relationship with Lance, and then some. It was more like a kissing, high school-style relationship. The funny part about it is that we traveled a lot together, so we were staying in hotel rooms together, and then when I moved out of my parents' house, he would come stay with me at my parents' house in Manhattan Beach. So we spent a lot of time together where that stuff could've happened, but it never really did.
Again, I was naïve and 17 and a really good girl, and didn't want to ask questions. I just assumed he was a real gentleman.
What advice would you give others who might be in the same situation – when they find out their significant other is gay?
I would just be very supportive. That's a tough situation for anybody to be in, to come out of the closet, ever, but especially when you're young.
A lot of people thought I was going to take it really personally – like 'are you mad? Do you feel like you were lied to?' and I was like 'no, I don't.' I understand where he was at. He wasn't really sure what was going on in his life, and he was trying to come to terms with 'was this something he thought he could change or not change?'
Article continues below advertisement
One of the nicest things Lance ever said to me was, 'I knew if I wasn't going to be happy being in a relationship with you, then I wasn't going to be able to be happy being in a relationship with any woman.'
I just would tell someone in my situation now just to not take it personally. It has nothing to do with you. They're just trying to find their own way. The best thing you can do for someone is to be supportive and for that situation, to not just think about yourself.
I know you said you were young and you guys had broken up, but did you feel confident in your ability to find a straight guy after that? How did it impact you?
I do, I did. I didn't feel like 'oh my God, they're all gay.' I have actually been very fortunate that I've met a lot of really wonderful straight men in my life -- and a lot of really wonderful gay men in my life.
But I will say I don't assume anybody is straight anymore. I'm always like 'hm, I wonder if he's gay.' I do think about that now, but I also don't assume that every guy is gay. laughs
Article continues below advertisement
What is your love life like now?
I'm single. This is the first time I've been single in a while, and I'm enjoying it actually. I'm finding that I tend to be one of those people who gets into very committed, long-term relationships, and then I really focus on that relationship and not so much myself.
And I feel like maybe I'm a little bit of a late bloomer to be doing this, but I'm really focusing on me and my career and what I want to do and going back to school. I'm going to a J.C. junior college by my house in Orange County, and once I get my associates, I'm going to transfer most likely to U.C. Irvine. l'm getting my psychology degree with a focus on marriage and family therapy. I think the human mind is fascinating. I love figuring out why people are doing what they do.
I'm not really even thinking about trying to find another relationship right now. If it happens, it happens and it would be great because I do ultimately want to get married and have a family some day. But right now I'm really enjoying Danielle time.
What's the best part of being on your own?
The best part of being on your own is not really having to answer to anybody. Not that when you're in a relationship you should really have to answer to somebody then, either. Just the freedom of not checking in with someone all the time is nice. I've lived on my own since I was 18, and I really love living alone. That, to me, is just great. I love the freedom of having my own space and my own place and doing things on my terms, and not really having to think about anybody else's schedule.
Catch Danielle on The Dish, which airs on Style Network.